Horror Movie Review: Cannibals and Carpet Fitters (2018)
Cannibals and Carpet Fitters is a British horror comedy film that was directed by James Bushe, it released in 2018. Interestingly, it's based on an award winning short that released in 2014 which followed a similar concept. I was immediately drawn to this film based on its name alone, I was not disappointed. Simply put, it follows a group of carpet fitters who are sent on a job to an old Country house in the middle of nowhere.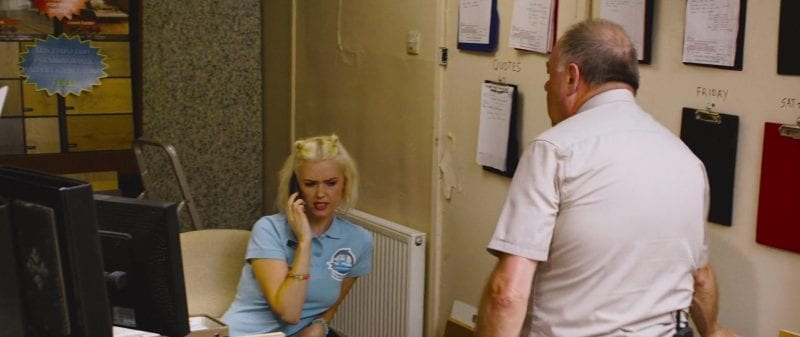 Nigel is the proud owner of Cupid Carpets but he's surrounded by incompetent employees. This includes his own daughter who cannot put down her phone to answer calls. The team are called to a secluded house by a sweet old lady called Mrs. Hanning. Two separate groups make their way to the property with Tasha & Chris arriving first. Unfortunately, the second group run into some navigation troubles. Tasha & Chris get to work but it isn't long before they begin to notice something isn't quite right. In fact, Chris is quickly murdered and Tasha is thrown into a pit where she is to be fed upon by a cannibalistic man. You see, sweet Mrs. Hanning has 5 sons and they are all savage cannibals!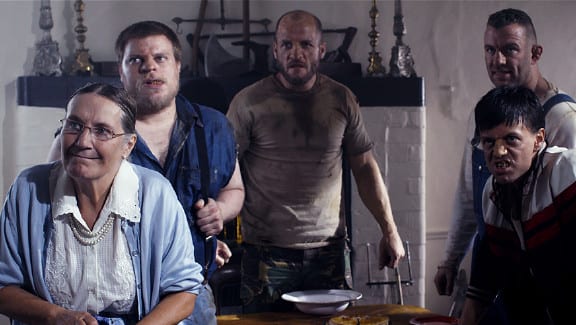 Colin, Dean & Malcolm eventually arrive but realise that there isn't a company van outside the property. By this point, Mrs. Hanning has had the van moved and gone into town with her boys to sell some fresh meat. Colin & Dean have a look around but find nothing so they decide to head inside. While there they discover some pretty hard evidence that point towards something cannibalistic is taking place at the Hanning's. Malcolm leaves the van and hears the cries of Tasha from a cellar door. He alerts the other guys and they all work together to free her and then make a break for it. However, the Hanning's have returned and they are hungry.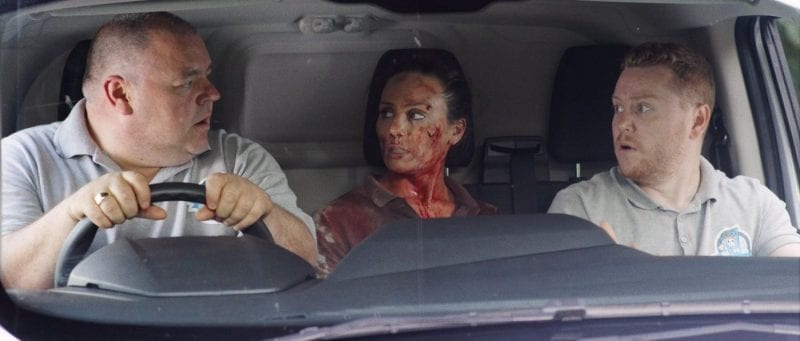 Will the heroic carpet fitters survive? Check out Cannibals and Carpet Fitters to find out.
Firstly, I absolutely love the concept for this film. It's genuinely unique and has a lot of fun with it. The whole film is bursting with tongue in cheek British humour that really ticked me. Horror comedy is my favourite genre but British horror comedy makes it even better. The language that is used and the ways in which characters react to certain scenarios just feels so right. The whole thing felt reminiscent to classic British horror film Shaun of the Dead. This is right down to Colin & Dean who really reminded me of Shaun & Ed.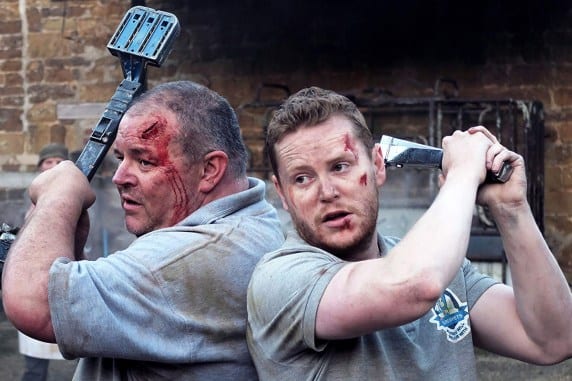 So, it has the comedy but how's the horror? Well, it delivers big time. These types of films are usually let down but their effects budget. However, surprisingly the makeup effects look incredible. The deaths that happen are shocking and unpredictable. I had no idea who was going to survive. Just when I thought I had figured out who might live they'd end up dying in some kind of horrific way. I was a little disappointed to see Chris die early on as I found his dialogue very entertaining. Although, just about everyone hams it up but in a good way.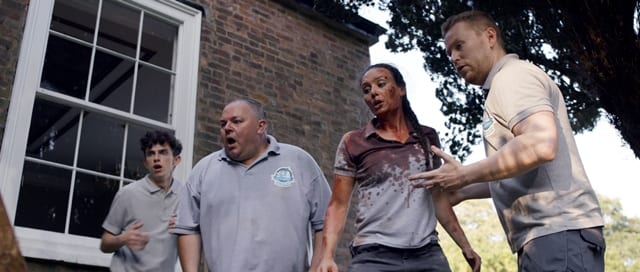 Honestly, the only negative is that the stupidity of certain characters does get a little grating nearer to the end. You know, simply not driving or running away when it is the most obvious option.
Overall, Cannibals and Carpet Fitters delivered everything I could have hoped for based on the title of the film. I could see it becoming a genuine cult classic. Although, it deserves much more recognition then it will likely get upon full release.
Don't forget, carpet fitters never cry!
Cannibals and Carpet Fitters
The Final Score -

9/10
Comments Rating
( reviews)