Game – Movie Review: Sonic the Hedgehog 2 (2022)
After long delays and a massive character redesign, the much-anticipated live action/computer-animated video game movie adaption of Sonic the Hedgehog was finally released in February 2020. It was a massive financial success, whether you liked it or loathed it, there was no denying its popularity.
So, it's no surprise that a sequel was set in motion almost immediately, released at the end of March and beginning of April 2022. Jeff Fowler returned to direct, Pat Casey and Josh Miller returned to write (joined by John Whittington this time) and most of the cast returned to reprise their roles. Ben Schwartz as Sonic the Hedgehog, Jim Carrey as Doctor Robotnik, James Marsden as Tom Wachowski, Tika Sumpter as Maddie Wachowski and so many more.
However, this is a sequel and you know the rule for a sequel. It must be 'bigger badder, better'. So, this time round Sonic is joined by some more of the iconic game franchise characters. Tails (voiced by Colleen O'Shaughnessey) and Knuckles (voiced by Idris Elba).
Unsurprisingly, Sonic the Hedgehog 2 has already proven to be an unmitigated success grossing an eye-watering amount of money. There's no denying its success but is it a good film and does it hit the 'bigger, badder, better' bar needed to make it a worthwhile watch?
The answer is both yes… and no. Sonic the Hedgehog 2 is a good movie. It's a good video game adaption. It's funny, action-packed and entertaining. Yet, it is also overly long, poorly paced and has a lot of misses when it comes to comedy.
Following the events of the last film, Sonic has settled into life with Tom and Maddie Wachowski but wants to use his powers to fight crime ala Batman or Spiderman. He's not exactly successful though and it's up to Tom to 'Uncle Ben' him… without the death.
A little while later, Sonic is left home alone as Tom and Maddie go to Hawaii for her sister Rachel's wedding. It's while home alone that Sonic gets attacked by Doctor Robotnik who managed to return with the help of Knuckles the Echidna.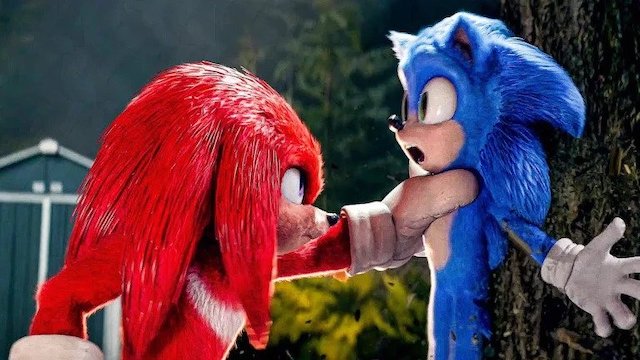 Why is Knuckles helping Dr Robotnik? Have you not played Sonic 3? His reasons are similar to the game's story. Here, Knuckles is searching for the Master Emerald. His tribe is extinct following a war over the emerald with Sonic's mentor Longclaw and her people. He hopes to be able to use the emerald to bring honour to the legacy of his tribe.
Of course, the emerald has a power, the power to bend reality and once Dr Robotnik learns of this, he manipulates the Echidna to get the emerald for himself.
This is a real problem for Sonic as Knuckles is very powerful. Good thing he has a friend this time in Tails. Who arrives having watched Sonic from afar, admiring him and wanting to warn him of Knuckles impending arrival. Sonic manages to convince Tails to help him find the emerald first and it's a race to see who gets there first.
Will Sonic and Tails get to the emerald first or will Dr Robotnik's latest nefarious scheme succeed in killing the blue hedgehog?
It's not exactly a complex story but it has got layers, thanks to the inclusion of Knuckles. A character that really freshens things up. He is the best thing about this sequel, extremely powerful and brooding, Idris Elba voices him wonderfully.
Of course, all the voice actors do wonderfully and as animated as Sonic can be, he's not quite reached annoying stages just yet. Although there are moments, normally one of many dated pop-culture references or dance sequences, that push it.
An area that Dr Robotnik also dips towards even if Jim Carey is, once again, at his animated best.
Of the 'human' characters he is the shining light, looking more and more like the videogame character but with that inimitable Carey energy. Watchable, entertaining and convincing. Which is not the case with most of the other human characters. The ones responsible for often dragging the pace down and offering the least laughs. One such example of things just not working is the amount of time we spend at the wedding in Hawaii. All for some elaborate catfish angle that really isn't as funny as the movie thinks it is.
It's one of the major moments where the humour will just make you groan rather than laugh.
Thankfully a bevy of solid action scenes make up for these moments. Fast-paced with great effects and building to a massive conclusion. It's very hard to not be entertained by the colourful mayhem that Sonic the Hedgehog 2 has to offer.
So, it's bigger. The introduction of Tails, Knuckles and chaos emeralds make that clear. It's badder, the action is ramped up. So, it must be better, right? It is… just. Its flaws mainly come down to the hit and miss humour and the iffy pacing. Regardless, many will be entertained by Sonic and pals latest outing. It won't surprise you to know that a third film is already planned.
Sonic the Hedgehog 2 (2022)
The Final Score -

6.5/10