Game Review: Cars: Fast As Lightning (Mobile – Free to Play)
I've put around 4 weeks into Cars spending no real money. I made it to level 10 & unlocked several new race cars.
A free-to-play game with in-app purchases based off a popular Disney/Pixar film, Cars: Fast As Lightning puts you in the tyres of many of the famous faces from both Cars movies beginning with Todd Marcus, a big Lightning McQueen fan.
Each character has a track that they can race on & customize. By winning races XP & accessories are earned to spruce up a characters track as well as additional stunts. Set races ranging in difficulty will unlock stickers. Stickers can unlock both paint jobs & new characters.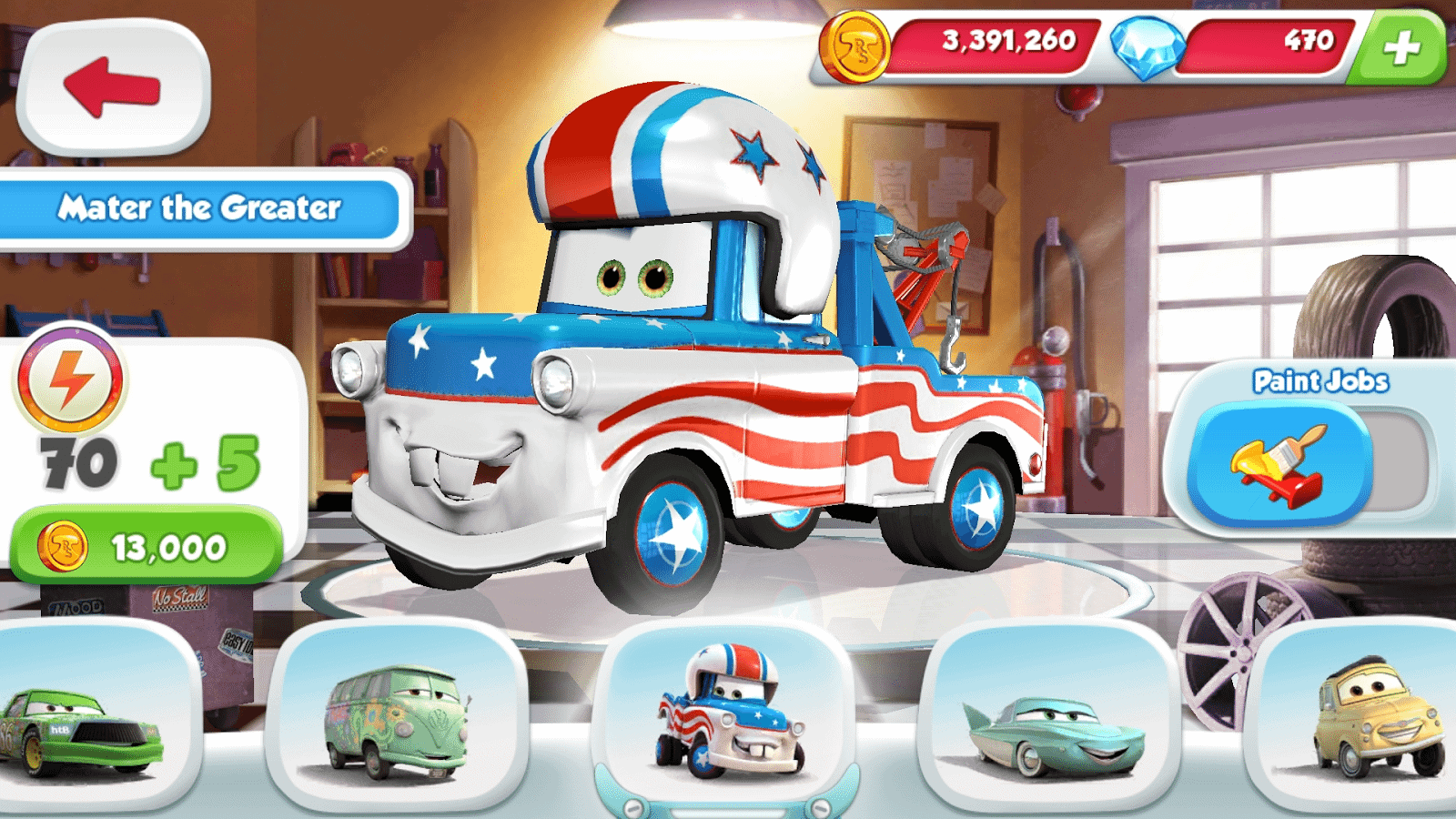 As well as the racing, Cars also has a town building section were you can rebuild Radiator Springs. Buildings & decorations when placed will give out gold over time which is the main currency & used to buy more things for your town or track as well as upgrading your cars.
Experience is also earned by completing quests from cars within your town. They range from buying a certain decoration to winning races. Eventually these quests will grind to a halt as they get more & more demanding & require premium currency to complete.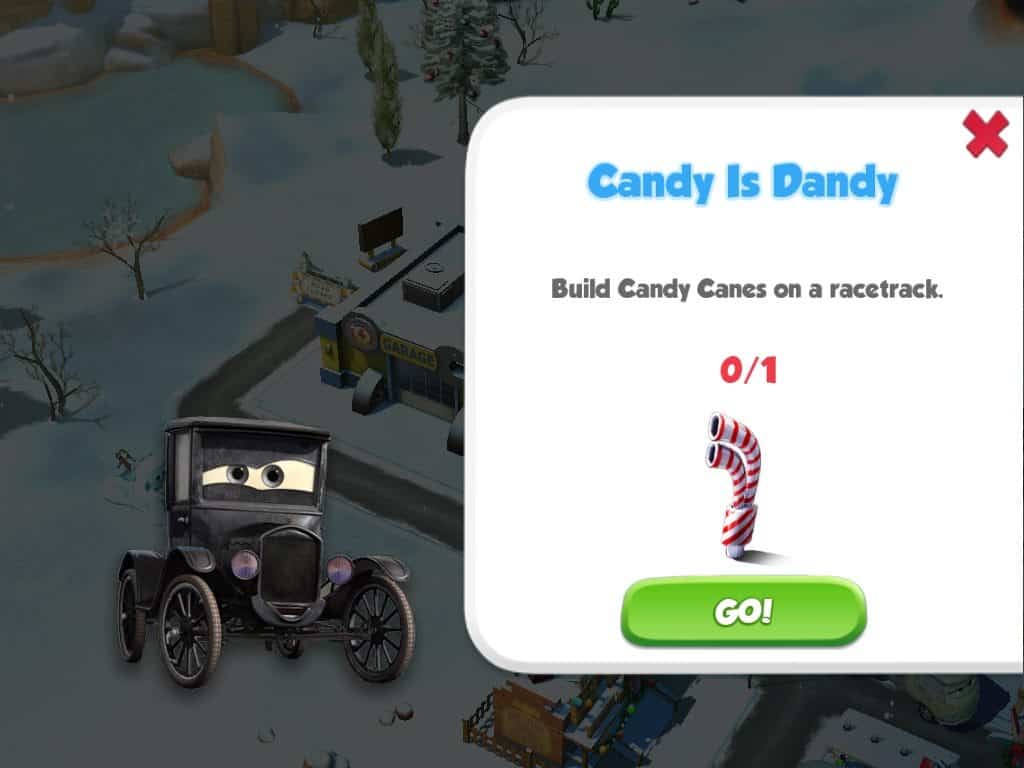 Yes, one of the reasons I went off this game is that 2 of my 3 current active quests require a lot of the premium currency. I can either wait weeks hoping to collect enough diamonds or pay real money to complete a quest, one quest…laughable.
There are 20 characters to play as & the next is are unlocked by winning a set number of races by the previous unlocked character. It's simple enough but with a tricky system.
When I say 'race' I mean press the go button & hold it down. Occasionally let go to take a corner or swipe a directional arrow to do a pre-determined trick. Each race will last less than a minute. It's not exactly thrilling…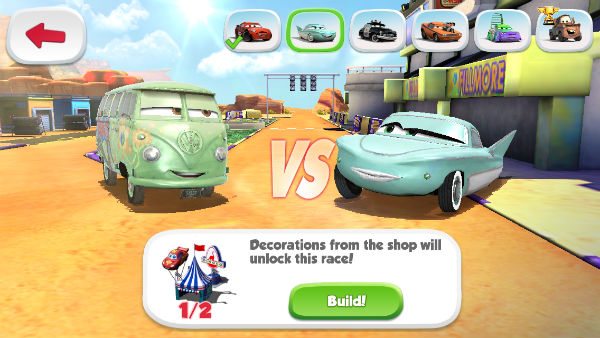 Upgrading your car is a must if you want to beat the tougher cars & like any freenium you can speed everything up by paying the premium currency. There are no surprises here, price wise. You get exactly what you might expect with the costs & as always I strongly advise you don't give any money over.
Cars: Fast As Lightning is not a terrible free-to-play game compared to some of the others out there. It has a nice idea mixing the town building with races but when you peel back the cover it's still a bare bones game asking you pay money to have more races.
You can only have about 5/6 races before your fuel runs out & you need to refuel. You can do this by waiting or…you guessed it, paying for it.
In it's defence though ,the timers are pretty forgiving though.
The game has a nice & colourful look about it that matches the feel of the movie. There is little plot & the music grates on you after a while.
At this stage any free-to-play game that doesn't leave me furious can only be a good thing. Cars: Fast As Lightning tries something different while still employing the tricks all freenium games do. There is fun to be had here but in short doses.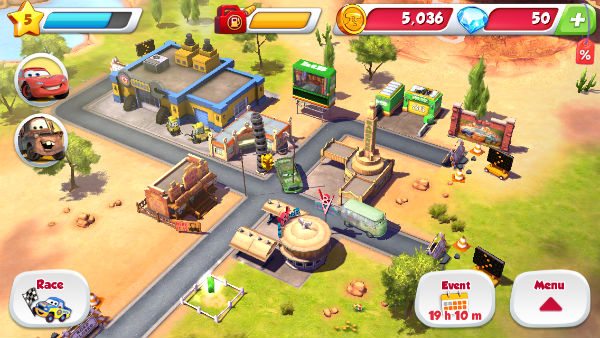 Cars: Fast As Lightning
The Final Score -

5/10
Comments Rating
( reviews)