Game Review: Township (Mobile – Free to Play)
Not a single penny was spent on in-app purchases while playing Township. I put 2 weeks into it before I got bored.
So here we go again, another free-to-play building sim on iOS that tries to make you spend real money at every opportunity, right? Well actually…not quite.
Township is actually a real surprise in that the in-app purchases are kept quietly out of the way & the game doesn't grind to a halt as soon as you make any real progress. In fact Township allows you to do loads using just the in-game currencies & rarely punishes you for not spending.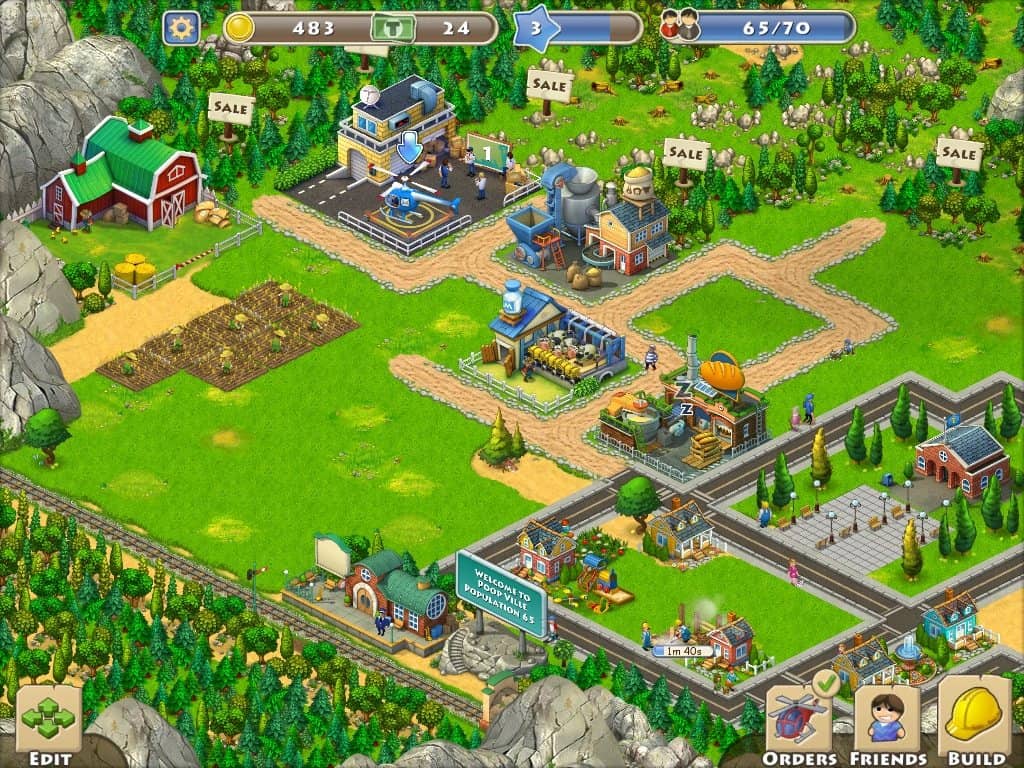 The premise is simple…create a thriving town by building houses & businesses. As well as that you are also required to farm & set up production lines to fund your future expansion. You are initially given plenty of space & plenty of gold coins to start your town off. Choosing what to build is straight-forward enoughhas each new building is based on your level. Early on you will be buying small houses to increase your population, buying basic farming buildings (such as cow milking sheds & bakeries) & important buildings such as hospitals.
As you level up more buildings become available to be built. Expansion is necessary to fit it all in & is easy enough, just have the coins & the required population number & you can start work on clearing out forest areas to be built on.
Most of your production comes from your crops which you will need to plant. As you complete tasks & level up you also gain new crop patches to increase the size of your field. This is the key part of the game with crops needed to feed animals who in turn produce milk, eggs etc.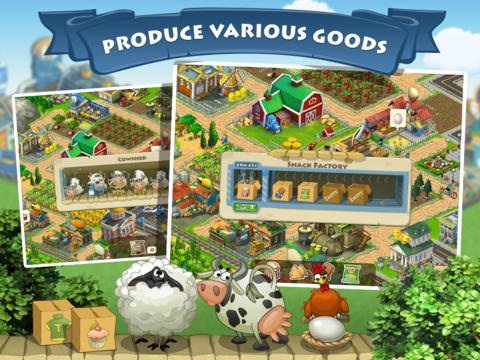 Like all free-to-play games waiting for your crops to grow, your buildings to be built & your produce to be available take time. Unlike most free-to-play games Township does not take this to the extreme – I think the longest wait time I've had for a building is 6 hours & I've made some serious progress in the game. Crops are done in a matter of minutes & most produce ranges from 15 minutes to an hour.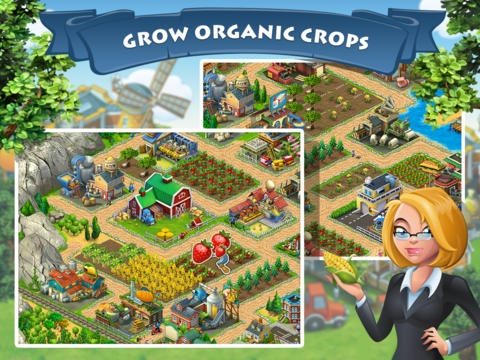 Early on you will find that you're constantly nipping back & forth picking up completed crops or produce & getting the next batch going. A lot of progress can be made at the start but inevitably that will slow down because of 2 things.
1 – Money – the games currency is coins & dollars. Coins are used to buy mostly everything while dollars are used to speed up production or buy tools that haven't randomly generated yet. Now compared to many other games of this style Township is very fair with its in-game pricing & you won't be struggling for coins. Unlike many of its bed-fellows you can also earn coins rorm selling your produce as well as completing missions & tasks set by your townspeople.
2 – The barn – Now this is probably my biggest complaint. You have a barn that stores all your crops, produce & materials for building but when full you can't store anymore items without getting rid of some first. The most obvious way is to sell but often you will find that you're forced to sell items that you needed just to make room for more. You can upgrade your barn but the materials are random based (from a train service where you supply crops & produce & get materials in return) & can take quite a while to get.
The other way to upgrade is to use dollars…these are rare finds & you often get 1 for levelling up & completing in-game achievements (a nice touch). However they are few & the cost to upgrade is rarely worth it (24 dollars to get 1 set of items).
Unless of course you're willing to part with some real cash…
Township's in-app purchases are non-obtrusive mostly but are shockingly poor value for money.
£0.69 gets you 213 coins (A cafe costs 175, a chicken coop 200)
£54.99 gets you 23856 coins (if you're mad enough to spend this much money)
The dollars are slightly better value as they do much more.
£1.49 gets 50 dollars.
£69.99 gets you 4000 dollars.
A wide range of prices as always but as I said at the start you can get loads done without spending a penny. Township looks nice enough with a zoom in & out function & some nice sound effects that give the impression of a bustling town.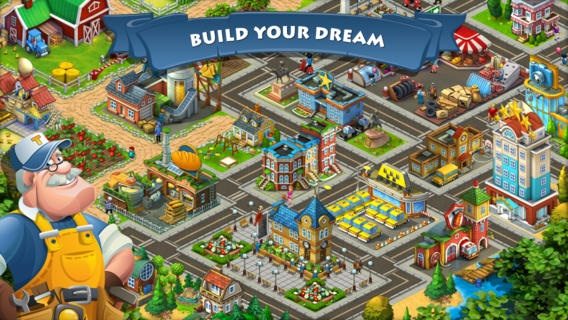 It's not the got the pulling power of the bigger named builders (Family Guy, Finding Nemo, Simpsons) but is well worth a look if you're looking for a more forgiving take on the free-to-play model.
After spending way too much time & not getting much done in Family Guy, Township came as a real nice surprise. It's simple but with surprising depth in what you can do but like most builders will hardly keep your interest past a couple of weeks.
Township
The Final Score -

7/10
Comments Rating
( reviews)