Live Stream Review: Stoner – Live In The Mojave Desert (20/03/21)
Live in the Mojave Desert is a livestream concert film series, deep in the heart of the California wilderness, with performances coming from Earthless, Nebula, Spirit Mother, Mountain Tamer, and Stoner.
Inspired by Pink Floyd's iconic Live At Pompeii film, each of the concert films will be premiered online, and presented in a two-hour long live, hosted program. Some of the biggest desert rock legends will be on set attending and hosting, and the bands themselves will join the stream.
Each film will also be released as a live album, with LP, CD, and DVD. Earthless rocked out in the desert on the 23rd of January 2021 and you can read our review of that show here. Up next was Nebula and it was phenomenal, taking place on the 6th February 2021. You can read our review of that show here and check out an interview with the band here.
Spirit Mother then brought energy and unique flavour with their show on the 21st February 2021. Read our review here. The penultimate show then saw psychedelic rock band, Mountain Tamer rock the desert. Read our review here.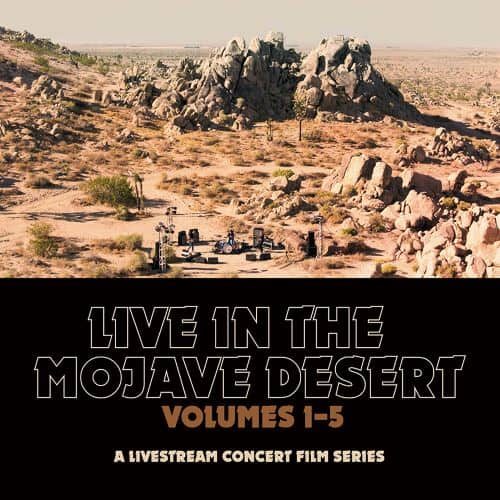 Which now brings us to the final show of the series and what a heavyweight finale it is. Stoner, made up of the legendary duo Brant Bjork and Nick Oliveri, along with Ryan Gut. This is the show with the most expectation, after all… desert rock comes so easy to these guys!
So how was it? How was the finale of Live in the Mojave Desert? Did Stoner deliver?
Of course, they bloody did. Delivering a transfixing set of stoner mellowness, loads of fuzz, groove, blues and more. Captured as wonderfully as always by the crew behind these shows.
This is one of the most visually pleasing shows so far. You'd think by now the locale, effects and camera angles would be stale but that's so far from the case. Here, a more intimate and up close style is deployed and with the star-power on show, it just makes the whole experience feel so much more personal. Which is really odd considering it's literally in the Mojave Desert.
Sonically, it's as perfect as always but the real draw is the music coming out of Stoner. Rad Stays Rad which lulls you with its strong stoner and mellow vibes. Shit don't change indeed.
Then there's the likes of The Older Kids which is covered in sticky fuzz but surprisingly catchy. The short and punchy groove of Nothin', the thrilling and lovey bluesy Own Your Blues, the class bass work of Stand Down with its increasing urgency and the moody, low-tempo Tribe/Fly Girl. It's a masterclass of stoner and desert rock with just one oddity thrown in.
That would be Evil Never Dies, a track that has some serious punk energy and has Oliveri taking on vocal duties. It's unexpected but still pretty damn cool.
It's another banger of a set for Live in the Mojave Desert making it 5 for 5 in regards to 'bangers'. It's going to be sad not eagerly anticipating the next show as we've done since January but it's been so worth the time investment.
Thank the desert rock gods that all these shows are going to be released on CD, LP, DVD and digitally. It just means we can relive them over and over again.
Links
Stoner – Live In The Mojave Desert (20/03/21)
The Final Score -

9/10