Live Stream Review: Earthless – Live In The Mojave Desert (23/01/21)
Live in the Mojave Desert is a livestream concert film series, deep in the heart of the California wilderness, with performances coming from Earthless, Nebula, Spirit Mother, Mountain Tamer, and Stoner.
Inspired by Pink Floyd's iconic Live At Pompeii film, each of the concert films will be premiered online, and presented in a two-hour long live, hosted program. Some of the biggest desert rock legends will be on set attending and hosting, and the bands themselves will join the stream.
Each film will also be released as a live album, with LP, CD, and DVD. Up first in the series was pioneering instrumental psychedelic rock band, Earthless. Taking place on the 23rd January 2021.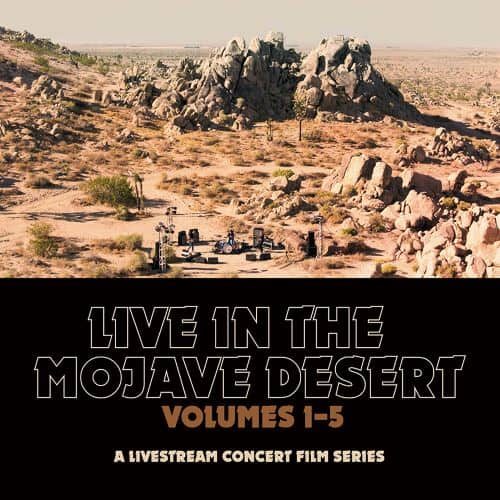 What a wonderful idea Live in the Mojave Desert is. A fascinating way to utilises the lack of live shows and worldwide restrictions. Putting bands in an unforgiving environment, tasking them with delivering a show worthy of their stature and providing fans with a unique live experience.
Be under no false impression, this is a musical experience like no other. From the early portions of the stream that has interviews, discussions about the difficulties of filming in the Mojave Desert and music from a wide array of stoner, doom and psych bands. Often with trippy visuals as the backdrop to get you in that psychedelic mood.
After a fair bit of this, it's finally time to experience Earthless and their chilled but impactful hard rocking noise. All pre-recorded (obviously), we see the band perform both in the baking hot sun and in the cold, emptiness of the night. Both give off totally different vibes but easily the most stunning thing is how comfortable the band look playing in such an environment.
Not only that, the setup is immense, and it sounds great. The size of task here can't be understated but the end result is phenomenally good. If there was wind, which apparently there was, you wouldn't know it.
The night portion of the set (which does make up the majority admittedly) is where a beer, some good speakers and maybe even a smoke or two would come in handy. Why? Well, to add some more visual richness to proceedings, psychedelic imagery is reflected onto the rocks around Earthless. The lighting gives it a much more intense feel and there's this feeling that everything around the band is standing still.
This is brought on by the immense hypnotic music that the band play. Where it becomes impossible to tear your eyes away from the devilry that emerges from instrumentation that is simply on another level for this kind of rock music.
Earthless have begun the Live in the Mojave Desert with a bang and there's so much more to come. We can't wait for the next show!
NEBULA: Saturday 6th February, 2021
SPIRIT MOTHER: Saturday 20th February, 2021
MOUNTAIN TAMER: Saturday 6th March, 2021
STONER (Brant Bjork + Ryan Gut + Nick Oliveri): Saturday 20th March, 2021
Links
Earthless - Live In The Mojave Desert (23/01/21)
The Final Score -

8/10