Live Stream Review: Nebula – Live In The Mojave Desert (06/02/21)
Live in the Mojave Desert is a livestream concert film series, deep in the heart of the California wilderness, with performances coming from Earthless, Nebula, Spirit Mother, Mountain Tamer, and Stoner.
Inspired by Pink Floyd's iconic Live At Pompeii film, each of the concert films will be premiered online, and presented in a two-hour long live, hosted program. Some of the biggest desert rock legends will be on set attending and hosting, and the bands themselves will join the stream.
Each film will also be released as a live album, with LP, CD, and DVD. Earthless rocked out in the desert on the 23rd of January 2021 and you can read our review of that show here. Up next? Nebula. Taking place on the 6th February 2021.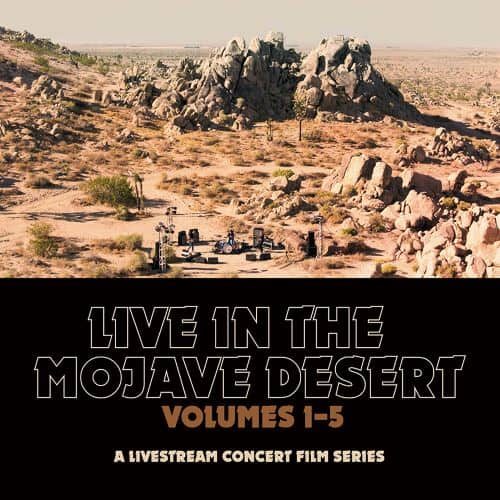 Those who watched the Earthless show will find themselves right at home with this show. Following a similar format, we get a ton of music from bands playing over the series of streaming shows first. A nice way to get yourself in the mind frame of an evening of heavy stoner/desert rock.
We then get an interesting interview with Nebula intercut with footage of them playing live from many, many years ago. It's fascinating to see footage like this, especially as it took place a few years before their 7-year hiatus.
It's all good fun but not the reason we're here. We're here to see Nebula tear it up in the desert and holy hell, do they deliver. There's a reason why this band is so beloved and regardless of if this is your first time experiencing their brand of desert rock or your tenth, it's spectacular.
For starters, they seem so at home in the Mojave environment. So much so that the remarkable landscapes are almost forgotten in the face of this hypnotic show. There's no tearing the eyes away from the screen, the only time the trance is broken, is when we get a brief mid-show chat with the band. Either side of that is a best of Nebula that sounds immense (the sound quality of this show is as good as, if not better than Earthless). Time away seems to have re-energised this band and they look like they're loving every minute of their time out there.
Once again, lighting and psychedelic touches are used to great effect. Aided by incredible camera angles, drones and layered shots. It's a truly impressively produced show and the perfect showcase of just how brilliant Nebula are here.
Earthless were great but Nebula have set the bar. The next three bands have their work cut out for them.
SPIRIT MOTHER: Saturday 20th February, 2021
MOUNTAIN TAMER: Saturday 6th March, 2021
STONER (Brant Bjork + Ryan Gut + Nick Oliveri): Saturday 20th March, 2021
Links
Nebula – Live In The Mojave Desert (06/02/21)
The Final Score -

10/10