Live Stream Review: Mountain Tamer – Live In The Mojave Desert (06/03/21)
Live in the Mojave Desert is a livestream concert film series, deep in the heart of the California wilderness, with performances coming from Earthless, Nebula, Spirit Mother, Mountain Tamer, and Stoner.
Inspired by Pink Floyd's iconic Live At Pompeii film, each of the concert films will be premiered online, and presented in a two-hour long live, hosted program. Some of the biggest desert rock legends will be on set attending and hosting, and the bands themselves will join the stream.
Each film will also be released as a live album, with LP, CD, and DVD. Earthless rocked out in the desert on the 23rd of January 2021 and you can read our review of that show here. Up next was Nebula and it was phenomenal, taking place on the 6th February 2021. You can read our review of that show here and check out an interview with the band here.
Spirit Mother then brought energy and unique flavour with their show on the 21st February 2021. Read our review here.
Which brings us to the penultimate show where it was the turn of psychedelic rock band, Mountain Tamer. Airing on March 6th 2021.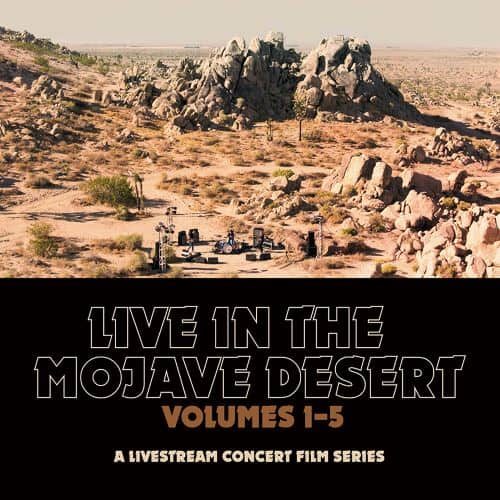 Beginning with the customary showcase of psychedelia, rock, stoner and doom from most of the bands that have played so far. The first hour is, as always, a chance to lose yourself in some eclectic imagery and top shelf rock music. With a brief, but relaxed and fun interview with Mountain Tamer mixed in around the middle.
Who doesn't want to try their hot sauce!?
With around 55 minutes of the show left, things kick off with the fuzzy and doomy groove of Warlock. The sun is baking Mountain Tamer but the chilled breeze that comes from this opener is very cooling.
The heat is stifling, even sitting at home watching this show. More than any of the other shows so far, Mountain Tamer seem real within the environment. It does help that their distorted and teeth-aching style of psychedelic rock just fits the scene so perfectly.
Toroc Maximus Antonis and its haunting effects, Chained with its bassy rumbles and psych energy, and Scorched Earth's chugging intensity make up the first half of the show. A phenomenal selection of tracks that will win Mountain Tamer so many new fans.
A brief pause for the band to talk about their favourite live album (Pink Floyd – live at Pompeii) before they kick back in with Death in the Woods. Talk about an energy enhancer before we get something a little more draining in Black Noise.
The sun is beginning to set (goodness, it is such a beautiful location) but Mountain Tamer aren't quite finished yet. Kicking into Funeral of A Dog, a track that will be very familiar to those who watch these shows from the very beginning. It being the piece of music used to advertise the shows, merch and upcoming LP releases. Easy to see why too as it is so freaking groovy in that wonderfully distorted way.
Which sees Living in Vain ending things with a bang. A stifling but thrilling bang.
To the surprise of no-one who has been watching these shows along, the camera work is as stunning as always. A major contributor to what makes these shows so captivating. Another being the immense sound quality. Every little Mountain Tamer nuance is here and considering the locale, you couldn't blame anyone for the occasional slip here and there. There isn't though and that is just amazing.
After such stellar shows from Earthless, Nebula and Spirit Mother, Mountain Tamer had to pull it out of the bag here and holy hell, did they just. Personally, it's been the best show so far.
STONER (Brant Bjork + Ryan Gut + Nick Oliveri): Saturday 20th March, 2021
Links
Mountain Tamer – Live In The Mojave Desert (06/03/21)
The Final Score -

10/10