Live Stream Review: Spirit Mother – Live In The Mojave Desert (20/02/21)
Live in the Mojave Desert is a livestream concert film series, deep in the heart of the California wilderness, with performances coming from Earthless, Nebula, Spirit Mother, Mountain Tamer, and Stoner.
Inspired by Pink Floyd's iconic Live At Pompeii film, each of the concert films will be premiered online, and presented in a two-hour long live, hosted program. Some of the biggest desert rock legends will be on set attending and hosting, and the bands themselves will join the stream.
Each film will also be released as a live album, with LP, CD, and DVD. Earthless rocked out in the desert on the 23rd of January 2021 and you can read our review of that show here. Up next was Nebula and it was phenomenal, taking place on the 6th February 2021. You can read our review of that show here and check out an interview with the band here.
It's a tough ask to follow Nebula but the four-piece psychedelic rockers, Spirit Mother's turn in the desert took place on the 21st February 2021.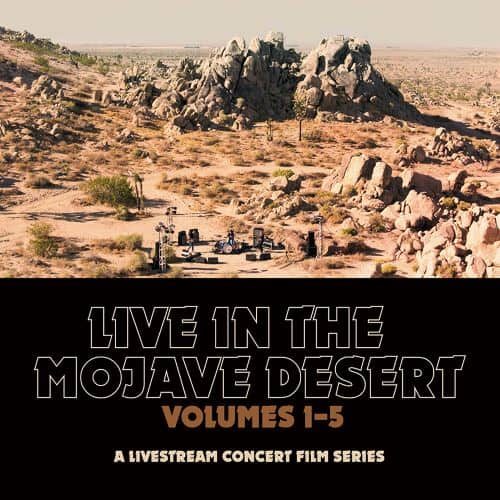 It seemed as though the high bar that Nebula had set couldn't possible be met, let alone beat but Spirit Mother really go for it with a killer set. One that has energy, unique flavour and seems to fit so perfectly within the desert environment.
Knowing nothing of this band, it is a pleasant surprise to see a violin be part of the experience, something that works incredibly well with the psychedelic setup. Talking of which, Spirit Mother treat us to 10 tracks of their groovy, fast-paced and feel-good tunes.
There's no hanging about, it is the shortest of the shows so far but it feels even shorter because of how tight Spirit Mother keep it. There's no messing around, it's track after track after track of music that makes you want to move. It's easy to believe that even the local creatures stopped doing their thing to chill out and watch this performance.
Ether, Martyrs, Dead Cells and Space Cadets are four the strongest sounding efforts here and like all the bands so far, the light show is such an integral part. There's some spectacular things going on here and it just adds depth to the psychedelic trip.
If you didn't know who Spirit Mother were before seeing this show, there's no way anyone is forgetting them anytime soon. Brilliant.
MOUNTAIN TAMER: Saturday 6th March, 2021
STONER (Brant Bjork + Ryan Gut + Nick Oliveri): Saturday 20th March, 2021
Links
Spirit Mother – Live In The Mojave Desert (20/02/21)
The Final Score -

9/10