Music News: Conjurer Release Video For 'Thankless'
Conjurer have released their new video for 'Thankless', taken from their globally acclaimed debut LP Mire (March, 2018, Holy Roar Records). Watch 'Thankless' below:
The band comment:
This video was captured over summer 2019 and a multitude of shows and festivals we were a part of. Thank you for the continued support.
Shot by Joe Guppy / JG Visuals, the new video demonstrates the impressively busy year Conjurer have had, marking their rise as one of the UK's exciting new metal bands. Two tours of North America, with Rivers of Nihil and then Revocation and Voivod, bookended Conjurer's Download Festival debut and triumphant collaborative Curse These Metal Hands release with Pijn.
Watch Conjurer on tour this month with support from Earth Moves, LLNN (select dates) and Armed for Apocalypse.
Dates:
19.10 Haarlem, NL – Patronaat
21.10 Paris, FR – La Cantine De Belleville
22.10 Aarau, SW – Kiff
23.10 Liege, BE – La Zone
24.10 Nottingham, UK – Beta
25.10 Manchester, UK – The Star & Garter SOLD OUT
26.10 Glasgow, UK – The Attic SOLD OUT
27.10 Leeds, UK – The Key Club
28.10 Bristol, UK – Crofters Rights SOLD OUT
29.10 London, UK – Boston Music Rooms* SOLD OUT
30.10 Birmingham, UK – The Flapper* SOLD OUT
*with LLNN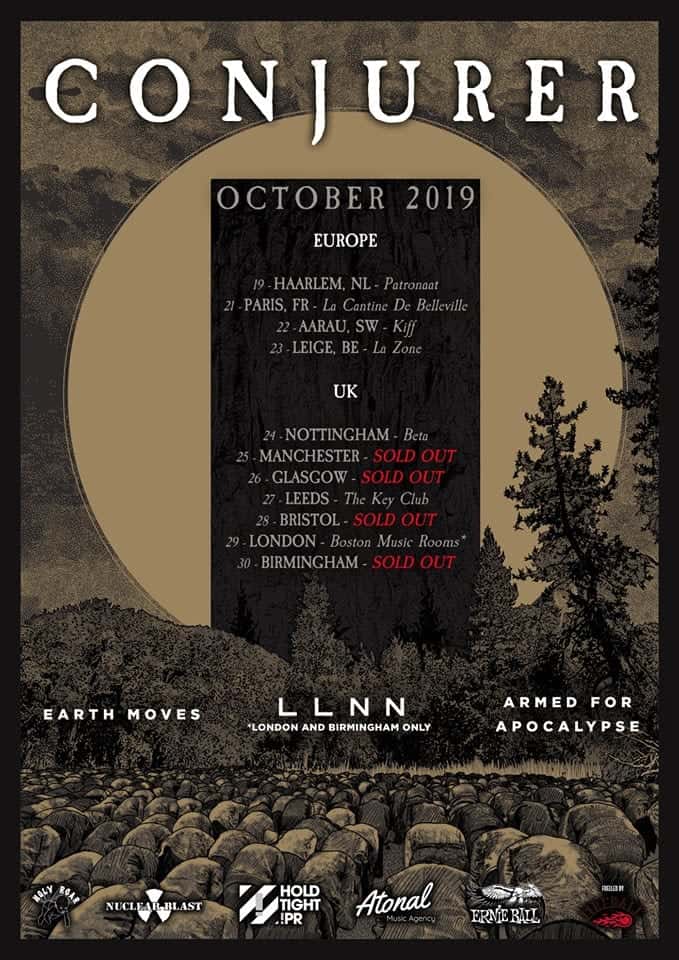 Conjurer have also announced their split covers EP with Palm Reader , due for release 13th December via Holy Roar Records.
Boasting four tracks with two covers each, both bands pay tribute to the acts that have influenced and inspired them: Conjurer cover Mastodon and Slipknot, while Palm Reader cover Rage Against The Machine and Thrice.
Full Track Listing:
1. Conjurer – Blood and Thunder (Mastodon)
2. Conjurer – Vermillion (Slipknot)
3. Palm Reader – Tire Me (Rage Against The Machine)
4. Palm Reader – Circles (Thrice)




Links