Live Review – Beastfest 2 at Leo's Red Lion, Gravesend (16/11/2019)
Beastfest returns to Leo's Red Lion In Gravesend with a collection of Metal to the Masses and Bloodstock alumni for a night of heavy music and all in aid of The Sophie Lancaster Foundation.
As well as having a great line up and being for a worthy cause, Leo's Red Lion happens to be pretty local for most of us here at GBHBL. Not quite on our doorstop but as close as we get in Kent where very few places for live metal still exist. For anyone who lives locally, Leo's Red Lion is often described as "being in the arse end of nowhere". That's pretty fair. Standing out like a sore thumb and lit up like a beacon of promise, the pub sits in a mostly abandoned industrial estate. Perhaps that is what is saving it? No neighbours really and hardly sitting on prime real estate along with having dedicated, music loving owners.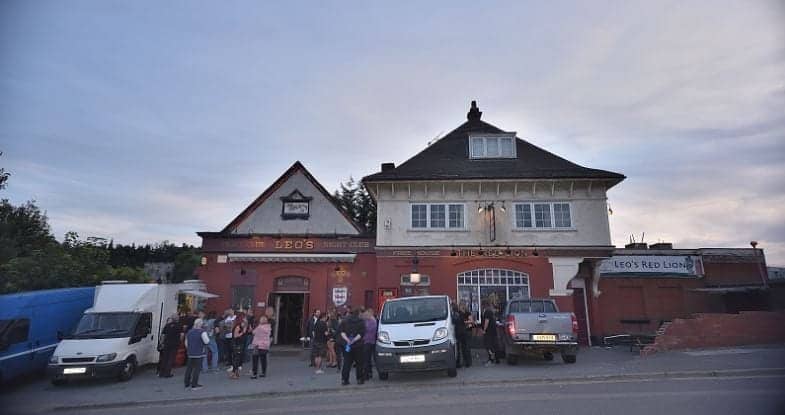 It's laid out well though with a reasonably sized bar area, pool table area, beer garden and a second self contained room for the live music. It holds, uncomfortably, probably 120 people and has a decent sized, elevated stage. Basically, arse end of nowhere or not, it is a legitimate and professional music venue and it has absolutely brilliant sound. The whole venue is a tribute to guitar driven music with posters and pictures everywhere including signed memorabilia from some very famous names that have played there. Bands like While She Sleeps, Marillion, Gun, Diamond Head and , um, Crazy Town.
Despite all my admiration for the venue from a musical perspective, from a pub perspective it could do with modernising. They certainly haven't embraced the current culture of craft beers and lagers (Fosters and Heineken in the venue but a few more in the pub) and I had concerns at how the Beastfest festival experience would work there. With doors opening at 13:00 and closing at 23:00, that's a long day in a venue with limited drink options, a burger van for food and no shops or anything about.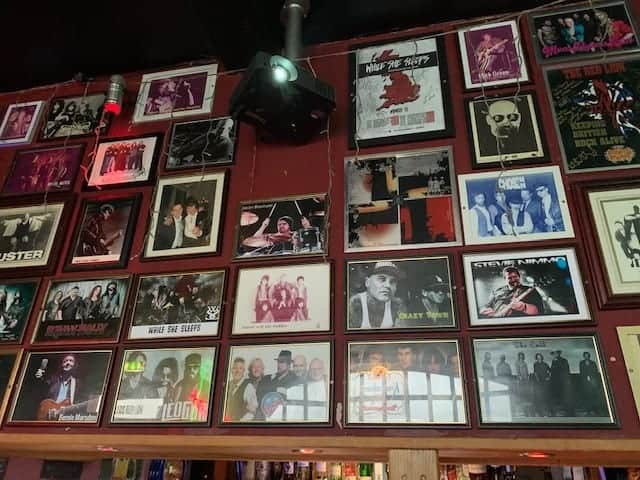 To be fair, I needn't have worried. It was all very well put together and nicely handled. From little touches like free ear plugs and proper festival wristbands to the impressively seamless 15 minute band change overs. That was some precision engineering to stick to that all the way through the event.
Now, to the bands:
Orbital Junction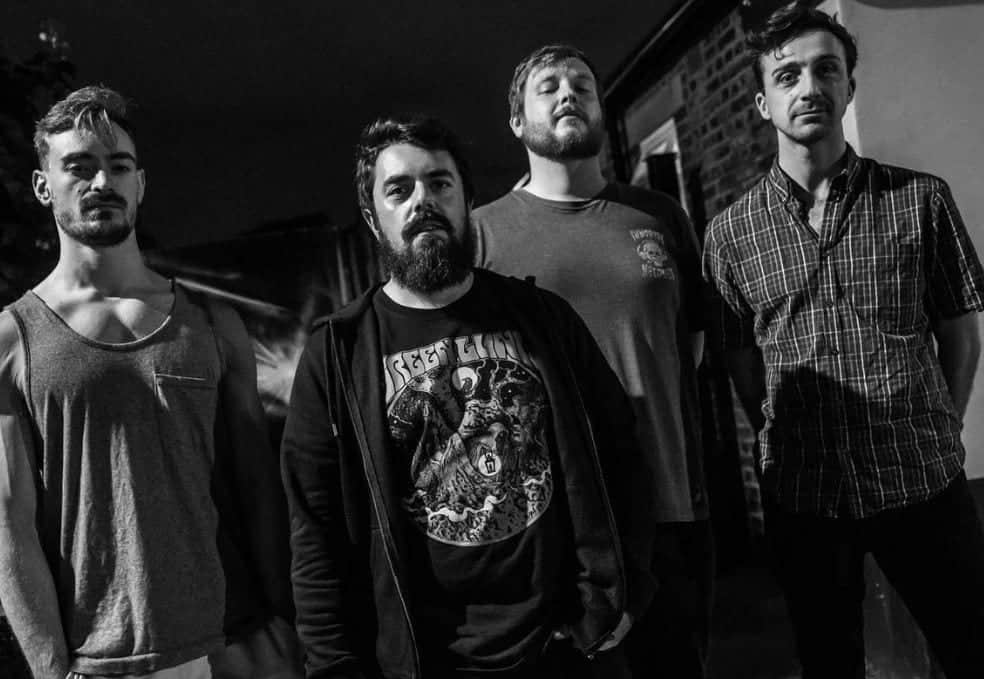 Unfortunately we arrived a little later than opening so didn't catch much of Orbital Junction. What we did catch we enjoyed, with plenty of heavy, fuzzy stoner riffage. They deserved bigger crowd than they had, being an early afternoon opener.
Score: 6/10
Prolapse AD
I guess from the name you can figure that they will have comedic tones to their music and they do. Musically though it is really strong, heavy thrash. They chuck a few funny songs in like Ballad of Peter Steele and Fuck Justin Bieber that last just seconds. They recently gained a new drummer and he isn't quite up to speed with all their songs so they had to chuck in a couple covers. One by Nevermore and another by Revocation in which the frontman didn't know the words so had to hold up a phone with the lyrics on it to sing along too.
To be fair, the frontman is funny and has charisma but has to stop spitting everywhere on stage. It's gross, not cool. Other people have to play there after you. A good insight into the band comes when they end with a track called Black and Decker Pussy Wrecker.
Score: 6.5/10
SkyPilot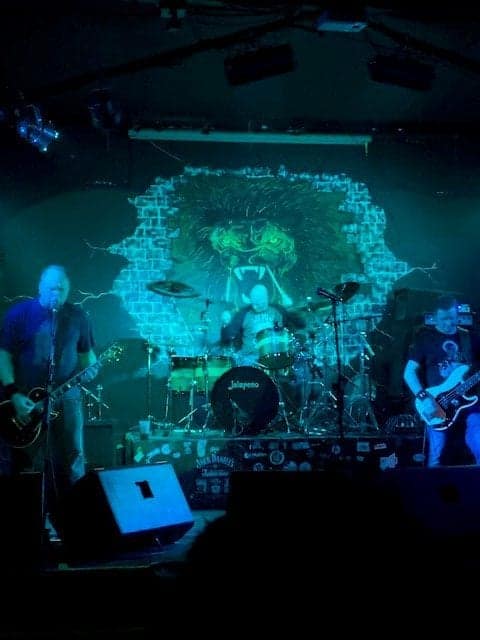 Northern Ireland's SkyPilot come next and really smash it . Their sludgy, swamp sound fills the room and draws the handful of people watching into the music. They really hit hard with bassy low tones that shake the Beastfest foundations.
Score: 7.5/10
Oracle
The next Northern Irish band to take the stage where the lively, deathcore/metalcore band, Oracle. These guys smashed it. They have a ton of energy and enthusiasm and it is infectious. They play with punchy blasts and remind me of Thy Art is Murder. The frontman has a great voice and powerful roars. I knew of these guys previously but this is the first time seeing them and won't be the last. The only disappointment really isn't their fault in that they deserve a pit. It is just a bit too early in the day and the watching fans are a bit too sober but every head in the place is banging along. These guys have a big future ahead of them.
Score: 9/10
The Heretic Order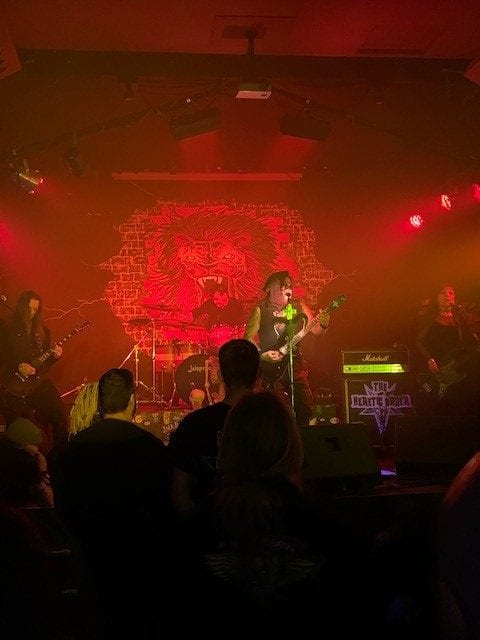 It was nice to see The Heretic Order bring a little bit of a show as skeletons and the like get carried through the crowd for their set. They are a good band and they sound great but I do find their thrash sound with black metal clothing and set up a bit confusing. I loved the soloing and flair they have though along with some punchy and catchy riffs. I did find myself drifting a bit through their set though as things got a little boring though they pulled it back with the excellent Evil Rising which got most of the Beastfest crowd involved.
Score: 7/10
Xero
I think Xero were a little unlucky with their time slot being the band that came on just as the burger van opened for it's limited time slot. To say the crowd was sparse is an understatement. They were fine and plugged on professionally. The female vocalist has a great voice but their gentler sound didn't really fit the bill and I struggled to get into them much at all.
Score: 5/10
Barbarian Hermit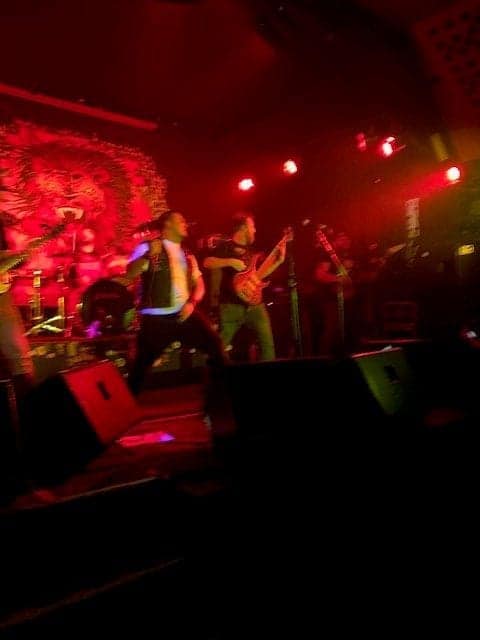 I was surprised to see last years Bloodstock Festival openers low down the bill. With their name, Barbarian Hermit could easily have been Beastfest headliners. They certainly fill the stage and venue with their huge riffs and booming tones. They sound great, despite a slow start but their sheer power exudes over the crowd and they put on a show that hits hard and shakes your bones and the pubs foundations.
Score: 8/10
Morass of Morasses
Damn these guys are amazing. Their frontman absolutely owns being a frontman with so much charisma and character, it is hard to tear your eyes off of him. We are very aware of this band and have seen them play a few times before. Maybe I forgot how good they were? I remember remarking earlier in the day that I was surprised Morass of Molasses were above Barbarian Hermit. I remarked during their set that I understand why now. Band of the day for me here, along with one other.
Score: 10/10
Blind River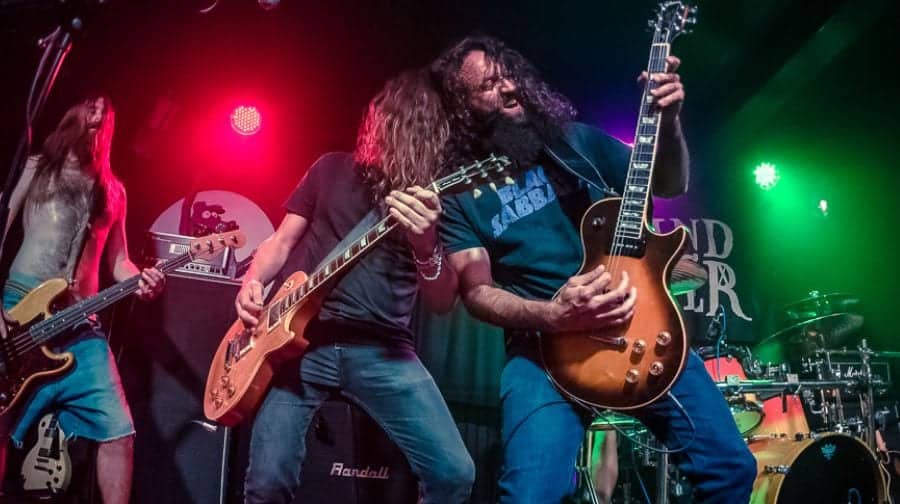 Blind River do a good job but I struggled to get into their set. Perhaps I was sludged out? Maybe they were unlucky to be sandwiched between the best sets of the day? Whatever it was you could clearly see the talent and I enjoyed some of the heavy riffing and head banged along plenty but without really feeling it.
Score: 7/10
Krysthla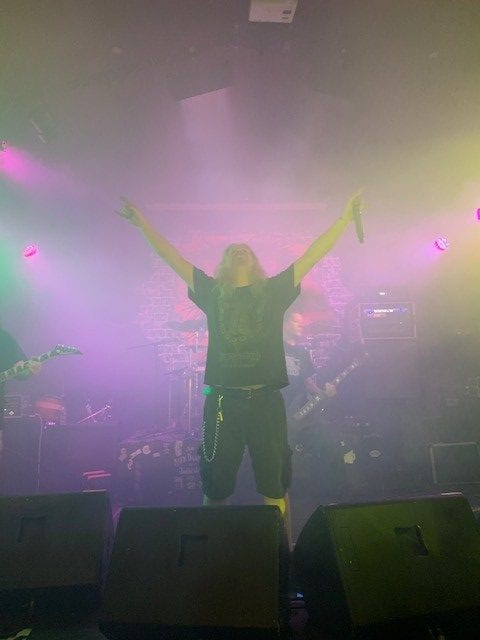 Damn these guys are amazing. So fucking heavy and in your face. Full of energy with forceful vocals and powerful music. Krysthla fill the venue with their sound and the floor shakes. After ripping up Bloodstock, they arguably could have headlined here and would have owned it. We fell in love with this band with the release of their debut Worldwide Negative and everything I see from them since suggests they have the potential to be huge. This was another tick on the way as they got the first proper pit of the night going and left fans bruised and dripping in sweat. Amazing and joint band of Beastfest.
Score: 10/10
Ten Foot Wizard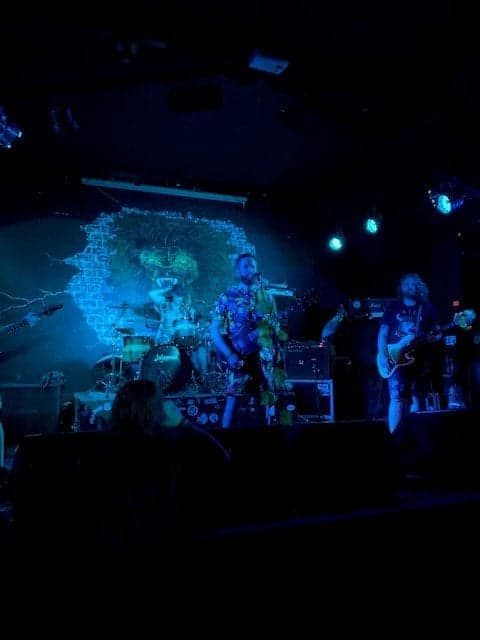 Ten Foot Wizard go down a treat and certainly pack the remaining fans in. They are a very solid band. You can see their professionalism and confidence as they take the stage. They sound great and keep the crowd going but never quite take off. Perhaps following Krysthla on this sort of form hindered them? I don't know but I have never really quite got into them but must admit to enjoying this set. I am just not sure if that was because of them or the fact I was riding high from the previous set and nearing my alcohol limit.
Score: 7/10
So, overall I had a blast. I was really impressed by so many things at Beastfest. The amazing lineup, the professionalism of the whole event. The staff were great, the security were friendly, the bands hung out and chatted with everyone. It was a very cool event and deserved a bigger turn out really. Probably maxed out at 50 or 60 people I would guess?
Beastfest 2 was one of the most immaculately organised event you could imagine with a great atmosphere and all for an amazing cause in The Sophie Lancaster Foundation. The biggest thanks though should go to the bands. They travelled from far afield to donate their time and skills and made one hell of a show at a willing and impressive venue that could just do with a few more beers and bit more food for next year. Bring on Beastfest 3!
Beastfest 2 at Leo's Red Lion, Gravesend (16/11/2019)
The Final Score -

9/10