Demo Review: Malign – Demo 1/95 (Shadow Records/Regain Records)
Shadow Records (distributed & marketed by Regain Records) is proud to present Malign's classic Demo 1/95 on CD, 12" vinyl, and cassette tape formats.
It was that pivotal year of 1994 when some restless teenagers from Stockholm formed Malign. Years before they become the cult progenitors of the orthodox black metal style so ubiquitous across the world, Malign had humbler origins with their first demo recording, Demo 1/95. Indeed recorded in 1995, the original four-song tape brimmed with the fire of youth and the electrifying excitement of the times. For however "mainstream" so much of black metal's second wave was becoming, there stirred a counter-movement violently opposed to these perceived transgressions against black metal's noble ethics, and Malign were surely among those driven-to-action acolytes.
Now, some 25 years after its original release, Shadow Records presents an expanded edition of Demo 1/95, including the full version of the original demo as well as alternate versions of each song, some even from 1994. The vinyl version will include a massive 24-page A5-size fanzine featuring an in-depth band history, describing the first chapter of Malign's history and what led to their formation, all straight from the source itself.
A very special release, one for the old-school fans to celebrate and for the new school to get to know an icon of extreme music. With all the rawness you'd expect from a black metal demo made in 1995 but given a fresh coat of paint, the 4 tracks of Demo 1/95 spit and snarl with aggression and repulsion. Quality tracks and if this was just a re-release of the four it would still be praise worthy. If you can just check out one, make it The Wanderer for the bassy groove alone.
However, this Shadow Records release comes with another 4 tracks. A special treat for Malign fans, 4 alternative versions of the demo tracks. The quality of these recordings is a problem and putting it simply they sound awful. However, for unfiltered realism, you can't go wrong here.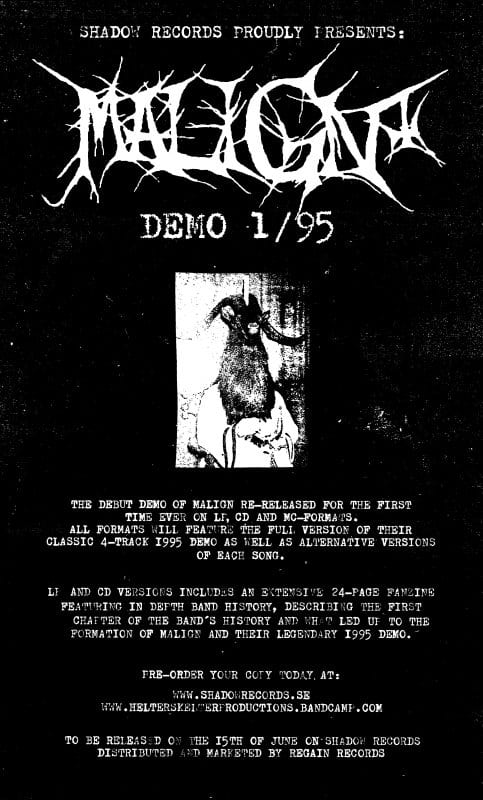 Malign – Demo 1/95 Full Track Listing:
1. Blod Skall Flöda
2. Extirpation Of The Feeble
3. The Wanderer
4. Covenant Of Black Souls
5. Blod Skall Flöda (Alternative Version)
6. Extirpation Of The Feeble (Alternative Version)
7. The Wanderer (Alternative Version)
8. Covenant Of Black Souls (Alternative Version)
Links
Malign - Demo 1/95 (Shadow Records/Regain Records)
The Final Score -

8/10