Album Review: Thy Art Is Murder – Human Target (Nuclear Blast)
Privatised prisons enforce police states, where nonviolent offenders languish for decades. Pharmaceuticals numb the mind. Social media distracts the spirit. All while the very planet lurches toward an inevitable climate disaster that will extinguish humanity. 'The Nightmare of Human Organ Harvesting'? That's not a gruesome song title from some forgotten old-school death metal record. It's a headline from the Wall Street Journal.
Against this backdrop of postmodern dystopia, chaos, and confusion, arrives "Human Target", the earth-scorching fifth album from extreme metal titans Thy Art is Murder. The album will be released on July 26th 2019 via Nuclear Blast.
Hold on to your arses, things are about to get extreme. Thy Art is Murder are pissed off and Human Target is filled with all their anger. A record that pulls zero punches and might be the most intense record they're released to date. Simply because of the myriad of subjects it addresses.
Take the title track for example. It is about the practice of organ harvesting in China, where the World Health Organization found a huge discrepancy in the number of organs volunteered by donors and the number of organs transplanted into the wealthy. A grim subject made all the more 'real' with the raging pit of deathcore noise the band create.
The crunch of the guitars, the blast beat drum assault and a ferocious lashing of the guttural. CJ sounds so passionate and you can tell he believes every single word he is saying.
It's an ear-bleeding start but it almost seems tame in comparison to New Gods, the absolute power exemplified by the roars and breakdowns is staggering. This is heavy but not for the sake of being heavy. Simply put, Thy Art is Murder couldn't do it any other way and by targeting the role of social media in the mental health epidemic, it couldn't sound anymore relevant.
The previous released single, Death Squad Anthem (watch our reaction video here) arrives next and sounds just as savage after many listens. A track that champions the youth who are fed up with the current system, raising a fist in the air and screaming along.
It's probably not a surprise to learn that Make America Hate Again is an attack against the political system. Change 'hate' to 'great' and we have a pretty famous political slogan after all. However, the band aren't targeting any one side but rather the system as a whole. They exude this stance with a frantic flaying of riffs, some of the more standout ones on the album.
"Let's make America great again?! Fuck you! Let's make America hate again!"
Enjoy the quieter start to Eternal Suffering as it's the only time Thy Art ever really take their foot of the gas. It doesn't last long of course and what follows is one of the wilder tracks on the album. Though once again, it shakes the internal organs around with the chunkiest of beats.
While this isn't the first album by the band that shows off their growth and how much they've changed over the years, it certainly feels like the most 'grownup' release they've had. Case in point? Atonement. A track that looks at sexual violence, much of which goes unreported but is also a literal atonement of sorts for some of the band's less thoughtful lyrics.
Long term fans will know some of what those lyrics where and it's pleasant to see the band acknowledge those mistakes even if the subject matter is far from pleasant. Of course, that hardly means it shouldn't be talked about, far from it. Thy Art is Murder aren't afraid to discuss it and in the only way they know how. By delivering an extreme metal experience that encourages involvement at the next live show where this track is dropped. It is going to be chaos.
Following that we have Voyeurs Into Death, an attack on the surveillance state and for profit-prisons. One of the strongest tracks on the album as it pulls out all the stops to take the hurricane of noise down to another level. Sharp enough to cut, blunt enough to bludgeon…it's Thy Art at the top of their game. Although some may get a little tired of the blast-beat drumming.
It's an exhausting listen as with a lot of deathcore you might find yourself drifting in and out. That's not possible with Human Target. Not only are the subjects covered interesting and educational, this is a band that knows how to keep the listener well and truly focused. So much so that without even realising it, it's over.
Not without one big bang though as Chemical Christ deals with the religion of addiction. One final impactful subject covered in Thy Art's deathcore sermon way. It's such a satisfying closer and encapsulates the album perfectly.
Thy Art is Murder are pissed off and Human Target is an ode to that anger.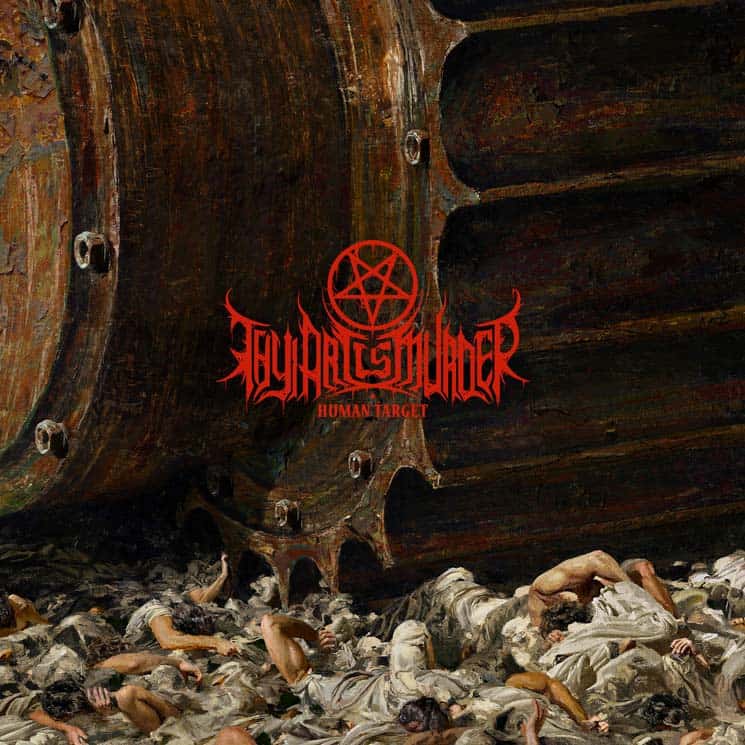 Thy Art is Murder – Human Target Full Track Listing:
1. Human Target
2. New Gods
3. Death Squad Anthem
4. Make America Hate Again
5. Eternal Suffering
6. Welcome Oblivion
7. Atonement
8. Voyeurs Into Death
9. Eye For An Eye
10. Chemical Christ
Links
Pre-order | Spotify | Thy Art is Murder Website | Facebook | Twitter | YouTube
Thy Art Is Murder - Human Target (Nuclear Blast)
The Final Score -

8.5/10