Video: Mortishead – Gorenado: Live at Bloodstock 2018 (Official Video)
Mortishead bludgeoned their way onto the metal scene mid 2014 and have since been leaving a trail of smashed stages, ringing ears and the bewildered faces of people wondering what brutality they bore witness to.
Today they have released a video for Gorenado performed at Bloodstock Festival 2018. Check it out below:
They are essentially a 6 piece dark parody of an authoritarian and malevolent totalitarian regime. The overall depiction of the band is an aggressive, condescending militant/dystopian super power within in the world. They wear arm bands emblazoned with their bands insignia, the M logo.
Guitarists, drummer and bassists have the air of enforcers, the violent ones that do the dirty work, clad in black combat trousers and boots, black shirts.
Luke the Bastard, vocalist, by contrast is well dressed in a suit, he is the official, the leader that gives the orders and is the face of the regime. The reality of the world, is that the most evil and ill intentioned of us, in fact, wear suits.
Then there is the samples player. He is something else, almost the hellish representation of all that is dark and ill intentioned in all people. The thing that drives fear and negativity and the desire to do wrong. The dark side of the ying and yang, left unchecked by its light side that has become absent. A blank, lifeless, face (mask) dressed in a black trench coat. He is the infection, a puppet master, like a cordyceps fungus that controls the minds of those around him.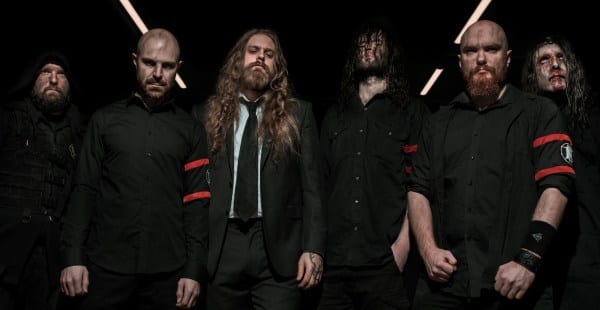 Their sound, including but not limited to elements of industrial, thrash, groove and sludge, combine to recreate the sound of boots stamping on human skulls and is fast becoming one of Bristol's most exciting musical exports.
With teeth cutting riffs and a dominating stage presence, Mortishead are asserting themselves as a powerful movement headed by six brutal bastards.
Head over to Mortishead's website where you can find out much more and pick up their music and merchandise. Keep up to date with news by checking out their Facebook Page, Twitter, Instagram and YouTube.