Track by Track: Under – Stop Being Naive
Under are a trio from Stockport, Greater Manchester, formed in 2016. Though rooted in the blueprints of Sludge and Doom Metal, their sound is harder to pin down with elements of Prog, Noise and Avant Garde creeping in. Think The Melvins, Big Business, Swans, Faith No More, Dillinger Escape Plan and Mr Bungle to name but a few.
The band will release their debut album, Stop Being Naive on October 30th 2018 through APF Records. You can read our review of the album here.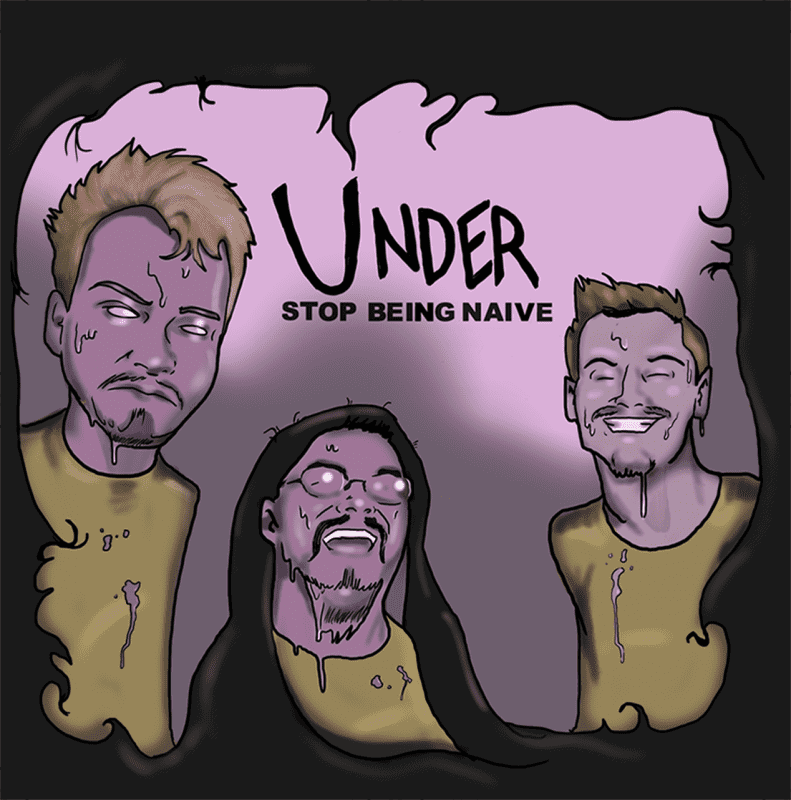 With the release of Stop Being Naive just around the corner, Under's Matt Franklin (Vocals/Bass) reveals, for the first time, a complete track by track guide of the album.
Malcontents
This was one of the first tracks written for the album. The main "riff" came to Andy (Preece – drums / vocals) while waiting for his then girlfriend to get out of a shop changing room. We wanted to play around with this appropriately "groaning" sound to achieve heaviness in a different way to what we had previously attempted. The lyrics are about debasing or damning yourself to achieve power or recognition of some kind.
The Climb
This one came from some riffs Franklin (bass / vocals) had geared towards a more melodic and rock orientated track. The lyrics are about the arrogance of anthropocentrism.
Traitor's Gate
The choruses in this tune were inspired by the noise rock band Moe. We combined these with that nasty main riff and Mayo (guitars / vocals) fleshed it out with his signature bizarro noise work. Lyrically it is pretty abstract but is basically expressing rage towards a betrayal; the chaotic end section was written to reflect this.
Big Joke
One of the last tracks written for the album, this track saw several forms before we came up with the start and end sections – then it all fell into place. The lyrics are about cosmic absurdity and being in hell.
P Irving
The end of this track is actually one of the first things we ever wrote as a band, a polyrhythmic experiment into how unlistenable we can make something. The rest is inspired by the Swans album "To Be Kind". The lyrics are about Franklin's hypercritical opinions on other people's mating rituals.
Grave Diggers
A song about the current prevalence of anti-intellectual attitudes and the damning effect this has on everybody, including the people with those attitudes. Musically an early attempt of ours to speed things up – we managed to fuck that right up by the end!
Happy
An is-it-or-isn't-it-comedy lyric about how bloody excited about life we are. The music came from Andy parodying Mayo's attention-deficit in song writing: random tempo and feel changes abound. We actually managed to speed up on this one too!
An Inch of Sun
The most miserable track on the album. Musically bleak and downbeat, we aimed for a vibe that reflected the lyrical theme: self-imprisonment in the face of depression.
Circadian Driftwood
The title of this track gives a nod to the main influence on the initial writing of this track – Americana heroes The Band. Not that you can tell in the slightest, this became one of the more ambitious tracks with the writing finished in the studio. The lyrics are about being driven mad by sleep deprivation.
Soup
For those of you depraved enough to have the piss-yellow vinyl version of this album, you get to hear bonus track "Soup". Musically our love letter to punk, lyrically our hate mail to certain local councils for their appalling treatment of the homeless.
You can order the album digitally via Bandcamp while physical copies can be ordered via APF Records here. Find out more/keep up to date with news by liking Under's Facebook Page.