Top Ten Most Anticipated Album Releases of 2015
It has been a really good year for Heavy Metal with some great releases ranging from the black metal masters, Behemoth's The Satanist through to Machine Head's Bloodstone & Diamonds so 2015 has a lot to live up to.
With many bands already setting 2015 release dates as well as others confirming they are working on albums, it could be yet another big year for us metal heads.
10 – Metallica – album title is currently unknown
Their last official studio album, no I am not counting Lulu, came out in 2009. The excellent Death Magnetic came out 6 years ago in 2015. Metallica have confirmed they are working on a release but have not confirmed when we will see it. Seeming to be constantly busy with television appearances, festival headlining and even film making, this may be a long shot for a 2015 release but it does feel like the time is right.
9 – Turisas – album title is currently unknown.
Their last album, Turisas2013, came out, surprisingly in 2013 so it will have only been two years since a release but in recent weeks, Mathias Nygard has stated "After a year of touring on the latest album 'Turisas2013″, things have finally quieted down for us to move into the creative process again and start developing the concept for a new album"
While obviously at the early stage, could we possibly get a late 2015 release out of them? I hope so.
8 – Dimmu Borgir – album title is currently unknown.
Originally expected at the end of this year but delayed, the Norwegian black metal legends are expected to release their tenth album in early 2015. After a 5 year wait from their 2010 release of the excellent Abrahadabra, it is going to be eagerly greeted by many.
7 – Blind Guardian – Beyond the Red Mirror
Another band who will have taken 5 years since their last release, 2010's At the Edge of Time, are confirmed as releasing Beyond the Red Mirror on the 30th of January in 2015. With this being their 11th release, Blind Guardian has been releasing solid metal for decades and I am sure this will be another epic tale.
6 – Faith No More – album title is currently unknown.
Faith No More's last studio album was released all the way back in 1997, titled Album of the Year but signalled the end of the band. A few reunion shows apart and a recent single is the first new Faith No More music heard in 8 or 9 years and now they have stated that there will be a new album in 2015 currently set for an April release date. I have always been a huge fan of the band and especially Mike Patton's voice and while I expect them to have changed a lot over such a lengthy break, I couldn't be more excited to hear them now.
5 – While She Sleeps – Brainwashed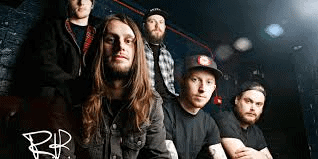 While She Sleeps are a band I thought I would not like as they are unfairly categorised as metalcore when in truth they are so much more expansive then just one genre. The first full length album, This Is the Six, blew me away with its raw power, heaviness, anger but also beautiful moments. Although originally slightly apprehensive of a new album in case it dropped the experimentation for a truer metalcore sound, a recently released single called Four Walls has completely allayed those fears and this could potentially be an album of the year for me.
4 – Cipher System – album title is currently unknown.
Since hearing this melodic death metal band a year or so ago, I have grown more and more into them. I really enjoyed their first release, Central Tunnel 8 but I absolutely adore Communicate the Storms which was released in 2011. There have been no official announcements of a new release coming soon but have been a few mentions via their Facebook page of some exciting announcements coming soon. With a four year wait since their last release, I would absolutely love a new album.
3 – Cradle of Filth – Hammer of the Witches
Love them or hate them, and I love them, to me these guys (can be read as Dani) consistently pump out interesting, creative and solid heavy metal. Having already confirmed Hammer of the Witches as having a spring 2015 release date, this 11th release by Cradle will be their first under their new label, Nuclear Blast and as with most previous releases, I am sure it will become a favourite of mine.
2 – Nightrage – album title is currently unknown.
Although the title of Nightrage's new album is not known, I do know we are definitely getting a new release and that should be early in 2015. Through their Facebook page they have stated that all songs are complete and recorded and the album is going through the mastering process. Their last album, Insidious, came out way back in 2011 and is to this day, still one of the most played albums I have in my collection. It is exceptional and I am hugely excited to hear this next step for the melodic death metal masters.
1 – Fear Factory – album title is currently unknown.
It is hard to believe that The Industrialist, Fear Factory's latest release, came out all the way back in 2012. That album, with the reunion of Burton C Bell and Dino Cazares, was insanely heavy and reminiscent of the bands early Demanufacture years. Their latest unnamed release has been confirmed for an early 2015 release and I am certain will build upon the last. Dino has stated it will fall, in sound style, somewhere between Demanufacture and Obsolete which has just raised the anticipation level even higher. This is going to be epic.
So that is my list and with so many of them are already confirmed, I am excited about the year to come. Especially as new albums mean new tours. Now if only Metallica and Turisas would get a move on………………….