Ten New Blood Bands You Should Be Checking Out At Bloodstock 2019
Bloodstock Open Air 2019 is almost upon us and as is the norm we here at Games, Brrraaains & Head-Banging Life will be in attendance. The line-up is stellar, with many bands for all tastes within the rock and metal world spread across the entire weekend.
Choosing just who to see is going to require planning and thought. We're expecting to be running back and forth like mad-people to just to catch every band we want to see. Especially when it comes to the New Blood Stage.
One of our favourite places to be at Bloodstock, the New Blood stage showcases the future of rock and metal. Most of which earned their place at the festival by winning their respective Metal 2 the Masses competitions. It's a great place to find your new favourite band.
However, there are so many band's playing that knowing just who to go and see is tough. Often the best approach for someone who doesn't know any of the band's playing is to just pop in when you've got a spare hour and see who is playing.
That being said we have had a good old think and come up with 10 New Blood bands we're most excited to see. Previously, we've split our lists into separate articles, one for Carl and one for Brendan. This time we've combined them into one article to make for easy reading!
Enjoy.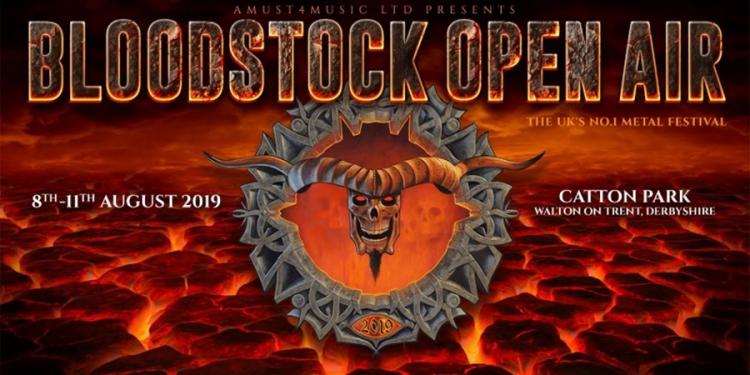 10 – MARW (Carl)
Blackened atmospheric metal. Yes please. It's as simple as that.
Song I want to hear –  Y Gân Marw
10 – The Hope Burden (Brendan)
The atmospheric post metallers (damn that post word!) from Oxfordshire are another really exciting band. Originally an instrumental band that added vocals in around 2015, The Hope Burden create huge soundscapes and experiences through music. Just check out the excellent EP, Decline. Despair. Decay if you aren't convinced. It is really good and should be even better live.
Song I want to hear – Despair
9 – Fear Bound (Carl)
Calling themselves 'melodic dread metal', Fear Bound are an exciting live prospect. One who are making a strong name for themselves within the UK metal community. With their latest album 'Seize the Day' really impressing, this is bound to be the show that many are talking about come the end of the festival.
Song I want to hear – Desolate
9 – Tomorrow is Lost (Brendan)
Leaning more towards Hard Rock than straight up metal, the Newcastle based band have a huge amount of hype growing around them. I have heard a bit from them and they write supremely catchy songs. They also come with loads of energy and with plenty enough heaviness to satisfy even the most closed-minded metal head. I really am looking forward to hearing those songs played live. They are great on record but I have a feeling they may well become a firm favourite of mine after seeing them perform.
Song I want to hear – We Are the Lost
8 – Djinova (Carl)
No nonsense heavy metal, these guys are going to tear the New Blood Stage apart. Watch out.
Song I want to hear – Scapegoat
8 – AeSect (Brendan)
The Dublin based band and winners of the Ireland Metal to the Masses are promising to bring one of the heaviest sets the New Blood Stage has ever seen. Forming in 2011, with loads of touring under their belt, they have a bit more experience than some making it to the final of Metal to the Masses 3 times prior to this victory. More importantly though, they have great energy and some cracking tunes blending death metal, thrash and a little hardcore.
Song I want to hear – Blind Faith
7 – Empire Warning (Carl)
Empire Warning won one of the most contested Metal 2 the Masses events of all, the huge London event. That should give you one hell of an idea of just how good this band is. Modern metal played fast, heavy and loud.
Song I want to hear – Verge of Insanity
7 – Djinova (Brendan)
Djinova are heavy. Really heavy – bringing blast beats, deathcore, guttural vocals and a ton of energy. They won the Coventry leg of Metal to the Masses even with debuting a new line up in the first heat and are making a name for themselves, having already been out as support with bands like Cattle Decapitation. In a world full of post, prog and doom, Djinova are going to rip shit up.
Song I want to hear – Scapegoat
6 – Goat Monsoon (Carl)
The first time we saw Goat Monsoon play in the Heat 1 of the Metal 2 the Masses Essex events we said to each other that they seemed to be the probable winner, They seemed a Bloodstock band so it's really great to see them win their place. No frills, no messing about heavy metal.
Song I want to hear – I Was Here
6 – Lock Horns (Brendan)
The progressive metallers from Belfast are a really exciting band. Forming in 2015 they spent a lot of their early years out touring and mastering their live performances meaning these guys should arrive at Bloodstock ready to destroy. Their debut album, Molon Labe, is really good and deals with topics we can all buy into around politics, technology and creation and sounds made for the live environment.
Song I want to hear – Blood and Oil
5 – Lock Horns (Carl)
It's about time Lock Horns got on the Bloodstock bill having paid their dues live over the last few years. A bit more progressive then standard metal, it's this that makes them stand out.
Song I want to hear – Wendigo
5 – Goat Monsoon (Brendan)
Riffs, riffs and more riffs. Goat Monsoon impressed me from the first time seeing them in Metal to The Masses' very first heat in Essex. We weren't surprised to see them make it to the final. We weren't surprised to see them win it. These guys have loads to offer – good stage presence and energy but mostly just great, no nonsense heavy metal.
Song I want to hear – Shake Me Down
4 – Lost in Lavender Town (Carl)
I love video games. The G in GBHBL stands for games. Lost in Lavender Town idea of taking boss battle beats and infusing it into their post-instrumental metal is fascinating. I'm expecting curiosity to drive many people into the tent to see these guys.
Song I want to hear – Full Restore
4 – Setheist (Brendan)
Winners of the Polish leg of Metal to the Masses, Setheist are an exciting prospect. Female fronted, melodic metal that bases itself around Italian Giallo movies. Expect a lot of progressive elements coupled with catchy melody and powerful drums. They also have a wonderful singer at the helm in Maxi (Maksymina Kuzianik). They are a band on a huge upward curve and a real one to watch!
Song I want to hear – Stranger
3 – Golden Core (Carl)
The buzz around these youngsters is insane but the hype is real. Do not miss this show.
Song I want to hear – See You in the Shadow
3 – Golden Core (Brendan)
The Norwegian/Icelandic duo are probably the youngest band on the bill but are also one of the most promising. Essentially still kids, they have a maturity within their music that is just astonishing. Genuinely one of the brightest stars in doom/stoner metal that exist today. This could be one of the sets of the whole weekend. A real "where you there when" moment.
Song I want to hear – See You in the Shadow
2 – Master's Call (Carl)
This will be the only time you see Master's Call on such a small stage at Bloodstock (although it's hardly a small stage). A band with a super-bright future, they blew everyone away with their EP 'Morbid Black Trinity'. This is going to be special.
Song I want to hear – My Eyes Are the Night
2 – Lost in Lavender Town (Brendan)
I know little about Lost in Lavender Town but am very intrigued. Pure instrumental, the 6 piece mix progressive and technical metal elements with melody and boss battle beats. They are that something different you need in music, and at festivals, to keep things fresh and interesting. I am very intrigued by these.
Song I want to hear – Tangerine
1 – The Hope Burden (Carl)
A month ago I'd never heard of this band, today they're the band I want to see the most on the New Blood Stage. Simply on the strength of the excellent EP, Decline. Despair. Their post-atmospheric metal is right up my street and I can't wait for this.
Song I want to hear – Despair
1 – Masters Call (Brendan)
How good are these guys? Their EP, Morbid Black Trinity blew me away with its blackened quality. Made up of experienced musicians from other bands, Masters Call have 1 EP to their name, debuted live just in 2017 and are already headlining the New Blood Stage. That is how good they are. Not to be missed!
Song I want to hear – My Eyes Are The Night
Who are you excited to see?