Single Slam – El Presidente by GWAR (The Blood of Gods)
GWAR, have released a second single, called El Presidente, from their new album The Blood of Gods. The Blood of Gods is due out on the 20th of October this year via Metal Blade Records. It will be the band's first full release since the passing of Oderus Urungus, Dave Brockie, who was the vocalist since 1986. Blothar, Michael Bishop, is now the vocalist having been the bassist in the band around 2 decades earlier.
GWAR today is, Mike Derks (Balsac the Jaws of Death) on rhythm guitar and Jamison Land (Beefcake the Mighty) on bass. Brad Roberts (Jizmak Da Gusha) is the drummer and Brent Purgason (Pustulus Maximus) is on lead guitar. All members add backing vocals along with three other backing singers and stage performers in Bob Gorman (Bonesnapper), Matt Maguire (Sawborg Destructo) and Don Drakulich (Sleazy P. Martini). Obviously Blothar is on vocals.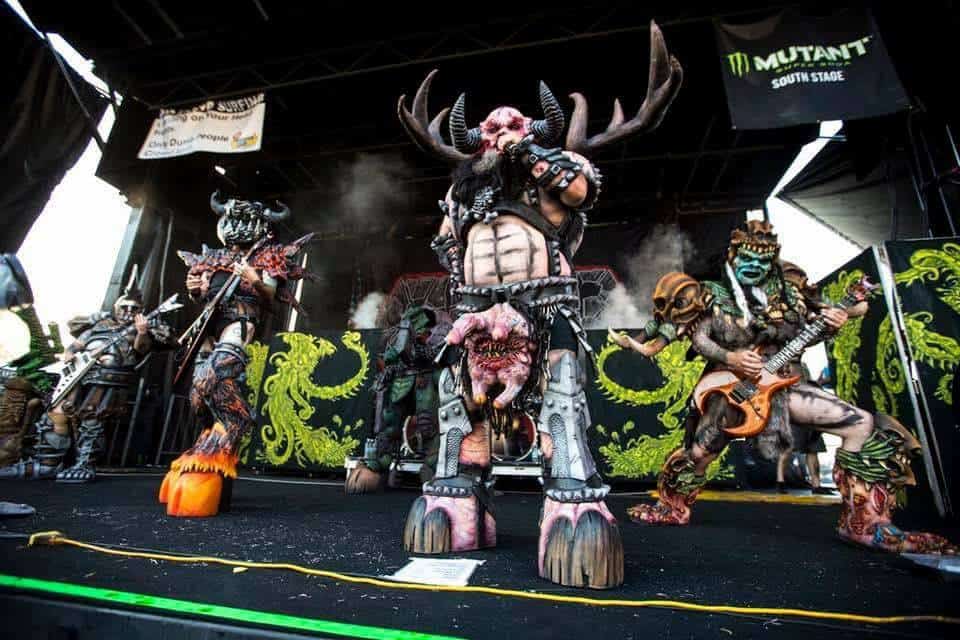 El Presidente, dedicated to the current president of the United States of America, is a real heavyweight track. In terms of quality, it is probably up there with some of GWAR's best ever releases. The track is around 4 minutes and 20 seconds long and is chock full of riffs. A chuggy start is joined by drums and a background effect which picks the pace up to a nice head nodding tempo. Blothar sounds good on vocals – different, yes, but still good. There is a superbly catchy prechorus which has a huge bass line in the background. Clever use of backing vocals are added and the drum blasts and rhythm's are immense. Add is some cool guitar lines and you have a riffing monster of a track that is fun to listen to and that get's firmly stuck in your head.
GWAR are obviously to be taken tongue in cheek though there is a feeling that this one comes with an element of truth. Despite the lines being delivered by intergalactic beings, sentences like "There's a simple reason why your country's crying out in pain" and "Imbeciles all showed us when they squeezed into the voting booths" will feel poignant to a lot of listeners. More extreme lines like "Teleport into his office, all the way from outer space. He won't know what's happened 'til I'm tearing off his stupid face" will bring a smile to many faces as well.
So, El Presidente is a political track but delivered in GWAR's inimitable style. It is great fun to listen to. GWAR sound like a band on an upward curve after an already massive career. There is a different feel and energy to the band these days but that was expected after a major change. It is a good energy though and it feels fresh. It looks like GWAR are going to be around, setting us straight, for a long time to come.
Check it out for yourself here. You can preorder The Blood of Gods from Metal Blade. You can also pick this track up, and more from GWAR, at the links below. Find out more on GWAR at their website, Facebook, Twitter and Instagram. Make sure you like and follow them while you are there.
[amazon_link asins='B0751QPFKN,B00E687MAS,B002Q4TKJU,B00000ICNM,B002IS13W6,1524105015,B07453NN5N' template='UseThisOne' store='g0e5b-21′ marketplace='UK' link_id='d3b8beb3-9e0e-11e7-a088-6d884c19cb7a']
El Presidente by GWAR (The Blood of Gods)
The Final Score -

9/10