Single Slam – Deadlines by Recall the Remains
Recall the Remains release a new single called Deadlines. A punchy blast of metalcore/deathcore that is sure to excite fans of aggressive music delivered with a touch of melody.
Recall the Remains are a 5 piece from Telford, Shropshire here in the UK. The band are Anthony Morris on the drums with Elliot Rowe and Zach Bowden on guitars. Jordan Barnes is on the bass and vocals and Jacob Collins is lead vocalist. Recall the Remains have already released a couple singles prior to Deadlines in The Will of Your God and First Inversion. They have also created a strong name for themselves in local metal through hard work. Work that paid off when they were  crowned the Best of Band's at Mammothfest's regional finals for Wolverhampton. Let's get on with the metal though with Deadlines.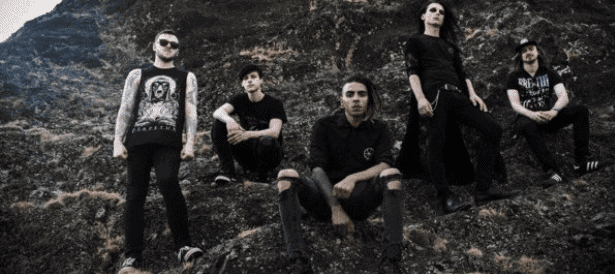 Deadlines is about 3 and a half minutes and let's you know very quickly that the band are here with the intent to pummel. We jump straight into a crunchy riff and thunderous drums with shouted vocals. The verses have a bit more melody to them, keeping a nice pace to the main rhythm and clean singing with attitude. There is plenty of heavy backing to the vocals to giving a nice layered effect and the singer really shows off some range hitting a glass shattering note. This leads into a seriously dark section with blackened growls and a stop start riff and drum blast before heading into a catchy rhythm with a lead guitar line that really worms its way into your brain.
The clean vocals mixed with lead guitar melody works seamlessly creating a really infectious section that is chock full of groove and will definitely get heads moving if they aren't already. A little slow down leads into a cracking solo. A little restrained at first, a powerful scream sees the solo jump in pace and power for the second part before all the vocals, the punchy drums and chunky riff jump in for a last go round.
Deadlines is a cracking song. Really good. I love the layered vocals using clean singing backed by uncleans and then reversing that. It's clever and works. The solo is majestic and there is a nice crunchy riff running through the whole song with a thick bass and strong drums. It's very nicely put together too. Little metalcore, melodic death metal and deathcore influences come through but Recall the Remains have taken those tried and tested formulas and created something of their own that nods to their peers without copying them. This is a band to keep a eye on. Ill be looking forward to checking out more from the band in what should be a very promising future.
Deadlines is available now on Spotify by following this link as well as all the usual streaming platforms like Apple Music. You can find out more about Recall the Remains at their Facebook page, on Twitter and on YouTube by following the links. You can also grab some of their previous work from their Facebook shop here.
Deadlines by Recall the Remains
The Final Score -

9/10