Single Slam – Darkest Spawn by Lorna Shore (Outerloop Records)
American deathcore band, Lorna Shore, have released a new track called Darkest Spawn which you can check out below. Darkest Spawn is the second song released by the group since the departure of their lead vocalist in 2018. Both songs are being used to champion the vocal talent of their new singer, CJ McCreery while fans wait for news of a new album.
The first song released was called This Is Hell. That came out in September, not too long after Tom Barber had left the band and been replaced with CJ. It was a decent enough song and would have helped reassure fans of Lorna Shore's ambitions. CJ joined from Signs of the Swarm while Tom left to become the frontman of another deathcore band, Chelsea Grin. The rest of the band remains intact.
Lorna Shore are a four piece for now, still missing a bassist after the departure of Gary Herrera in 2017. Obviously that four piece has CJ on vocals. Alongside him, on lead guitar is Adam De Micco. On drums it's Austin Archey and Connor Deffley is on rhythm guitar.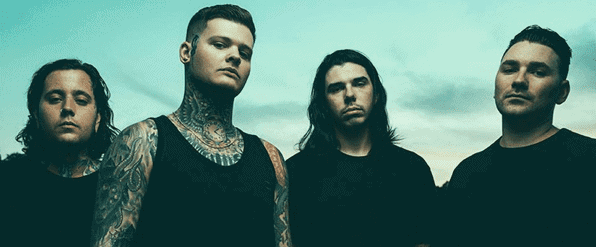 Darkest Spawn is 4 and a half minutes long with a gentle but foreboding start that feels like it is trying to lull you in. As a guitar tone starts ascending behind the melodic start, you realise you were correct. Dark growled vocals come in with a slow but thunderous pound of drums. The slow drum beat soon gives way to intense blasts as the vocals move through different ranges of uncleans in sync with the drums.
The guitars play an almost doom like, melodic brooding sound underneath the relentless ferocity of the drums and vocals making for an interesting contrast. They only really speed up for a guitar solo near the end. It's a short one but is a cracker. The section it leads into afterwards is a bit odd though with peculiar time signatures and growls that go so deep they sound like he is breaking wind, not singing. It's not particularly great to listen to. Still it's brief and we soon return to the blasting drums, angry vocals and thick guitar and bass tone to see us through to the end.
Darkest Spawn is a decent song with stand out drumming and powerful vocals. They contrast well with the thicker, fuller sound coming from the guitars and there is a good but short solo. It doesn't stand out to much as a song overall though. Despite it being played well and structured well, it doesn't feel fresh or exciting, instead coming across like pretty standard fare for the genre. Good, just nothing new really which for a band looking for some stability after a turbulent time is high praise.
To lose your front man, and your bassist before that, but to come out of it stable and capable should give them a confidence boost and please the fans. It'll be interesting to see where they go from here.
Keep up to date with future Lorna Shore news at their Facebook, Twitter and Instagram pages by following the links.
Darkest Spawn by Lorna Shore (Outerloop Records)
The Final Score -

7/10