Single Slam – Afterlife by SHVPES (Greater Than)
British progressive metallers, SHVPES (pronounced Shapes), have a new album out on November 9th called Greater Than. This single from that album is called Afterlife.
Greater Than is due to be released via Spinefarm/Search and Destroy. It will be the band's second full length, following on from 2016's Pain. Joy. Ecstasy. Despair. SHVPES are a 5 piece, hailing form Birmingham, UK. Initially they received a lot of attention thanks to lead vocalist, Griffin Dickinson's lineage. Yep, Griffin's Dad is none other than Bruce Dickinson of Iron Maiden fame. To be fair to SHVPES though, they have never pushed that and instead have been receiving positive reviews off the back of their hard work and music. Alongside Griffin, who is the vocalist, of course we have Ryan Hamilton on guitars and backing vocals. Also on guitar is Youssef Ashraf and on bass it's Grant Leo Knight. Last but not least, on the drums, we have Harry Jennings.
SHVPES have long stated that they look to expand rock and metal boundaries by experimenting in different genres and ideas. There are many band's that claim this and few that succeed. SHVPES are definitely experimental, something that shines through on their debut release. There are many genres dabbled in on that from metal, to metalcore, to rap and prog and much more. I do feel that there is a difference between being experimental and expanding boundaries though. A little rap on a song isn't expanding any boundary or exploring a new frontier. It has been done before. Granted though, it isn't as prevalent these days and SHVPES do it well.
Afterlife is more of the same. A just over 4 minute long track that looks outside of standard to attempt to enhance the song and for the most part, it works. It starts with a nice tapped drum rhythm and a rocking riff. A sudden pause and the song kicks in with catchy gang vocals singing "whoahs". Something that always goes down well, especially in the live environment where you are guaranteed some crowd participation. The track loses me a bit next as all the metal instruments fade away for a synth section with vocals that are indeterminable due to the mass effects layered over them. When it jumps back in, it is into a rap verse, sort of Rage Against the Machine lite. Rapped vocals with a few little guitar taps and a rhythmic drum beat.
Singing comes back in for the prechorus before the absent friends of hard hitting guitars come back in for a really good chorus. Backed by gang vocals, the singing voice is great and the riff hits hard and with depth. That is soon left behind though as we jump back into the rapped second verse. Just like in the first section, we get a build up during the prechorus and then a jump back into the more metal chorus. The chorus gets extended this time round, which is great. You kind of feel like it is building to something, maybe a huge breakdown, or solo, or something but that turns out to be wrong. Instead we drop off again as the music resorts to the synth effects.
As these continue you get some interesting, gentle chanted vocals start coming in and building the song back up. When we get back into the metal, you did get a min breakdown of sorts which is pretty neat before returning to the very good chorus through to the end.
[amazon_link asins='B07FB87D5X,B07FVFL6BW,B01J2RFUCE,B01I6UK6XQ,B07CR78VMN' template='UseThisOne' store='g0e5b-21′ marketplace='UK' link_id='4cd74972-cd38-11e8-b199-5141eb980654′]
Afterlife isn't a song I enjoyed that much to be totally honest. It isn't without it's merits. Griffin has a good voice. The chorus is superbly catchy and the drums and guitars that jump in for the chorus are solid as a rock. The rap verses, not really for me. I alos didn't enjoy the way the song would just die off and allow a synth section. I have no issue with rap, no issue with synth either actually. It just depends on how it is used and on Afterlife, it feels like whenever the song is about to take off, it fades away for the synth rather than using it alongside the guitars to go to another level. Still, there are good elements so I will be looking out for more singles to see how Greater Than is shaping up as an album.
You can grab Afterlife on all the usual streaming services, like Apple Music and Spotify. You can preorder a copy of Greater Than now from here. Find out more on SHVPES and Greater Than by checking out the band at their website, Facebook , Twitter and Instagram.
SHVPES are out on tour all across October and November. Check out the dates below and head to here to grab your tickets.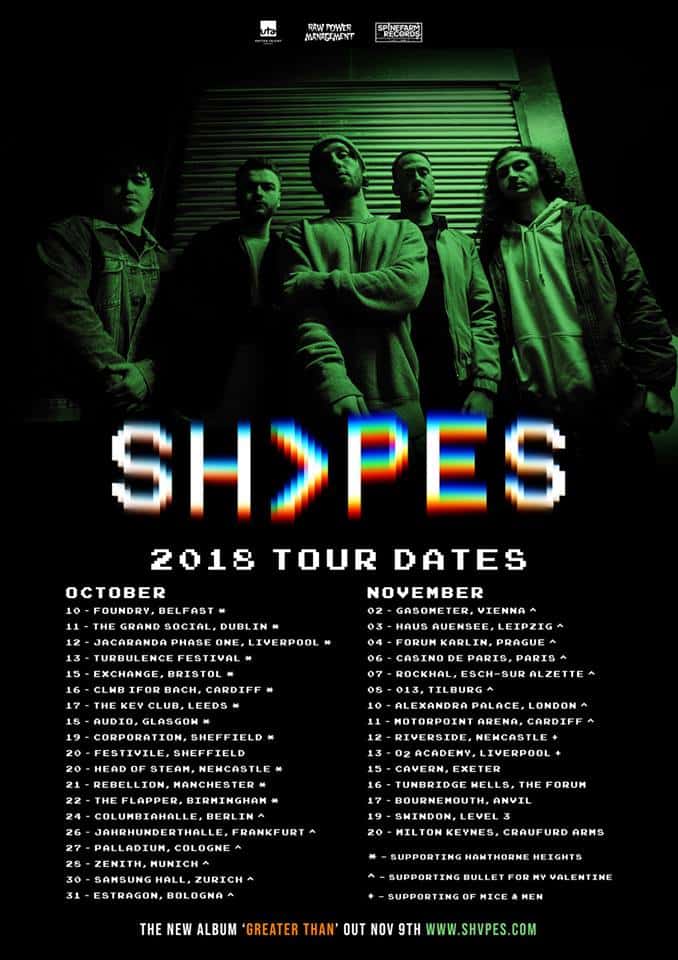 Afterlife by SHVPES (Greater Than)
The Final Score -

5/10