News: Fleshgod Apocalypse Talk Veleno in New Album Trailer
Italian orchestral-death metal juggernauts Fleshgod Apocalypse have released a new trailer that discusses the writing and recording process for their forthcoming, highly-anticipated new album, Veleno. The band's 5th record will be released on May 24th via Nuclear Blast Records. You can see the trailer here –
You can pre-order Veleno now from Nuclear Blast, here. If you preorder a digital version, you will get the two singles Carnivorous Lamb and Sugar instantly (from Amazon or iTunes).
Italian for venom, Veleno marks FLESHGOD APOCALYPSE's first record in 3 years, since the release of their critically acclaimed record King(2016). The metal part of Veleno was recorded in Rome, Italy at Bloom Recording Studio and Kick Studio with long-standing collaborator Marco Mastrobuono, while the orchestral part – the ensembles – were tracked at Musica Teclas Studio in Perugia. Fleshgod Apocalypse then took the effort over to Grammy-nominated Jacob Hansen (VOLBEAT, THE BLACK DAHLIA MURDER, EPICA) at Hansen Studios in Denmark for mixing and mastering. The entire production of Veleno took, according to Paoli, about three months. Artwork for the album was created by Travis Smith (AVENGED SEVENFOLD, OPETH, KATATONIA).
Check out the full track listing for Veleno below –
01. Fury
02. Carnivorous Lamb
03. Sugar
04. The Praying Mantis' Strategy
05. Monnalisa
06. Worship and Forget
07. Absinthe
08. Pissing On The Score
09. The Day We'll Be Gone
10. Embrace The Oblivion
11. Veleno
Bonus Tracks (DIGI, DIGITAL & DIGITAL DELUXE)
12. Reise, Reise (RAMMSTEIN Cover)
13. The Forsaking (Nocturnal Version)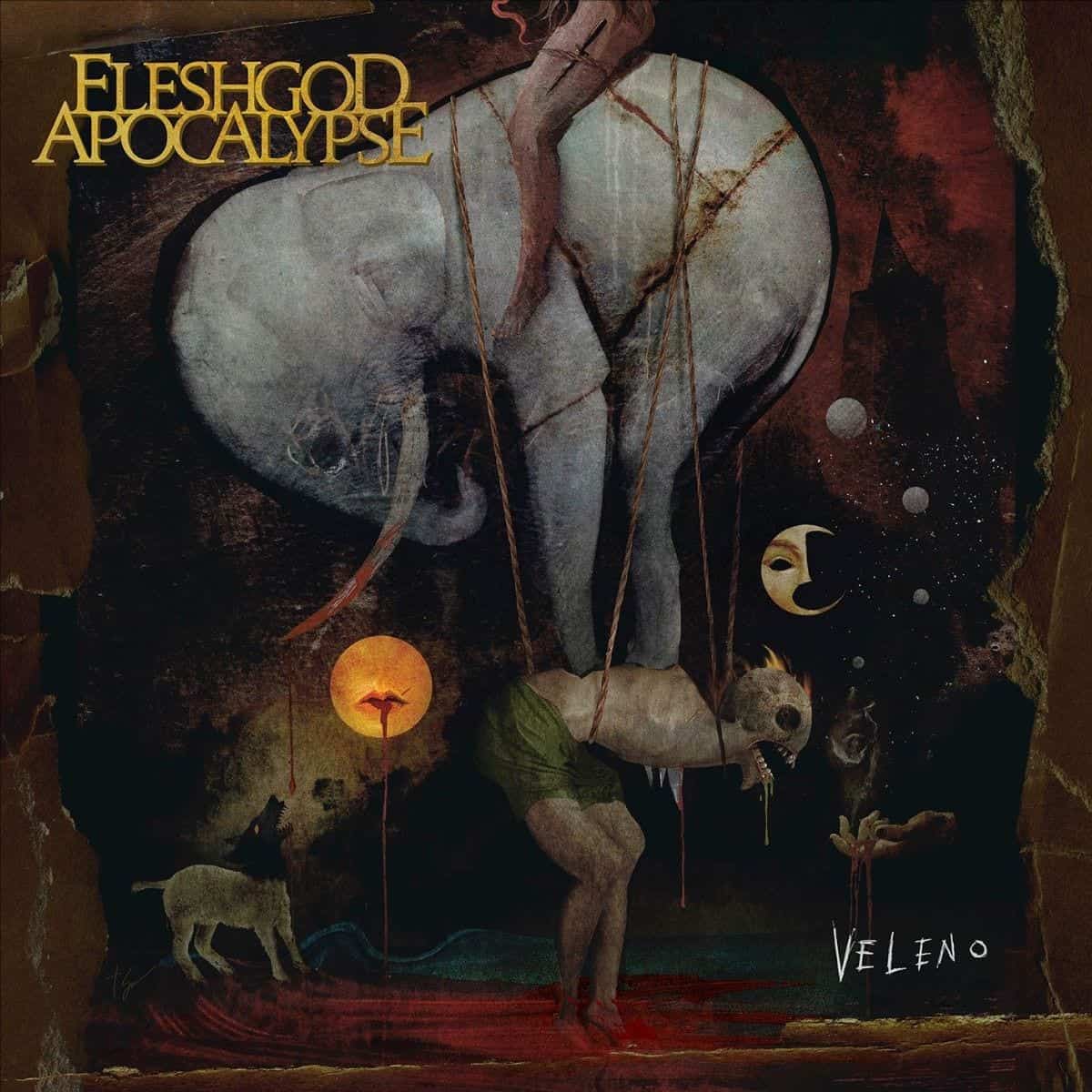 Check out the track listing for the deluxe version's bonus Blu-Ray – An Evening in Perugia below –
01. Marche Royale
02. In Aeternum
03. Healing Through War
04. Cold As Perfection
05. Minotaur (The Wrath Of Poseidon)
06. Gravity
07. The Violation
08. Prologue
09. Epilogue
10. The Fool
11. The Egoism
12. Syphilis
13. The Forsaking
For fans in Latin America, Fleshgod Apocalypse are bringing the Veleno tour throughout May alongside Wolfheart. Dates and locations are below –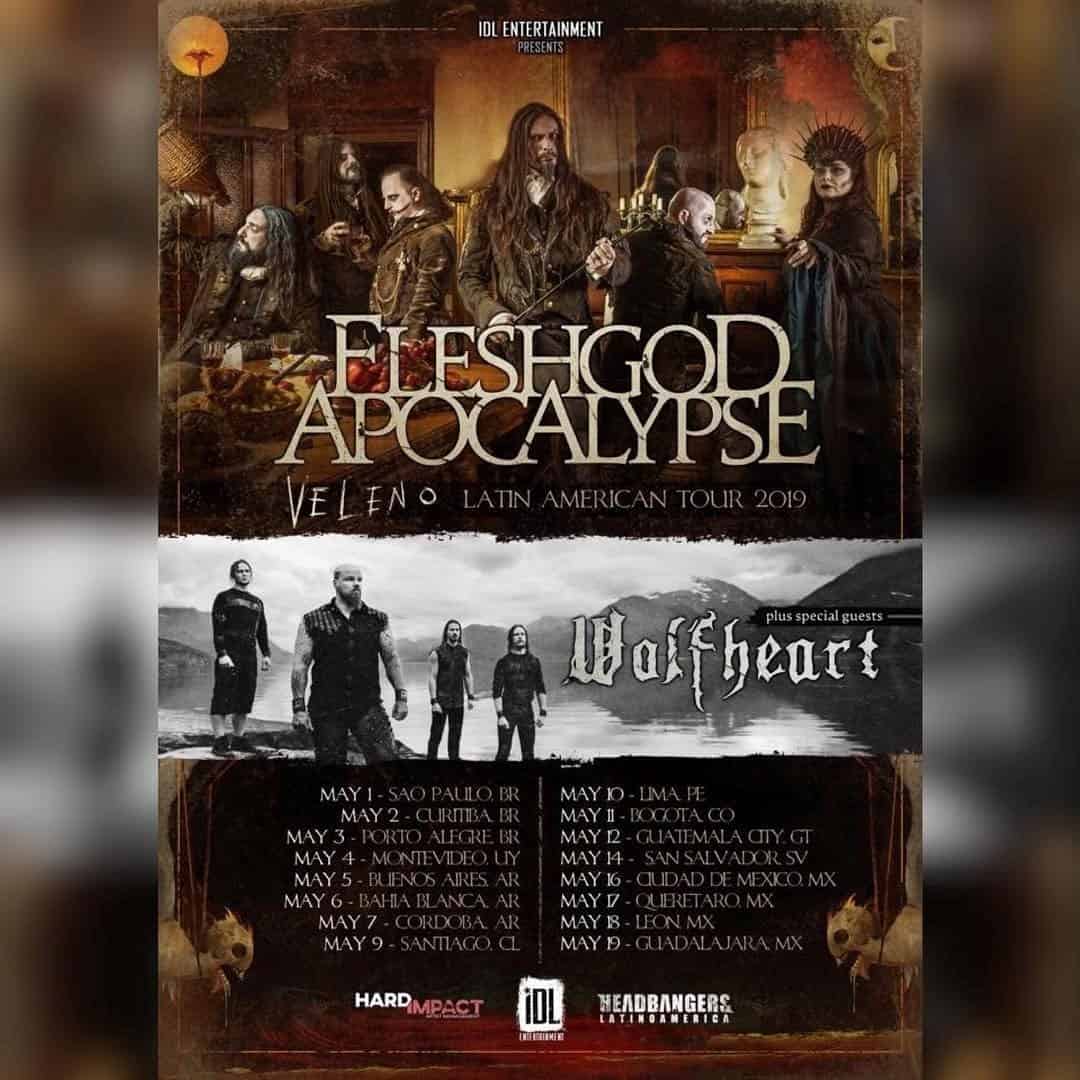 01.05. BR São Paulo – The House
02.05. BR Curitiba – Jokers
03.05. BR Porto Alegre – Art & Tattoo Club
04.05. ROU Montevideo – Music Box
05.05. RA Buenos Aires – Uniclub
06.05. RA Bahía Blanca – Nuevo Complejo Bailotage
07.05. RA Córdoba – Casa Babylon Club
09.05. RCH Santiago – Rock y Guitarras
10.05. PE Lima – CC Embassy
11.05. CO Bogotá – Ace of spades-club
12.05. GCA Guatemala City – TBA
14.05. ES San Salvador – TBA
16.05. MEX Mexico City – Foro Indie Rocks
17.05. MEX Querétaro – Noisy
18.05. MEX León – Maybach Concert Hall
19.05. MEX Guadalajara – Foro Independencia
Find out more on Veleno and Fleshgod Apocalypse at their website, on Facebook, Twitter, Instagram and at Nuclear Blast by following the links.