Horror Movie Review: Creepshow (1982)
Good horror anthologies are tough to come by but Creepshow is off to a winner straight away thanks to an incredibly talented cast, Stephen King as the writer & George A. Romero as director.
Split into 5 stories using animation in between & bookended by a story about young Billy whose father doesn't want him reading a comic called Creepshow. Billy's father is very tough on him & sends him to his room. Billy curses his fathers name before hearing a noise & seeing the Creep from his comic book appear at his window beckoning him.
Father's Day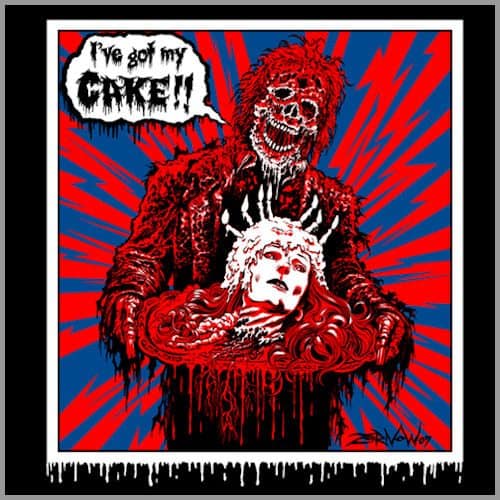 Nathan Grantham's descendants (A bunch of schemers & money grabbers) have gathered for an annual dinner party. The man was murdered many years before by his long-suffering daughter who had to care for him. His demands for cake on Father's Day became the final straw for Bedelia who murdered him.
A drunken Bedelia visits her father's grave before going to the party & reminisces about how she killed him. She drops her whiskey bottle on the grave which reanimates Nathan's corpse. He is a decayed mess but sets about getting his revenge on his remaining family.
"I want my cake".
Entertaining and with a nice twist of horror. It's easy to relate to Bedelia as we see how she suffered through flashbacks, the rest of the family though are horrible creatures. You'll look forward to their comeuppance. The make-up used to make Nathan look like a rotting corpse is excellent & the hissing voice that demands his cake is very creepy.
The Lonesome Death of Jordy Verrill
This short story will be more effective if the idea of a fungus growing on your body creeps you out. Jordy is dim-witted yokel played by Stephen King; he discovers a meteorite & believes that he can sell it for a lot of money. Dousing the hot meteorite in water, it cracks open & spills a bright green liquid that spills on him. As the night goes on a green plant like fungus begins to spread across his body.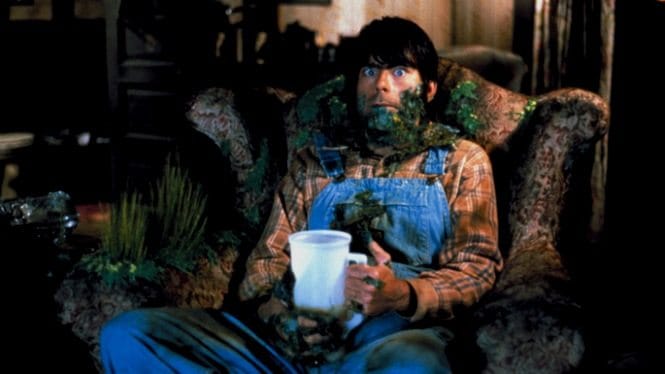 Eventually Jordy & the surrounding farm are covered in the green vegetation & it just keeps spreading.
I really like this story, short that it is. Stephen King hams it up brilliantly as Jordy & the pace in which the alien growth spreads is terrifying. A final radio broadcast adds some weight to the story too, leaving you feeling quite despondent.
Something to Tide You Over
It's always incredible for me to see the late-great Leslie Neilson in any role that isn't comedic & here he plays Richard, a rich psycho who finds out his wife is being unfaithful with Harry. He takes Harry out to his quiet beach house & at gunpoint buries him up to his neck in the sand.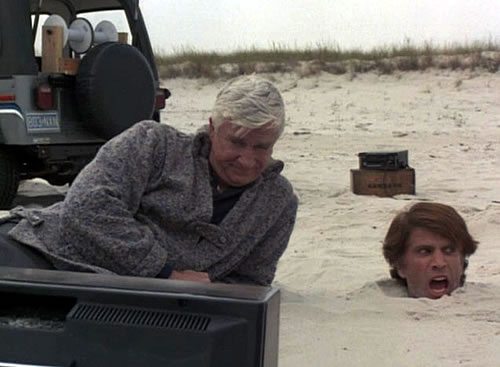 This is his revenge, the tide will come in & if Harry can hold his breath long enough for the water to loosen the sand he will survive.
He sets up a TV for Harry to see that he has done the same thing to his unfaithful wife. Richard leaves him to his fate & returns to his beach house to watch the unfolding drama on CCTV. Content with himself he begins to ready a shower but unknown to him the murdered pair have returned from sea for their revenge.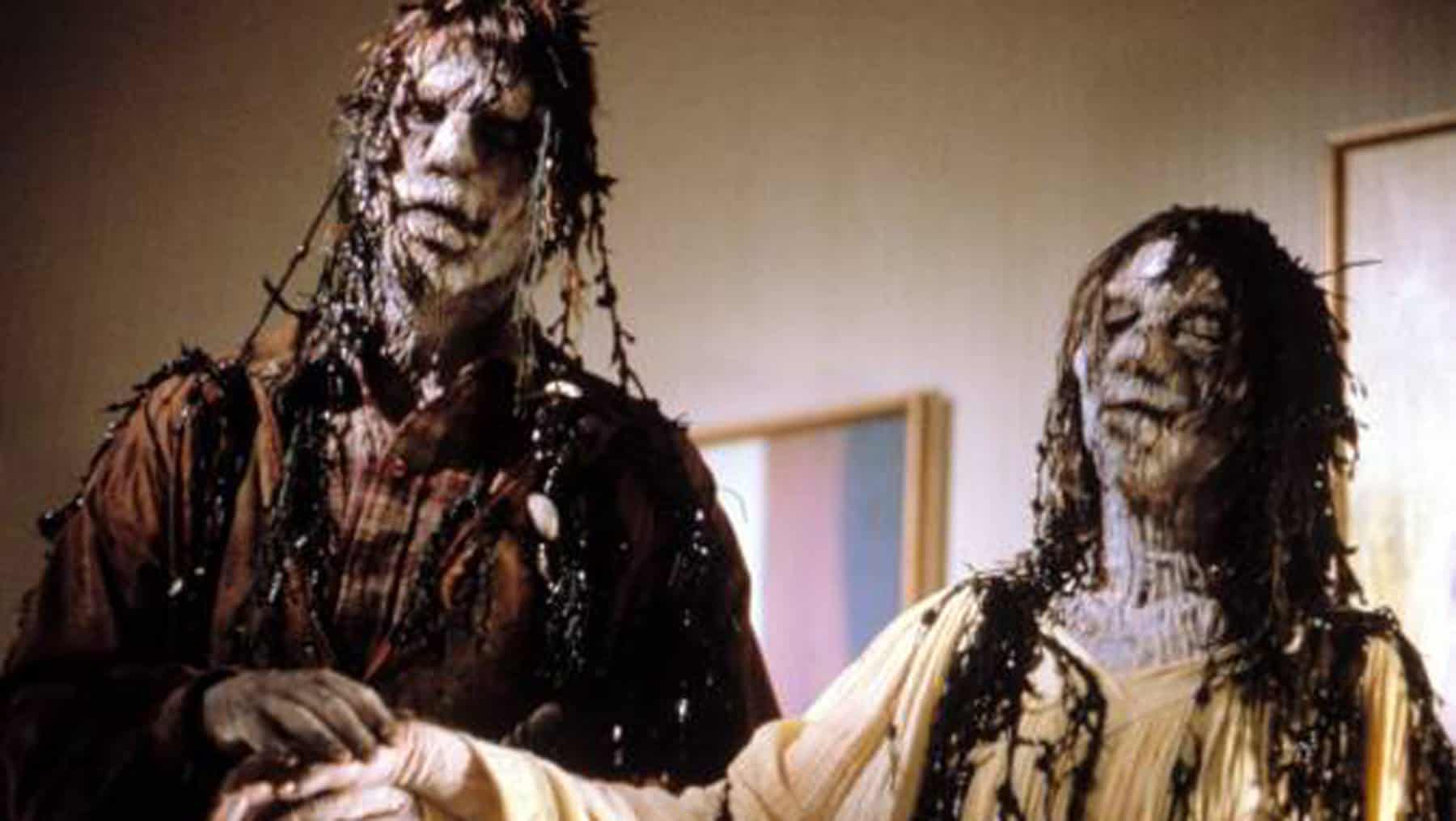 A really interesting story with great acting, great make-up & genuinely horrible way for characters to die. Richard is an evil man to even consider killing a person in this fashion & when his sanity snaps at the end you can't feel anything but distain for the lunatic. The build up is exciting as you know every step Harry takes his one step closer to his end.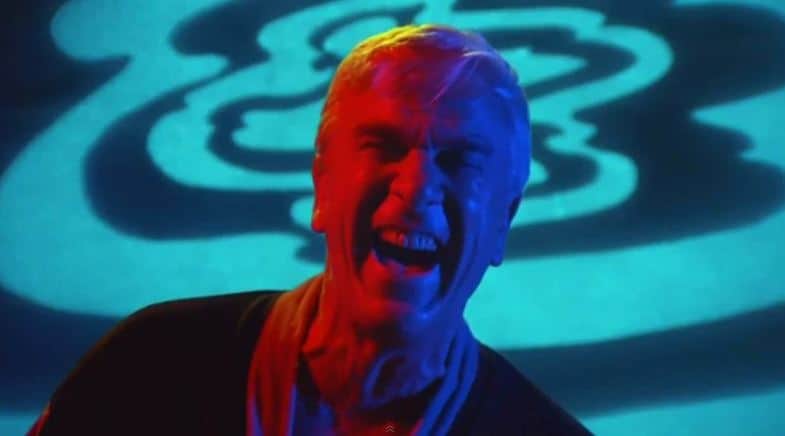 The Crate
A wooden storage crate is found by a college janitor seemingly hidden under the basement stairs for almost 150 years.
Meanwhile at a party we meet college professors & friends Henry & Dexter. Henry is married to Wilma, an absolute chore of a woman who constantly belittles him & embarrasses him while amongst his peers & colleagues. It's so bad that he even fantasises about murdering her in front of everyone & getting a round of applause for it.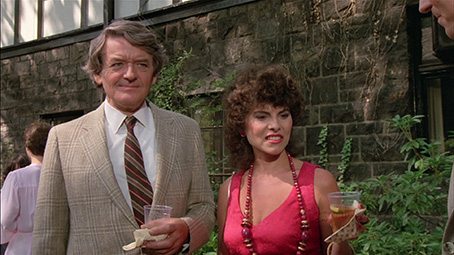 Dexter is called back to the college by the janitor & together they open the crate. Inside is a monster that kills the janitor & leaves Dexter scared for his life. He runs into a college student who doesn't believe him & ends up dead at the hands of the monster.
Panicking Dexter goes to Henry for help who sees this as a chance to get rid of his wife once & for all.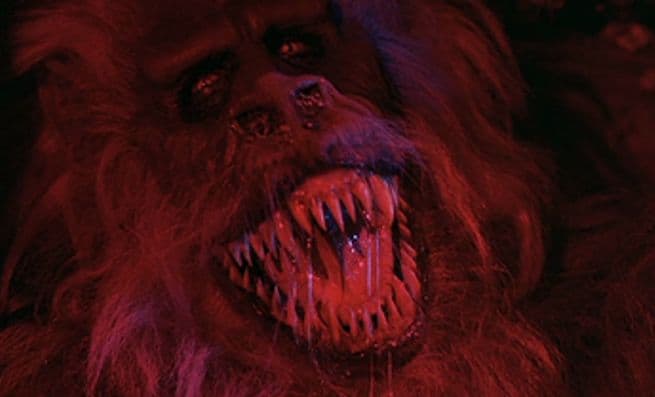 Helped by great actors, The Crate is far more fun then it might first seem. Henry & Wilma light up the screen & you share his frustrations as she is very obnoxious. Henry's plan is devious but the way in which it comes to together is fun & exciting. I don't think the monster looks particularly good & the reality of the crate having been undiscovered in its location for such a period of time is laughable.
They're Creeping Up on You
If you can't stand cockroaches then this is not a story for you….
Upson Pratt is a nasty & cruel businessman who suffers from mysophobia (a fear of germs). He has sealed himself away in a hermetically penthouse & controls his business's from there. One night a lightening storm knocks out the power within the city & Pratt's penthouse. Cockroaches begin to find their way in causing Pratt to panic, he tries to deal with one or two at first but it's not long before he is overrun. Locking himself in his panic room he thinks he is safe from the infestation until the bed begins to move…
It's a really well done story relying mainly on Upson Pratt to highlight just how terrifying the situation is. Very few people enjoy bugs so the thought of thousands of cockroaches infesting the place you feel the safest in is horrible.
This excellent anthology ends with the 2nd part of young Billy's story as we see him extract revenge on his father for throwing his comic book away.
Creepshow is, as anthologies go, pretty flawless; each story is wildly different but fun in its own right. Excellent cast choices, great make-up & effects, a tongue in cheek approach makes it stand tall above others within the genre.
Creepshow
The Final Score -

9/10
Comments Rating
( reviews)