Live Review – Machine Head at The Roundhouse, Camden (19/05/2018)
It is a Saturday. The sun is shining. Royals are getting married. The FA Cup final is taking place at Wembley. More importantly, Machine Head are in town. Playing their second night in a row at The Roundhouse in Camden, excited fans litter the pubs of London sinking a few beers in the sun in preparation for what should be an epic night of metal.
It is no secret that I am a huge fan of Machine Head. I have followed them for all of their career and most of my life. I have been lucky enough to see them live many, many times and I recommend their live shows to everyone. As good as they are on record, Machine Head bring it live. They have the ability to turn even the songs you maybe don't like so much into raging monsters. This time round Machine Head have been out on a huge worldwide tour in support of their latest release, Catharsis.
Catharsis was released on the 26th of January this year and seemed to split heavy metal with tons of praise but even more negativity. The negativity was mainly aimed at people not liking or disagreeing with the band's honest and forthright messages contained within the tracks. It is a deeply personal album and one that we at GBHBL respect and admire, musically as well as lyrically. You can read our review of Catharsis here. Well, the outpouring of negativity does not seem to have had an affect on the band's popularity as show after show has been sold out and the band have been receiving rave reviews of the Catharsis tour so far.
This is the second night of two for Machine Head at The Roundhouse in Camden. Both shows, I am delighted to say, are sold out. Selling out two nights in a row in London on a weekend when there is so much else going on is fantastic. It is great to see a band being rewarded for their work with ticket sales. Machine Head are carrying on their recent trend of playing "An Evening With" styled gigs. On these they tour alone and play huge 2.5 to 3 hour shows each night. This means you have to get yourself into the venue early. Thankfully the queue isn't very long and we are all in very quickly so a trip to the bar aside, we are ready to let loose.
You can see the stage set up all in white, their recent colours of choice, and the rapidly filling venue has a strong buzz of excitement about it. Aside from shuffling to avoid the Roundhouses, not too inconveniently placed, columns, every one looks ready to go. A chant of Machine Fucking Head starts rattling around the room and when the lights dim, the roar of approval is deafening. The way to make a fired up crowd explode into overdrive is to start off with arguably the band's heaviest track, Imperium. The volume is turned up to the max and the pit explodes into a frenzied mass. Looking around there isn't a single head not banging along.
We get our first track from the new album next in Volatile. Acting like a double header of heaviness when coupled with Imperium, it is a really heavy way to start a gig. The crowd are in good voice as they sing back "Dead and Bloated" at full volume. The band sound strong and Jared MacEachern's backing vocals sound immense. What an addition to the band, he has been. Machine Head continue to play tracks from across their complete sphere of albums heading into Now We Die from Bloodstone & Diamonds.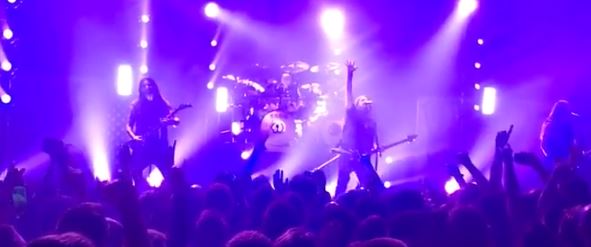 This track is one of the finest examples of what happens to Machine Head tracks when they are played live. A damn fine song on the album becomes a crushingly heavy beast live. The slow down section sees every single person in the crowd scream passionately along with Rob. Its an emotional and impressive sight. We head back in time for a couple tracks next. We start with the always popular The Blood, The Sweat, The Tears before a rarely played, Crashing Around You gets an airing. You forget how good this song is but the crowd show their appreciation well, pitting furiously, head banging constantly and singing in full voice.
This is the End's slow melodic intro give a few seconds breather to everyone though that intro does lead into musical carnage. The guitars sound great as Robb and Phil harmonise throughout the solos. Part of the band head off stage for a few minutes rest while Phil Demmel plays around with the crowd and his guitar for a solo section. I love Phil but this is the second time I have seen him do this solo stuff and while it is entertaining watching him interact with the crowd, it isn't the most memorable part of the show. When Robb returns, he has a chat with the crowd which leads up to his love of music. The crowd know what is coming and Darkness Within starts.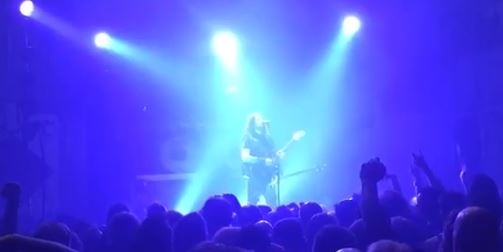 The eager crowd lap up every second of this track which is played immaculately by the band. As has become custom, the crowd continue on the ending for what feels like a record with their "do do do do" at the end. Hair raising stuff. It really is. We finally get another song from Catharsis with the title track and man, it is amazing live. It is such a huge layered song but the band pull it off perfectly with Dave's drums sounding immense and the crowd responding to every note. Another surprise comes next in From This Day before an old favourite, Ten Ton Hammer, from The More Things Change gets played. Another surprise comes next with the radio friendly Is There Anybody Out There? It goes down well though and sounds a lot heavier live and with Phil Demmel's guitar.
Being in London, Machine Head then play a cover of Iron Maiden's Hallowed be Thy Name which is a truly remarkable cover and it goes down a storm. I was really chuffed to have Locust played next. It is one of my favourite songs and has an immense solo. My neck still hurts from head banging to this one. I mentioned Catharsis splitting fans well nothing from that album split people more than the song Bastards which comes next. Bastards is an amazingly powerful song. I love it and was so pleased to see that every person in the venue felt the same. The crowd sang their hearts out and moshed like crazy. The band looked fired up and you genuinely felt part of something special.
Dave McClain takes to the stage next to wow everyone with his immense rhythm skills. What a drummer this guy is. He is hypnotic to watch. After that we get back to the heaviness with the triple header of Bulldozer, followed by Killers and Kings followed by Davidian. The pit is still frenzied over two hours in and these songs see the aggression raised a few notches more. Possibly my favourite Machine Head track of all time comes next with Through the Ashes of Empires, Descend the Shades of Night. This song is perfect and the crowd all seem to agree. The solo is mind blowing and the sound is great and leaves it's notes ringing in your ears.

Back we go to crunching heaviness with None But My Own before Triple Beam gets played. I am not really much of a fan of this song and even live, it isn't great though does sound a lot heavier. Aesthetics of Hate comes next and any disappointment from Triple Beam is quickly washed away before the popular Game Over gets aired. It is fast becoming a staple of the live Machine Head set and really sounds powerful live. As we near the end, the pit get one more track to go fucking berserk over with the insane Blood for Blood before the grand finale.
Halo. The crowd participate eagerly in the speed clapping at the beginning. You feel the popularity of this track rebounding from every watchers roared shouts, fearsome head banging and air guitar skills. As the song reaches it's climax, the lights go crazy and confetti bombs explode all over the sweaty, heaving crowd leaving many people awestruck. I have seen this song live many times now and I was awestruck. If you are a fan of metal, you absolutely have to experience Halo live. Its imperative you do.
That brings the end to the show bar the customary crowd photo. There is a nice a show of gratitude from the band thanking the crowd and roars of grateful approval from the crowd. 3 hours and 5 minutes of Machine Head metal mayhem which, according to the band is also a record length for a Machine Head show. It was amazing. Intense. Heavy. Brilliant. As you always do, there are songs I wish I could have heard but didn't. I could live without Triple Beam too though I didn't hate it live. Machine Head continue to be the most consistent of live metal bands anywhere.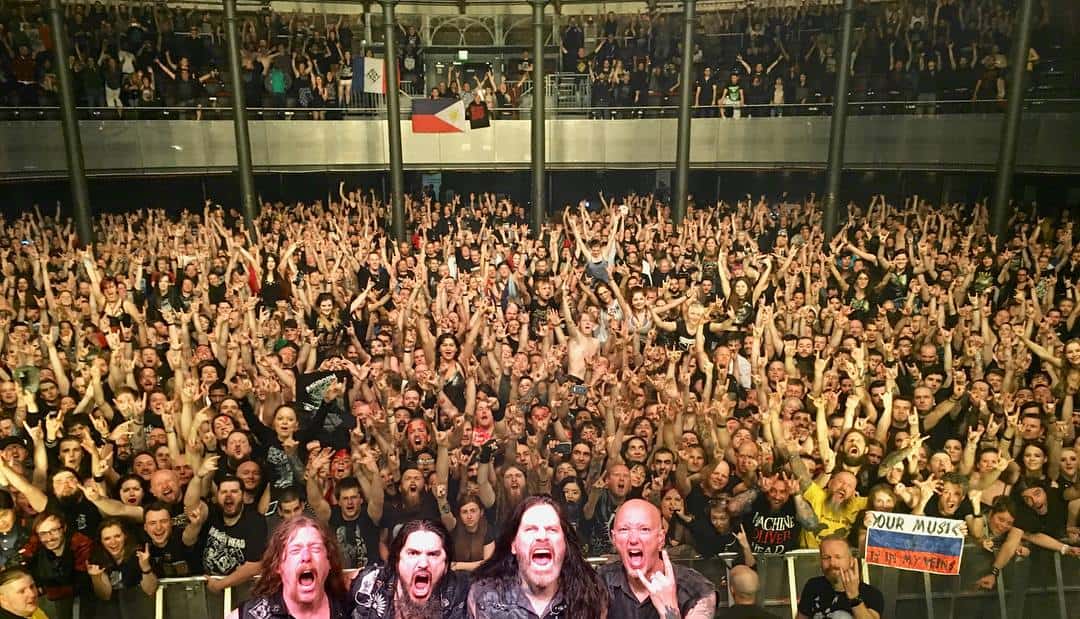 My only proper complaints would be that the sound when near the front of the pit was fuzzy and the vocals were almost lost completely. In the middle or at the back there were no issues but once in the pit, vocals were almost completely lost. The Roundhouse is a great venue acoustically normally so I have no idea what happened there. Finally, with over 3 hours of playtime and it being the Catharsis tour, I would definitely have liked more songs from the album. Just 4 from the 16 track album doesn't seem right. I am not sure what I would have dropped. I was just hoping for Hope Begets Hope, Beyond the Pale, Heavy Lies the Crown or Behind a Mask. Either way, I was surprised how few songs from the new album were played.
I don't want to end on a negative as there were too many positives so let's just close this by saying that Machine Head pulled off an amazing live show that makes you feel privileged to be a part of. I had a great time. My neck hurts. My body is bruised. Even my ears are ringing. I had a great time. For the rest of this week, my thoughts will keep returning to three little words. Machine Fucking Head! Machine Fucking Head! 
There are still limited tickets available to some of the remaining UK shows so don't miss out. Grab your tickets from here. You can pick up Catharsis and more from the band at the links below. Check them out on their website, on Facebook, Twitter and Instagram to stay up to date with news and information from the band.
[amazon_link asins='B077JGPJDV,B077GG87NL,B000N3ST9I,B000000H6G,B00N8XWHDE,B000000H4W,B00000JLC4′ template='UseThisOne' store='g0e5b-21′ marketplace='UK' link_id='1579abb2-5c7e-11e8-aa47-b5edc2fba03d']
Machine Head at The Roundhouse, Camden (19/05/2018)
The Final Score -

8.5/10