Live Review: Aoniafest III at The Corporation, Sheffield (05/10/19)
A trip to Sheffield has been on the cards for some time and if there was ever a time to head 'up north' it was to be part of the symphonic-metal beast Aonia's very own festival, Aoniafest. The third iteration of this day event, this year saw the 7-headed, 14-legged machine bringing a hefty whose who of the rock and metal world with them.
A line-up that sees Soul Shredder, Winter Storm, Elusion, White Raven Down, Fyresky, Lesbian Bed Death, Chasing Dragons joining Aonia for a spectacular day of rock and metal at The Corporation in Sheffield.
Simply put, there wasn't a bad performance and with that in mind we decided we wouldn't rate the bands individually but rather the fest as a whole. The calibre of rock and metal was so high that any scores would just seem pointless.
Soul Shredder
Brendan – A great start to what ended up being a wonderful day of metal. They warmed the crowd up nicely. They have a supremely talented front woman who has some nice little twists and nuances to her singing style giving an almost Romany edge to some songs. As for the guitars, man, I can see why they have the word "Shredder" in their name. They were on fire with the only issue being they sometimes drowned out the vocals. Great start though.
Carl – I knew absolutely nothing about these guys beforehand but by the end I was a fan. They were awesome, a right power house getting things well and truly started and the crowd nicely warmed up.
Winter Storm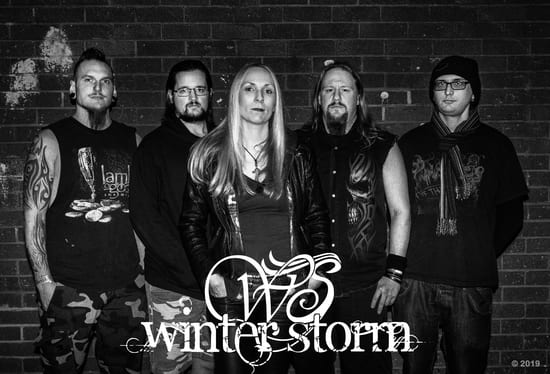 Brendan – Winter Storm carry on the impressive start with some epic sounding power/symphonic metal. The band arrive short a member so without the live keyboard player resort to a backing track but it doesn't phase them or hinder them in any way. The front woman is amazing, absolutely shredding the lead guitar while belting out vocals and the songs are catchy as hell. They look a very talented and promising band.
Carl – I was very excited to see Winter Storm, a band that we've become more and more aware of as the weeks have gone on and they didn't disappoint. A powerful performance with the band showcasing a lot of music coming from their upcoming new album, I thoroughly enjoyed it.
Elusion
Brendan – Wow. One of the band's of they day for me. I didn't know anything about these guys beforehand but won't be forgetting them now. The front woman is outstanding, belting out operatic numbers but also throwing in some nice metal styled growls. The band own the stage with some remarkable riffs and guitar melodies. They look very experienced, like a well-oiled machine and ooze professionalism. Genuinely brilliant throughout their whole set and could happily have watched them for much longer.
Carl – Woo hoo! That's my excitement in two words when it comes to talking about Elusion and their incredible set. What an amazing band this is, grabbing an opportunity and running away with it. A little bit nervous at first, their growing glee as the gathered masses really get into it, is fantastic to watch. They could have played double the time and I'd still have been as positive about them.
White Raven Down
Brendan – What a talented group these guys are. They really do seem to have it all. Great vocals, an excellent guitarist and a brilliant rhythm section that pushes out a plethora of filthy grooves. They have great stage presence too. Even a broken bass string, spot of spontaneous jogging for the bassist to get a replacement and the 3 minutes of improvisation while they wait for his return becomes an endearing moment rather than an awkward one. They are infectiously enthusiastic, and their music catches you and pulls you along on a wave of punchy riffing. I could happily have listened to these guys for another 30 minutes. Join the Conspiracy – I have.
Carl – The mark of a great band is how they handle an on-stage issue, the one Brendan mentioned above and White Raven Down are a great band. Plying their hard rock sound, they are the epitome of professionalism and knock it out of the park with a bunch of head-banging tunes. I've been a fan for a while now and shows like this just confirm them as one of the shining lights of the UK rock scene.
Fyresky
Brendan – It seems like a long time ago that I first saw Fyresky play in the Metal to the Masses Essex competition. I thought they were good then, but it is seriously heart warming and exciting to see how much they have grown in less than a year. They were absolutely brilliant. Absolutely amazing. The front man is a truly unique vocalist and the band, costumed up, are eye catching and exciting. The band's gothic undertones blend brilliantly with their hard rocking beats and grooves and, like so many band's here today, you feel like you could watch them play for much, much longer.
Carl – What on earth? Fyresky impressed us in the Metal 2 the Masses Essex events earlier this year but this was a seriously advanced beast. They have come along leaps and bounds in a short amount of time and I absolutely loved their performance here.
Lesbian Bed Death
Brendan – Press commitments meant I caught a very short amount of their set but what I did see was great. Loads of energy, great riffs and powerful vocals. They have a little bit of a gothic edge to them, visually at least while the music stays predominantly hard, energetic rock. They look a talent. Will be keen to see more from these in the future.
Carl – As Brendan said, unfortunately I missed most of Lesbian Bed Death due to press commitments but I was instantly hit by a wave of excitement and energy when I stepped into the stage area. Enough so that I wanted to see more straight away! Next time!
Chasing Dragons
Brendan – Chasing Dragons were great. The first time I have seen them and possibly the last too as they have announced the end of the band since Aonia Fest. They definitely brought the energy levels up with some banging riffs and blasting drums patterns. The vocals are great and the front woman, Tank, really commands the crowd. Much like the whole of Aonia Fest, it was just brilliant to see bands who appeared to be absolutely loving what they were doing, and Chasing Dragons were exactly that. Smiling and enthusiastic while hitting the crowd with a mix of intricate melodic rock and bone crunching metalcore beats.
Carl – Wait, what!? Chasing Dragons are calling it quits!? Man, I'm very glad I saw them here then because they were excellent. Like a lot of the front women/men tonight, it's near impossible to tear your eyes away from Tank, she is phenomenal.
Aonia
Brendan – Our admiration for Aonia is no secret and this set just reinforced these feelings. They are a collection of some of the most talented people we know all combining to make a singular band that are nothing short of phenomenal. They can invoke emotions like few other bands, lifting you on soaring highs before dropping you into sadness and then raising you back up again. The dual female vocals were made for each other with perfect harmony. The guitars, the bass, the keys and drums all just sound amazing. They offer enthusiasm, beautiful vocals and dreamy solos mixed with operatic keys but also punchy riffs, bass lines and drum beats. Hell, they even made me like a Ghost song which is no small feat, with the cover they played. Worthy headliners and a band who deserve to be heard and praised.
Carl – Playing their debut album 'The Seven' in full, tonight feels special not just because of the landmark anniversary of said debut but because nothing Aonia does ever feels lesser. Tonight is no different and they raise hairs across the body with their incredible performance. It seems as though it's over far too soon but not a single person left inside feels short-changed. They even threw in a cover of Ghost's Square Hammer which is soooooooo much fun!
We can't wait for Aoniafest IV!
Aoniafest III at The Corporation, Sheffield (05/10/19)
The Final Score -

10/10