Horror Movie Review: Wrong Turn 6 – Last Resort (2014)
So here we are then…the final Wrong Turn movie (as of 2017). A series that started well, got better than flushed it all down the toilet with two of the worst horror movies of the last 10 years. You can read all our reviews of the series so far below:
2003 – Wrong Turn
2007 – Wrong Turn 2: Dead End
2009 – Wrong Turn 3: Left For Dead
2011 – Wrong Turn 4: Bloody Beginnings
2012 – Wrong Turn 5: Bloodlines
Wrong Turn 6: Last Resort attempts to right the ship but at this stage it is too little, too late. A sequel to Bloody Beginnings & Bloodlines but a prequel to the first three movies. Last Resort attempts to tell a brand-new story amongst the usual hillbilly killings.
It gets some of it right but a lot of it wrong.
Opening in the usual fashion, we see a couple biking on Hobb Springs Bike Trail deep in the woods of West Virginia. They stop, strip down & have sex in one of the local hot springs. Get used to this, Wrong Turn 6 has the most sex & nudity of any of the films so far.
A few minutes later both are dead at the hands of our favourite trio of deformed hicks, Three Finger, Saw Tooth & One Eye. It's visceral & bloody but while it is entertaining, we've seen it all before. It lacks impact, something that happens a lot throughout unfortunately.
Danny (Anthony Ilott) & his girlfriend Toni (Aqueela Zoll) have just arrived at the Hobb Springs Resort. Danny has learnt that he is to inherit the place thanks to members of his family he didn't even know he had. Along with his friends, Bryan and his girlfriend Jillian, Vic, Toni's brother Rod, and Charlie they meet the current caretakers, Sally (Sadie Katz) and Jackson (Chris Jarvis) who are siblings. They also reveal that they are the cousins of Danny & that they now work for him.
Privately we see that not all is right with this duo as they have been sexually intimate with each other & seem to want Danny to get down & dirty with Sally.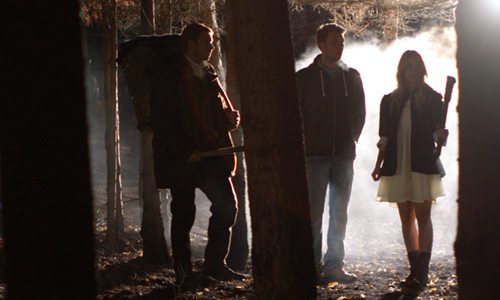 The group settle in & Danny reveals that this resort is a new life for him having screwed up badly on the stock exchange. Jackson & Sally take him under their wing (much to the chagrin of Toni) & begin to teach him about his family. They tell him that they are one of three families who bred amongst each other. This is to keep the bloodlines pure & the families date back centuries. They want Danny to join them & impregnate Sally. To add more mind-fuckery to this entire situation, the three murderous cannibals are part of this family. Some how, they are under the control of Jackson & Sally.
Occasionally they can't quite control their bloodlust though, offing Danny's friends when they go snooping, try to steal stuff or just generally get in the way.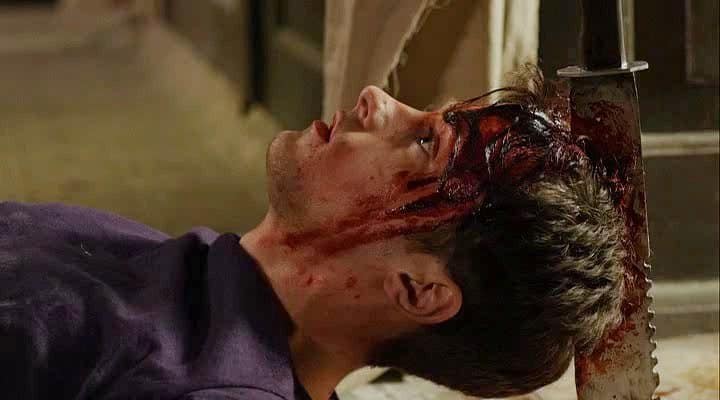 Will Danny join his family & continue the bloodline?
It's an interesting & different premise even if it does raise some serious questions about what took place in earlier movies. Not that plot holes really matter at this stage, it's the sixth Wrong Turn movie! It has to be mentioned that they might have mixed up their subtitles though. Wrong Turn 5 is called Bloodlines yet has nothing to do with actual bloodlines. This one's entire plot is based around bloodlines!
The gore is standard, a few fun & interestingly violent deaths but with focus removed from the deformed hicks it tries to make up for that with a lot of sex. Err…sex scenes between cousins, sex scenes on child-birthing stirrups…yeah, Last Resort doesn't quite understand titillation unless a sex scene with three deformed cannibals watching is your jam.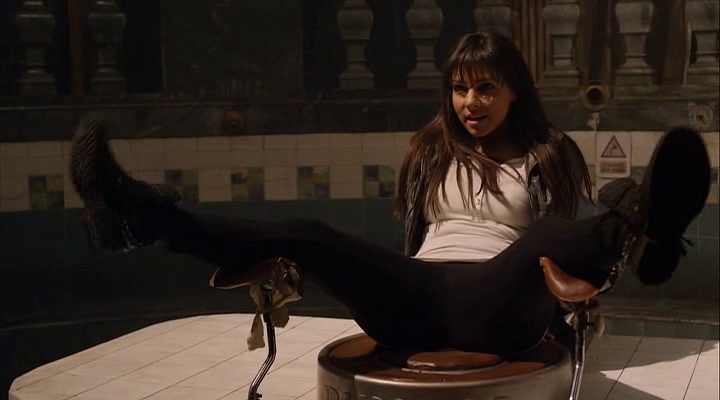 It was good to see Last Resort try a new idea coming off the back of the awful Bloodlines & it makes for a much better watch. Unfortunately the supporting cast are forgettable. A few of the leads (Jackson – Chris Jarvis) cringe-inducing at times & the cannibal hillbillies, a tired plot point.
The Wrong Turn series has run its course. This is an improvement over the last two movies but at this stage it seems impossible for there to be a continuation. Enjoy Last Resort for what it is, a sex-filled, occasional gore-fest with the wackiest story of the entire bunch.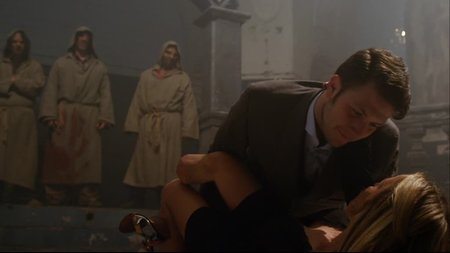 [amazon_link asins='B00SD2Z6ME,B00PCWF07O,B009PHCI68,B009P3WDTY' template='UseThisOne' store='g0e5b-21′ marketplace='UK' link_id='966ca0b2-5f90-11e7-8e8c-c970a81bdb25′]
Wrong Turn 6 - Last Resort
The Final Score -

5.5/10