Horror Movie Review: Ghoulies IV (1994)
How do you sign off a series of movies that introduced a small group of hellish creatures who turned into wise-cranking pranksters as the movies went on? How about removing them in favour of two dwarven mask-wearing goblins? Sounds absurd, right? Well, that is exactly what Ghoulies IV does and it is as terrible as it sounds.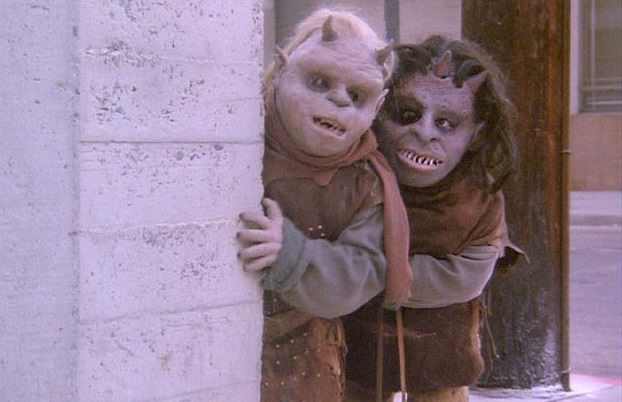 The cult-series hasn't exactly produced classics. We found the first be fairly mundane and boring, the second to be more entertaining and the third to be utterly silly. All of them look like works of art when compared to this.
The movie opens with a leather-clad woman assaulting a building where she dispatches a few armed guards. This is Alexandra (Stacie Randall) who is looking to release a spirit from Hell known as Faust. However, she requires a magic jewel which is in the hands of Jonathan Graves (Peter Liapis). Yes, the star of the very first Ghoulies returns to reprise his role and tie up his story.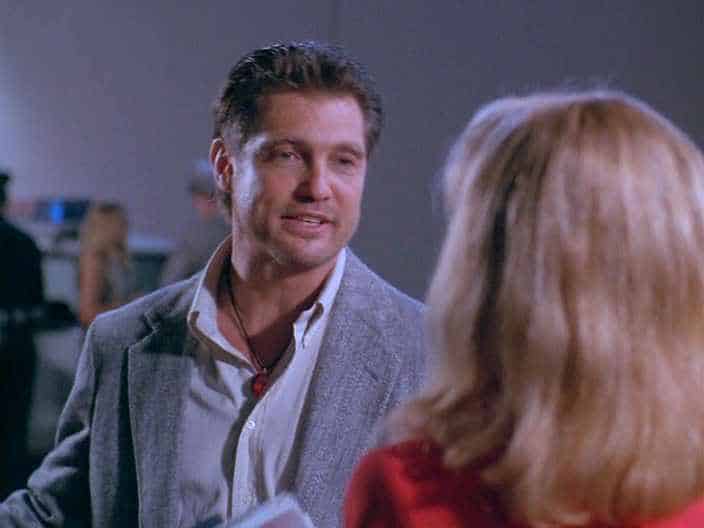 Now a grizzled detective, he doesn't play by the rules as you'd expect and has worked hard at forgetting his past. Unfortunately for him, Alexandra is coming for him and her first attempt at releasing Faust saw two wise-cracking Ghoulies released instead.
So, let's talk about this duo as they are part of the films major downfall.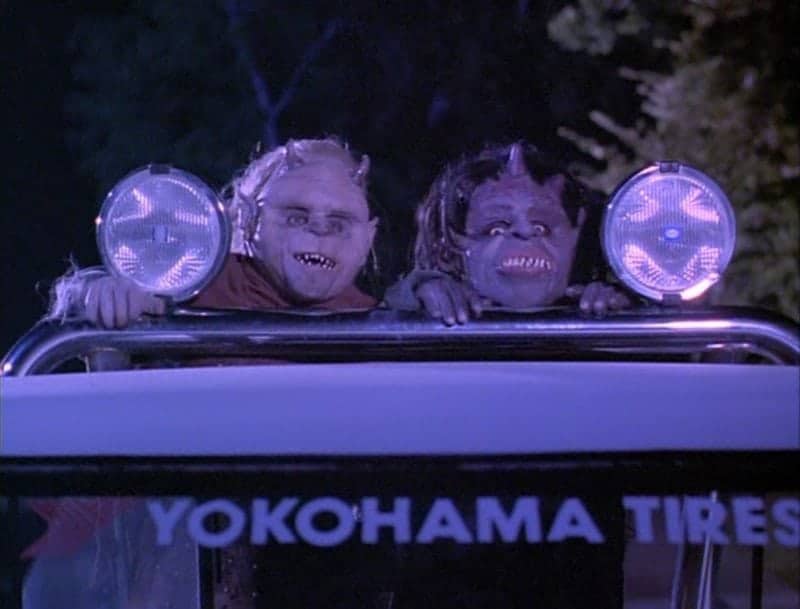 Those expecting similar creatures to the Ghoulies that were part of the first 3 films will be sorely disappointed. No puppets here, just two dwarves in rubbish masks running around the city getting into high-jinks and delivering awful puns. They look awful and are far from the focus here making the title of the movie seem pointless.
No, the focus here is the story of Jonathan and him having to face his past. What he did in the first film has come back to haunt him and both Alexandria and Faust won't rest until he is dead. Thankfully Peter Liapis entertains in his role and even his 'seen it all' cop character doesn't feel too lazy. The less said about the rest of the characters and actors though, the better.
If the lack of horror and the lack of Ghoulies isn't enough to convince you of just how much of a waste of time this film is then the total lack of comedy in this 'horror comedy' will. It's supposed to be amusing but it never delivers on that promise.
Ghoulies IV is better seen as just a direct sequel to the first film with parts 2 and 3 nothing but side-stories. Regardless it's really not worth your time.
[amazon_link asins='B000PKG6FS,B002NKD4CG,B00EDL8HSY,B0031GJKSS' template='UseThisOne' store='g0e5b-21′ marketplace='UK' link_id='0179b267-74dc-11e8-a9cf-4b1069c50aa9′]
Ghoulies IV
The Final Score -

4/10