EP Review: Voodoo Blood – Fresh Hell (Self Released)
Rock music should be dirty, exciting and something that moves both your body and your soul….and Voodoo Blood do exactly that.
In a very short amount of time the band have made a serious name for themselves with their live performances playing the likes of Bloodstock Festival, Amplified Festival & Hard Rock Hell and not to mention, the Albert Hall!
Returning on June 30th 2018 with their second EP entitled 'Fresh Hell', Voodoo Blood are looking to take their high-octane rock to even higher levels!
The groove of Voodoo Blood's style of stoner, bluesy rock makes for a thrilling listen and opener Brain sets the bar very high. Prancing around with all the energy of double the members, the exceptional high tempo mixed with fiery vocals from Kim Jennett leave nothing but good vibes.
Fresh Hell is not the name that comes to mind when listening to Dirt though. It's more like fresh heaven as the swagger Voodoo Blood showed on the opener is upped, bringing some of the finest riffs heard this year to the forefront.
Certainly, one of the more standout out elements of Voodoo Blood are the incredible vocals and nowhere do they shine more then on I Go to Bed (When the Sun Comes Up). Kim Jennett brings such fire and energy to such an impressive array of rock tunes.
A hell of an EP, It's over far too soon unfortunately but at least it doesn't disappoint as Mean drops a banger of a sleazy sounding finale. Not done showing how much power they have behind them, the latter part of the track brings the heaviest moments of the EP as the sound gets dirtier and lower.
Just hit play again, you know you want too.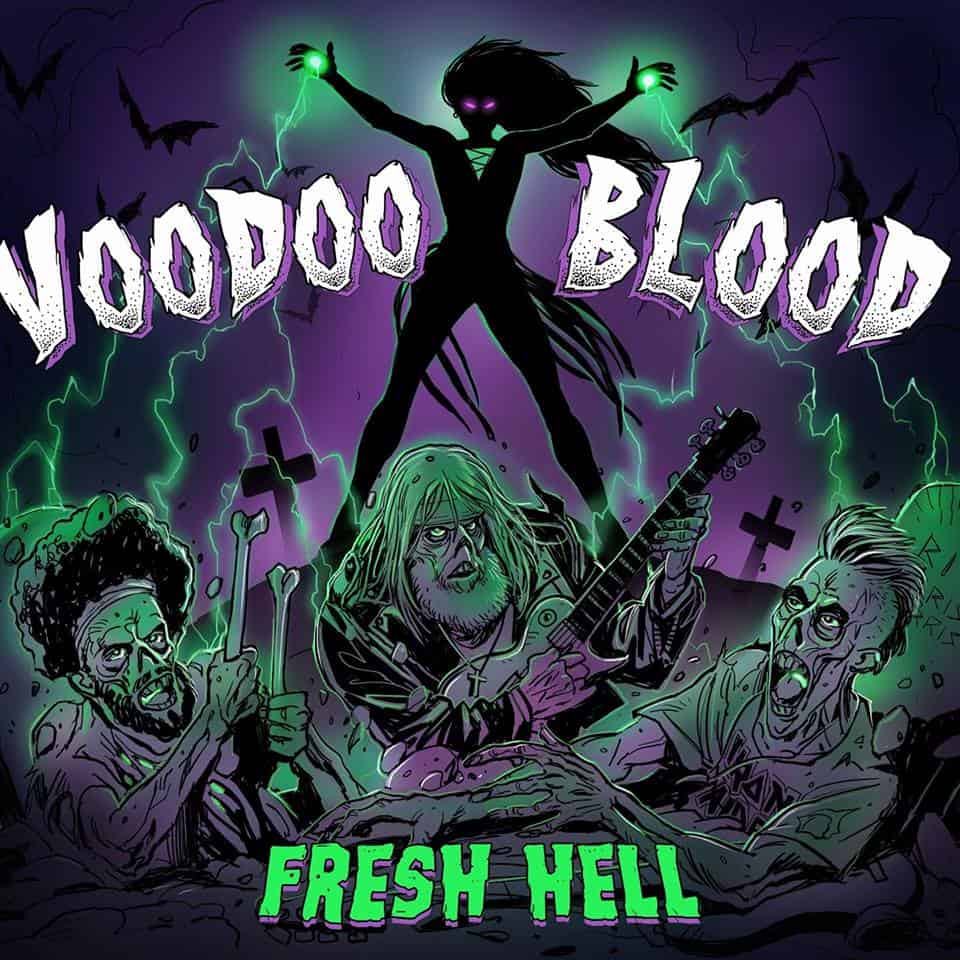 Voodoo Blood – Fresh Hell Full Track Listing:
1. Brain
2. Dirt
3. I Go to Bed (When the Sun Comes Up)
4. Mean
[amazon_link asins='B01M22P57N' template='UseThisOne' store='g0e5b-21′ marketplace='UK' link_id='2a20d776-75ac-11e8-8041-5b0d5d6d3afc']
You can order the EP via Big Cartel and digitally via Apple Music. Find out more/keep up to date with news by liking the band's Facebook Page, checking out their website and following them on Instagram. You can also check out some of their videos over on YouTube.
Voodoo Blood - Fresh Hell (Self Released)
The Final Score -

9/10