EP Review – The War Within by Drop Oblivion (Self Released)
Drop Oblivion will release their second EP, The War Within on the 1st of February 2019. It is part two of a dual set of releases that started with Narcissistic Counselor which came out on the 1st of January.
You can read our thoughts on that first release here.
Drop Oblivion is the brain child of UK based solo composer Ian Mortimer. After getting into the local Metal scene in 2006 performing with various bands over the years, he started an outlet in 2014 for his own heavy creations with Drop Oblivion. Originally conceived as a "just for fun" project, Ian began working with other musicians on some initial demo tracks, and created an entire album of material over the course of a few days. As Ian progressed and focused on performing with his other ambient project, Skin For A Canvas. Drop Oblivion took a back seat for a few years until 2017 when new demos were taken into full production at his home studio in England.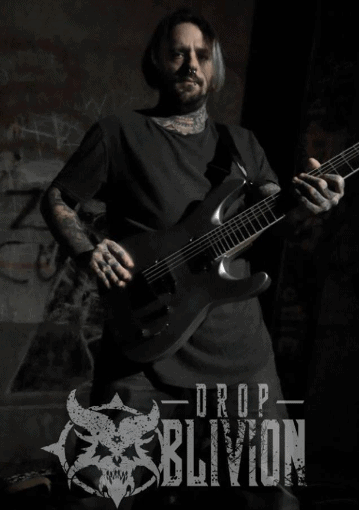 The first of the two EPs, Narcissistic Counselor, was a really strong release. It was fresh and exciting with some really neat ideas, playing with structures and multi genre influences. Let's see if The War Within can carry on at the same level. We have 6 tracks, and around 18 minutes of metal to sink our teeth in to. We start off with an instrumental intro called Sick of Faces. It is just over a minute long but is a really good start and can't be glossed over. It is just a fantastic minute of music. A thunderclap of drums sits with a chunky, dark atmospheric tone while the occasional high pitched note punches its way through the darkness. The orchestral work by Joe Barlow and the additional guitars from Ryan Dolman help flesh the track out. I absolutely love it. What a way to start!
Monster is the second track. It starts with a foreboding riff that becomes even more so as a dark, guttural growl roars out. Vocals are rough and sinister, delivered slowly over drawn out guitar notes and a rolling drum beat. As Monster progresses, the sound fills out more as we pick up a chugging riff and a little atmospheric effect adds a layer in the background. The drums sound particularly meaty here thanks in part to additional drums added by Marc Alan Davidson.
Final Goodbye has a nice bass tone to its start before heading into a more traditional metal sounding riff and clean vocals. The vocals start warping as the lyrics detail an inner monologue focused on mental struggles. A few different tones come through in the lyrics and further depth is added through extra lyrics and vocals from guest Dani Burnett. Lyrically it is poignant and vocally it is delivered in an exciting way. The backing riff and drums are decent but I definitely found myself much more focused on the excellent vocals here.
The title track, War Within has a good chug to its opening riff. A little sludgy. Vocals are vicious still and delivered like punches over the twanging, bassy riff. Drums pick up pace while the vocals lower in tone to viciously black as the song nears its end. It is short, but effective and again helped out by the additional of guests with Marc Alan Davidson adding drums, extra lyrics by Ryan Dolman and Ryan Pip Coulombe and extra vocals from Coulombe too.
Inner empire, with guest vocals from Somir Jowers, is an instrumental. Well, other than a few throaty roars. It has a dirty and deep tone before settling into a superbly infectious rhythm. Out of the blue, a deathly roar disrupts the beat. This is repeated a few times, separated by a dark riff and melodic guitar line. It's pretty cool. Especially the foot tapping, head nodding rhythmic section and the way that's gets torn to shreds by the roars.
The final track laughs in the face of it's 2 minute ish long brothers that came before it. Dark passenger is over 7 minutes long. It also features lots of guest work. Additional drums by Marc Alan Davidson. Additional lyrics and vocals by Derrick Sexton and lyrics from Ryan Pip Coulombe. There is also a solo at the end from Vanja Grastic and even some additional orchestral work from Jimi Bowbrick.
Melodic guitars and clean vocals echo through at the start before a steady drum beat steps up and the vocals turn to growled. Orchestral atmospheric backing sits nicely in with the quick tapped drums and stretched guitar tone. The slow rhythm and melodic guitar work has a touch of doom to it. It also has a touch of melodic death metal, maybe of the Dark Tranquillity type. Around the 4 minute mark the vocals fade out to leave echoing melodic guitars and ambient backing creating an ethereal soundscape. The lead guitar creeps in to play a slow but powerful solo that screams emotion with each bend through to the end.
As an overall EP it is packed full of quality and memorable songs. From the superb intro, Sick of Faces, all the way through to the end track, it sounds and feels fresh and exhilarating. The psychological message comes through well and is relatable. Especially in the last track. In particular it's ending solo which genuinely leaves you contemplative. It does seem a little odd to have a collection of 2 and a half minute long tracks and then an over 7 minute long ended but, to be fair, you will be lost in the songs anyway so that will largely go unnoticed. There aren't really any faults to point out thankfully. At a stretch I could say the drums don't always have the power of a full on session or band drummer and kit but this is rarely noticeable.
The War Within is a top quality, creative slab of metal with solid riffs and exciting song writing. It is a great follow up to the debut, Narcissistic Counselor. It deserves to be heard and I look forward to hearing much more from Drop Oblivion in the future.
So, start February off with a damn fine EP in The War Within. You can also grab a copy of Narcissistic Counselor and presave a copy of The War Within by following these links – Narcissistic Counselor and The War Within. You can also grab/preorder copies of both at Drop Oblivion's Bandcamp page here. Keep up to date with news about the band at their Facebook and Twitter pages. Be sure to give them a like and follow while you are there.
The War Within by Drop Oblivion (Self Released)
The Final Score -

9/10