EP Review: Sleepless – Blood Libel (Necromantic Press Records)
Original members of the 80's death metal pioneers Dead Conspiracy, Eric Dorsett and Eric Detablan have joined forces with their old friend, guitarist, singer and production machine Kevin Hahn to form Sleepless. Classic, scorching heavy metal pulses through debut EP Blood Libel, which will be released on March 12th, 2021 via Necromantic Press Records.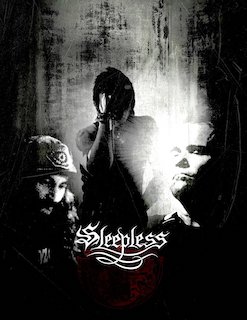 Thrashy, heavy and with melodic tinges (thanks in part to the soaring old school vocals), Sleepless come out swinging. The Man Who Could Not Sleep bringing rough and tough riffing and chunky drums and bass. An easy track to bang your head too.
Thrashing and guttural speed is the name of the game with the following Host Desecration. Another winner in the head-banger department before Deluded Hordes moves the meatiness of the guitars up an extra step. The darkest and most intense sounding track of the bunch.
Although Blood Libel (A Vampire Tale) gives it a run for its money as the EP culminates in a short slice of groove. Slightly undone by the messier drum beat but still enjoyable as all hell.
Solid if not exactly ground-breaking stuff.
Sleepless – Blood Libel Full Track Listing:
1. The Man Who Could Not Sleep
2. Host Desecration
3. Deluded Hordes
4. Blood Libel (A Vampire Tale)
Links
Sleepless - Blood Libel (Necromantic Press Records)
The Final Score -

6/10