EP Review: Nouveau Bleach – Nouveau Bleach (Self Released)
Nouveau Bleach, a post-punk three-piece from South London, consisting of Colin Baumgart-Osborn (Vocals/Guitar), Kaylien Holden (Bass) & Dee McAllister (Drums), are releasing their debut self-titled EP on the 5th of March 2021. Covering subjects such as the Opioid epidemic, Marie Kondo and tokenistic sloganeering, the band's songs explore social commentary with just a smidge of the darkly comic.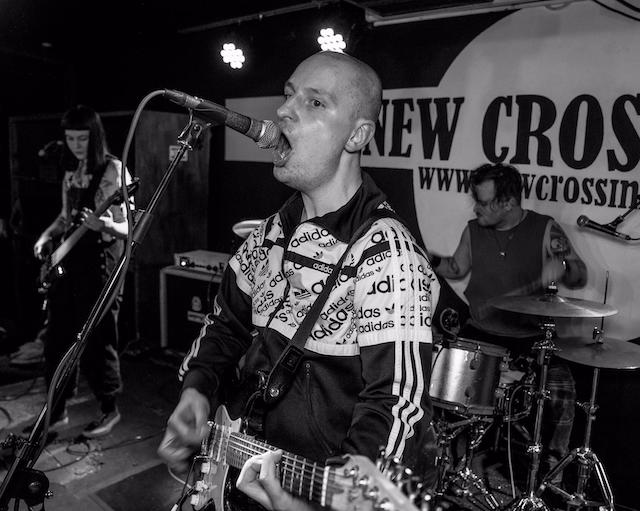 A melodious punkish listen that is experimental and weird, Nouveau Bleach are not the easiest band to get into initially. The tip-tap guitar and drum rhythm of the self and title track is catchy enough but the vocals… they take some getting used too. Nasally and with a very pronounced English accent that almost sounds put on at times, the initial feeling was one of mirth even if they do have punky spirit about them.
They can certainly be called a grower though and begin to sit a lot prettier alongside the catchy rhythms of the Pharmakon and Kondonauts. The latter of the two, somewhat tongue in cheek, pokes fun at Marie Kondo and is far more of a singalong than it has any right to be.
Finally, having fully bedded most into their sound, Thoughts & Prayers really ups the eclectic nature of this band. A little more frantic at first, a bit mellower as it goes on and with a constant forked tongue approach to the slogans. In particular the one the title represents which we can all relate to.
I wasn't particularly impressed at first but it does improve and there's a strong argument that Nouveau Bleach certainly have a unique sound. Is it going to be for everyone? No, but enough people will surely get a kick out of it.
Nouveau Bleach – Nouveau Bleach Full Track Listing:
1. Nouveau Bleach
2. Pharmakon
3. Kondonauts
4. Thoughts & Prayers
Links
Bandcamp | Facebook | Instagram | Twitter
Nouveau Bleach - Nouveau Bleach (Self Released)
The Final Score -

6/10