EP Review: In/Vertigo – Sex, Love & Chaos (Rockshots Records)
Through hard work, relentless ethic, and determination, In/Vertigo have been able to cement themselves as rock and roll staples.
Around the rise and constant momentum that the band had been accumulating in 2017, the group recorded a 4 song demo that sold out a limited print both locally and regionally within the year. By 2018 they recorded a cut of what will be their debut EP: Sex, Love & Chaos. This was again a limited print that sold out both within their own homegrown territory and abroad. Backed by a self-financed music video for their song Bad Enemy the band was able to constantly tour and gig nonstop over the next 2 years reaching upwards of 350 shows.
Due to the snowball effect that had been a product of the band's efforts, In/Vertigo was signed to Italian heavy metal and hard rock label Rockshot Records.
Now currently completing their revamped and polished debut EP Sex, Love & Chaos, In/Vertigo along with their label and ever-growing team, set out to launch the next great chapter in rock history.
You can completely understand how and why In/Vertigo are rising through the ranks of rock and roll greatness at an impressive speed. Years of experience has turned them into a calculating and driven beast. The sky really is the limit and they're surely only going to get even more mainstream appeal with the release of this EP.
It might not be brand new music for fans who have been with them from the start but it's sure to win them over a whole load of new fans. If you're not sure it might be for you, let me ask you this?
Do you like hot and high powered energy on your music? Do you enjoy tight riffing? Sing-alongs? Do you like having the option to head-bang and/or dance? Do you want to feel a little sexier? If the answers are yes to most then get yourself a copy of Sex, Love & Chaos and get on the In/Vertigo train.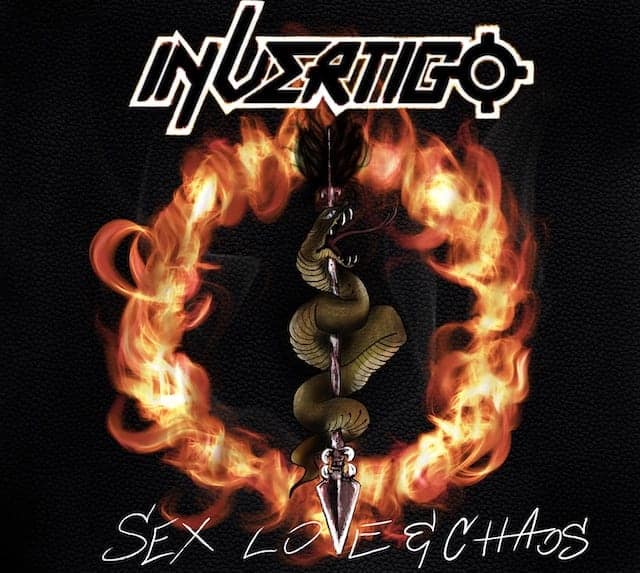 In/Vertigo – Sex, Love & Chaos Full Track Listing:
1. Chains
2. Bad Enemy
3. The Night
4. Take It
Links
Website | Facebook | Instagram | Rockshots Records
In/Vertigo - Sex, Love & Chaos (Rockshots Records)
The Final Score -

8.5/10