Bloodstock 2019 – Band Feature/Interview: Eyes of the Raven
Bloodstock Open Air 2019 is nearly upon us and to say we're excited is an understatement. We adore the festival and this year's line-up is simply phenomenal. From the Ronnie James Dio Main Stage to the Sophie Lancaster Stage to the New Blood and Jägermeister Stages, there is something for everyone! Not got your tickets yet!? What are you waiting for!? Head over to the Bloodstock Festival website here and join thousands of like-minded head-bangers for a weekend of quality rock and metal.
Music isn't just something you listen to when your in a club, music is a way of life, a passion and a itch that needs scratching, whatever the genre it drives the soul, Eyes of the Raven don't just play music they live it.
Formed in 2009, Eyes of the Raven are a Groove metal/Stoner band from the Black Country England. Brought up on Sabbath, Pantera, Maiden, Entombed, Anthrax to name a few, the collective souls of Eyes of the Raven became solid honest beer drinking musicians with the determination to write and play heavy as hell riffage.
Combining stoner/groove and a shit load of beer, they're not claiming to have started a musical revolution, but have sure as hell put a crack in the mold. Be there, or be somewhere really boring…
They will be playing the Jägermeister Stage on Friday the 9th August 2019.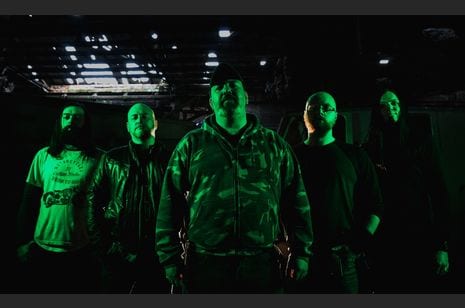 Interview
1. Hello Eyes of the Raven! Congratulations on getting on the bill of Bloodstock 2019. How are you feeling about making your BOA debut?
It's been a while now since the final of M2TM Wolves when we were asked to play. You'd think given the time it would have sank in a little but no, we're all still mega excited.
2. Have you ever been to the festival before?
Yes, most of us have been at some point. This year is gonna be even more memorable for us, because it's the first time we're all going together.
3. You're on the Jagermeister on Friday. What can Bloodstockers expect from your set?
Honestly, just five blokes who love metal and beer. We will play our hearts out, and look to put on a great show.
4. How important is this platform for you? Would you say it is your biggest show to date?
Yes, without a doubt it's our biggest show to date, it's the platform that will open doors for bands that are willing to step through. We recently were honoured to have won the BCMA for best metal band, so with that and playing bloodstock we should have a great launch pad for our next steps forward as a band.
5. Are you there all weekend? If so who are you most looking forward to checking out yourself?
(Ross) Yeah I'm gonna be about all weekend I'll be catching up with friends that are playing and checking out some bands I have or haven't seen for ages, like Filth! Also I wanna see Womanowar, they have peaked my interest!
(Dave) I'll be spending a lot of my time around the New Blood and Jager stages, I have a lot of friends playing this year so I want to give them the same support they give us. Although I will have to make and exception for CoF and Parkway!
(Luke) I'll be there Friday and Sunday as my sister is getting married on the Saturday but super excited to be a part of the festival and see things from behind the stage. I tend not to make a plan when I go just follow my ears.
(Phil) I am super excited to see Soulfly! Their latest album is incredible so I can't wait for that. I am also at Luke's sisters wedding on Saturday, but I would definitely be watching Code Orange, Red Method, Evil Scarecrow and Parkway Drive if I was there.
6. What does the rest of 2019 look like for Eyes of the Raven?
After bloodstock we have a huge PR plan with FatAngel to set in motion, finish the next ep, and we have our annual Halloween party called Deadbangers Ball which is a free fancy dress night at the foundry in Dudley, it's also our ten year anniversary!
Links
Spotify | Facebook | Twitter | YouTube | Bloodstock Open Air