Bloodstock 2019 – Band Feature/Interview: Elyrean
Bloodstock Open Air 2019 is nearly upon us and to say we're excited is an understatement. We adore the festival and this year's line-up is simply phenomenal. From the Ronnie James Dio Main Stage to the Sophie Lancaster Stage to the New Blood and Jägermeister Stages, there is something for everyone! Not got your tickets yet!? What are you waiting for!? Head over to the Bloodstock Festival website here and join thousands of like-minded head-bangers for a weekend of quality rock and metal.
Elyrean were formed at the back end of 2015 by Asa Jones (Bass/Vocals) and Daryl Payne (Drums),. They had a singular purpose. To breathe new life into Thrash Metal. After spending nearly 2 years in a state of revolving guitarists, they found a complete line up with Dan Kraushar (Guitars) and Will Edwards (Guitars). Influenced by the likes of Sylosis, Death, Revocation, The Black Dahlia Murder and Kreator, they set themselves on a mission to produce Thrash Metal with a Technical edge whilst blending a mix of other influences, such as Doom, Death and Black.

In March 2018, the band played their first show at The Shed, Leicester with Monachopsis. Shortly after, in late March, the band released their first single, "Where Shadows Dwell". They continued to play shows, write and record throughout the year. In December 2018, the band released their second single, "Blacken The Sun". They kicked off their 2019 by opening up the HRH Metal proceedings in February, at the Birmingham O2 Academy. 2019 has seen them earn slots at more prestigious events (such as Thrashersaurus), and has seen the band continue to record their debut E.P, "Blacken The Sun", due December 14th 2019.
They took part in the Wolverhampton leg of the Bloodstock Metal 2 The Masses events seeing off fierce competition to emerge as winners and earn their place at Bloodstock 2019.
Elyrean will be playing the New Blood Stage on Sunday the 11th August 2019.
Interview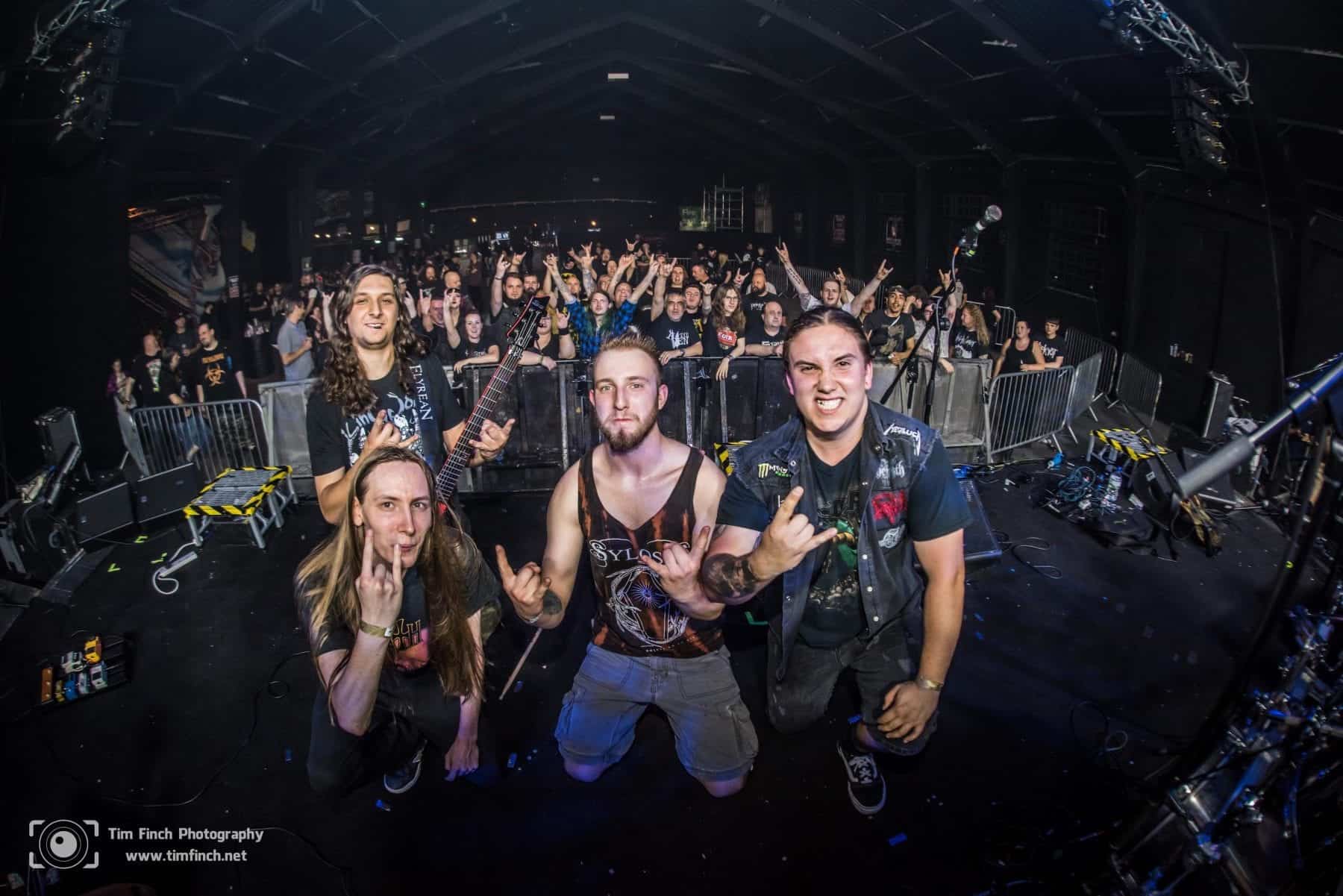 1. Congratulations on winning the Wolverhampton leg of the M2TM and earning your slot on the Bloodstock New Blood Stage. What made you decide to take part?
We got approached by Matt Edwards from Mayhem Promotions and Dan Carter from Fatangel Management about taking part and we thought that it would at least be good exposure and a cool opportunity for us. We never thought about it as a serious competition, it was just a way to play some shows, make new friends and have some fun.
2. What were some of the highlights of your competition run?
Getting to catch up with the guys in Recall The Remains was great, we've been friends with them for a long time now so it's always good to see them. Seeing Obzidian at the Semi-Final was excellent, those guys are seriously good and put on one hell of a show. Mostly though, just getting to interact with people in the crowd and in the other bands was the biggest highlight. Lots of support from everyone, never any drama or anything. It felt more like a showcase of the best local talent and less of a competition and that made the whole experience amazing to be a part of.
3. Describe the feeling, if you can, upon hearing your name read out as the winners?
Overjoyed. Ecstatic. Very, very happy. It was very emotional for us as we didn't think we had a chance of winning after the performances that night so when Simon called our name it was a very happy surprise. Pretty sure Asa threw half his drink on the floor!
4. How big of an opportunity is playing the New Blood Stage for Elyrean? We've seen some bands really grow from it over the years!
<It's a dream come true for us! We know it's a very big thing to be a part of but we also want to be able to use it as a stepping stone to bigger things. New Blood this year, Sophie Stage in another 2/3 kind of thing. We're excited to see where this can take us!
5. What can Bloodstockers expect from you come festival time? Why should they come see you?
Riffs. Lots and lots of riffs. There's almost always some bad stage jokes too, we aim to have a fun time and want the audience to have one too. If you like Thrash Metal with a modern twist then we're definitely worth your time. We have something that both older and younger Metal fans can enjoy so we believe that people will enjoy our set. We're hoping to do something a bit special.
6. Are you regular attendees to the festival or will this be your first time?
We've all been at one point or another, just last year Daryl, Will and Asa were there to watch Gojira, Power Trip, At The Gates, Onslaught etc. It's always a great time so we go as often as we can!
7. Are you hanging about all weekend? If so who are you most looking forward to seeing?
Yeah, we'll be there all weekend from Thursday onwards. We're looking forward to seeing TesseracT, Death Angel, Anthrax, Xentrix, Dust Bolt, Skeletal Remains, Krysthla and Eyes Of The Raven, amongst a lot of others too.
8. What does the rest of 2019 look like for Elyrean? Shows? Releases?
We've got a few cool shows we're hoping to announce coming up throughout the rest of the year. We'll also be releasing our debut E.P on December 14th, called 'Blacken The Sun', so we're very excited about that. The rest of the year is looking busy for us so it's exciting times for us!




Links
Elyrean on Facebook – Elyrean on Instagram – Elyrean on Twitter – Elyrean on YouTube – Elyrean on Bandcamp – Mayhem Promotions Facebook – Bloodstock Open Air