Album Review – The Great War by Sabaton (Nuclear Blast)
Swedish power metallers, Sabaton, will release their brand new album, The Great War, on the 19th of July via Nuclear Blast.
New Sabaton music is always an exciting time for us at GBHBL. Even more so knowing they will be a headliner at the 2019 edition of Bloodstock Festival. We have had three singles released from The Great War so far. The first single was Fields of Verdun. A decent track but not mind blowing. Read about that one here. The second was the absolute cracker, The Red Baron. You can read our thoughts on that here. Then we had another banger called Great War. Read about that one here. Sandwiched in between Fields of Verdun and The Red Baron we did get another, non album, single released in Bismarck. Read about that one here. Bismarck is one of the best Sabaton tracks I have heard to date!
Sabaton are fronted by Joakim Brodén, on vocals and keys with Pär Sundström on the bass. Chris Rörland is on guitars with Hannes van Dahl on drums and Tommy Johansson also on guitars. All members also provide backing vocals.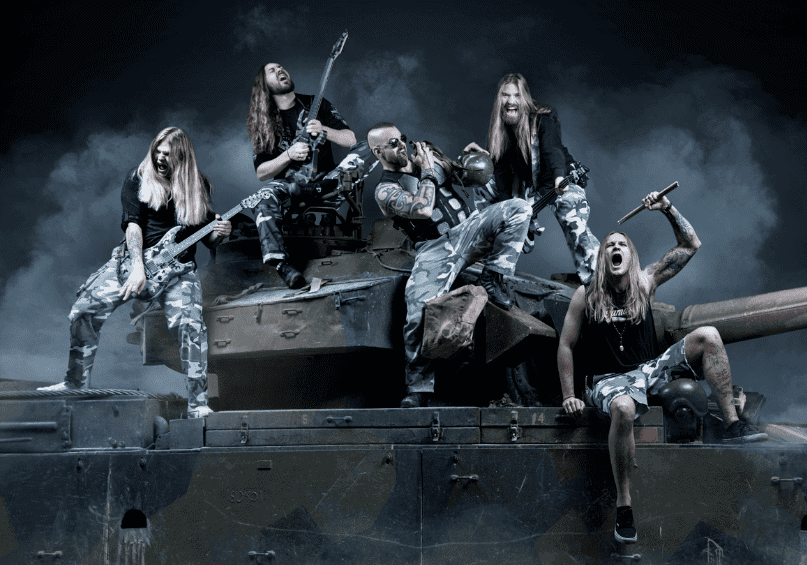 The release of Sabaton's ninth full-length record perfectly coincides with the band's 20th anniversary and the concept album is based on events during the First World War. The band started the recordings exactly 100 years after the end of the First World War (11/11/1918) and took 3 months of intensive work to complete the album together with their long term producer and partner Jonas Kjellgren at Black Lounge studios. Furthermore, the album has been mastered by Maor Appelbaum and the artwork was once again created by Peter Sallaí.
"This is not the first time we have sung about stories from this period in time, but now we felt the timing was right to make a full concept album about this war", explain the band.
The Great War is quite a short album, with 11 tracks weighing in at just over 38 minutes in length in the standard edition. Sill quality over quantity is what everyone should aim for right? So, is it any good? Well, short answer is yes. It is a very strong Sabaton release that stays very true to their familiar sound. There are a few twists on the way with some darker vocals, with a bit of a growl, like in the verses of the album opener The Future of Warfare. You get the same darker vocals for portions of the absolute banger, Devil Dogs.
Devil Dogs is an absolute corker of a song. It is a quick and fiery track with amazing drum rhythms and a blazing solo. There are huge operatic moments with backing from choir vocals that elevate the track massively. It's one of the best on the album, on a par with the brilliant singles, Great War and The Red Baron. These three tracks stand out as pretty damn special and are only bettered by the penultimate track, The End of the War to End All Wars.
The End of the War to End All Wars is a nice switch up. It comes at the end of the album and differs from what has been heard so far. The intro sees a sorrowful melody played out on piano alongside a violin solo. It gives you an introspective feeling, though, will have you jump out of your skin when it suddenly kicks in with what sounds like 100 members all going for it at the same time. Backing choirs, a slamming bass and guitar riff, booming drums and layers of keys shake you out of your introspection at speed.
It is very grandiose. Very epic feeling. Vocals in the verse keep the same full instrument sound as backing making it the most layered track on the album, and one that occasionally feels a bit complex and hard to follow. It's a huge and ambitious song and immensely listenable. A true power metal epic!
Outside of these there are a lot of good, typical Sabaton songs. Seven Pillars of Wisdom has some great riffing and excellent drum patterns. It has a decent pace to it and follows that Sabaton slow down in the verse to built up chorus. 82nd All the Way really packs in Sabaton's story telling ability focusing on a Sergeant York leaving the US to go and fight in the trenches. It packs a catchy chorus, loads of backing atmospherics and a blazing solo. A Ghost in the Trenches has a fiery guitar intro with an absolute belter of a chorus and a huge 80's sounding solo.
The Attack of the Dead Men has some good moments and a typically great solo though also has some out of place effects in the bridges and at the end. The drums are great in it though. In fact the drums are amazing throughout with some really impressive flurries. The album ends with a bit of an outro. Really, The End of the War to End All Wars is the ending but we get a two minute recital of In Flanders Fields to close. It is a nice touch, well in with the concept. as the backing choir recites the war poem written by Canadian physician Lieutenant-Colonel John McCrae.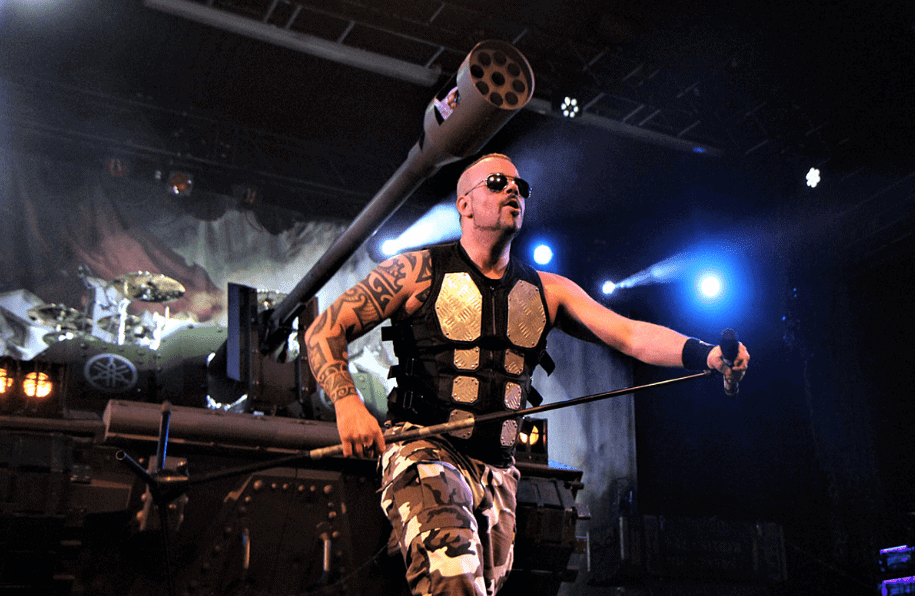 The Great War is another fine Sabaton album with a couple moments of real quality and a lot of typical, but good, stuff. The End of The War to End All Wars gets better and better with each listen. The Red Baron, Great War and Devil Dogs are absolute bangers and showcase the best of not only Sabaton, but also power metal. There are then a collection of very good, but predictable, Sabaton tracks. Tracks like Fields of Verdun and Seven Pillars of Wisdom in particular. There isn't anything on these other tracks that stand out as amazing but they are still immensely enjoyable songs. In fact you will be hard pressed to find something you don't like, if you are a fan of power metal, Sabaton or concepts in general.
Sabaton have done a good job of conceptualising World War I with some great instrumentation, use of symphonic elements and the all important choir backing. It does occasionally feel like a pretty glossy version of events in comparison to, say, 1914's recent effort, The Blind Leading the Blind but that doesn't make it any less exciting and interesting. Sabaton have been on an upward charge in the last few years, cementing themselves as festival headliners. Does The Great War accelerate this growth? Not by much to be honest. There is little on The Great War that pushes Sabaton to new places and greater heights. It certainly won't damage them either though, instead just adding a new collection of very good songs, with the odd belter, to an already impressive catalogue.
Bassist Pär Sundstrom commented –  "This is the biggest album we have taken on so far. There is more depth and story around the songs that we have ever had before. Expect many surprises as we have tried new things and we also went back in time to a concept we know a lot of you love. The Great War has been created side by side with the Sabaton History Channel to make 2019 the most exciting year in our 20 year history."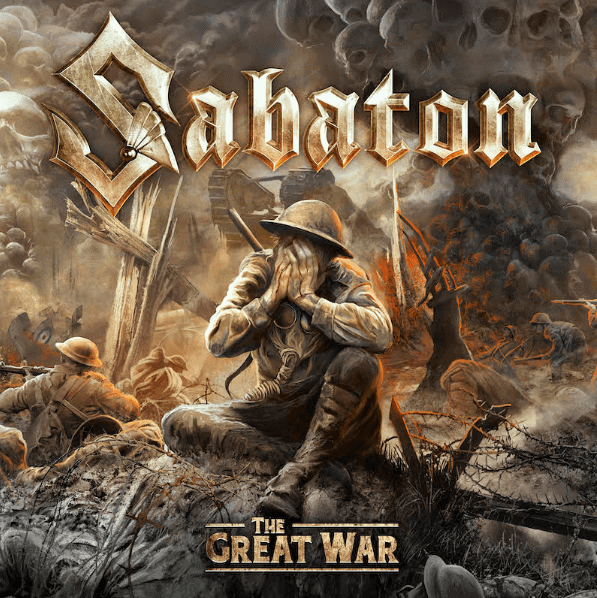 Check out The Great War track list below:
01. The Future Of Warfare
02. Seven Pillars Of Wisdom
03. 82nd All The Way
04. The Attack Of The Dead Men
05. Devil Dogs
06. The Red Baron
07. Great War
08. A Ghost In The Trenches
09. Fields Of Verdun
10. The End Of The War To End All Wars
11. In Flanders Fields
Alongside the album, the Swedes have worked hard to make their 20th year anniversary a very exciting year, and also started the Sabaton History Channel – a unique collaboration between the band themselves and multimedia historians Indy Neidell and Timeghost – capturing the power of social media to tell stories about the wars, battles and heroes behind Sabaton's songs. Subscribe to the YouTube channel here.
It isn't too late to preorder The Great War so head over to Nuclear Blast, here, to grab your copy!
Links
Sabaton Website – Sabaton History Channel – Sabaton Facebook – Sabaton YouTube – Sabaton Instagram – Sabaton Twitter – Nuclear Blast




The Great War by Sabaton (Nuclear Blast)
The Final Score -

8.5/10