Bloodstock 2018 – Band Feature/Interview: Callus
This year's Bloodstock Festival is shaping up to be one of the best ever with a line-up that spans all genres of rock and metal. If you haven't picked up your tickets yet, what are you waiting for!? Check out our five reasons why you should go there.
Hitting up the Jägermeister stage on the Friday of the festival, Callus play down tuned stoner metal, fused with thrash, sludge and doom elements for a truly terrifying and weirdly melodic sound.
Callus formed in Lancaster 2013 with guitarist Louis Clarke and bassist Ben Wormwell forming the lineup with numerous drummers coming and going over the years, Louis and Ben are the two original members and Callus is their combined brain-child.
Relentless gigging has been the name of the game. Bringing the mix of Stoner, Doom and Thrash elements plus Psychedelic Horror movie samples to the North West of England, to unsuspecting pubs and clubs alike at earsplitting volume.
A self released live EP "Live At The Yorkshire House" was recorded in 2014 at a homecoming show in Lancaster. The CD is self made and is available upon request at any show.
Following the release of their debut EP in 2017 "Through Blood, Sweat, Piss and Pain", Callus have been hitting the road relentlessly, eventually landing them a slot at Hammerfest Festival, Mammothfest… and now Bloodstock Open Air 2018.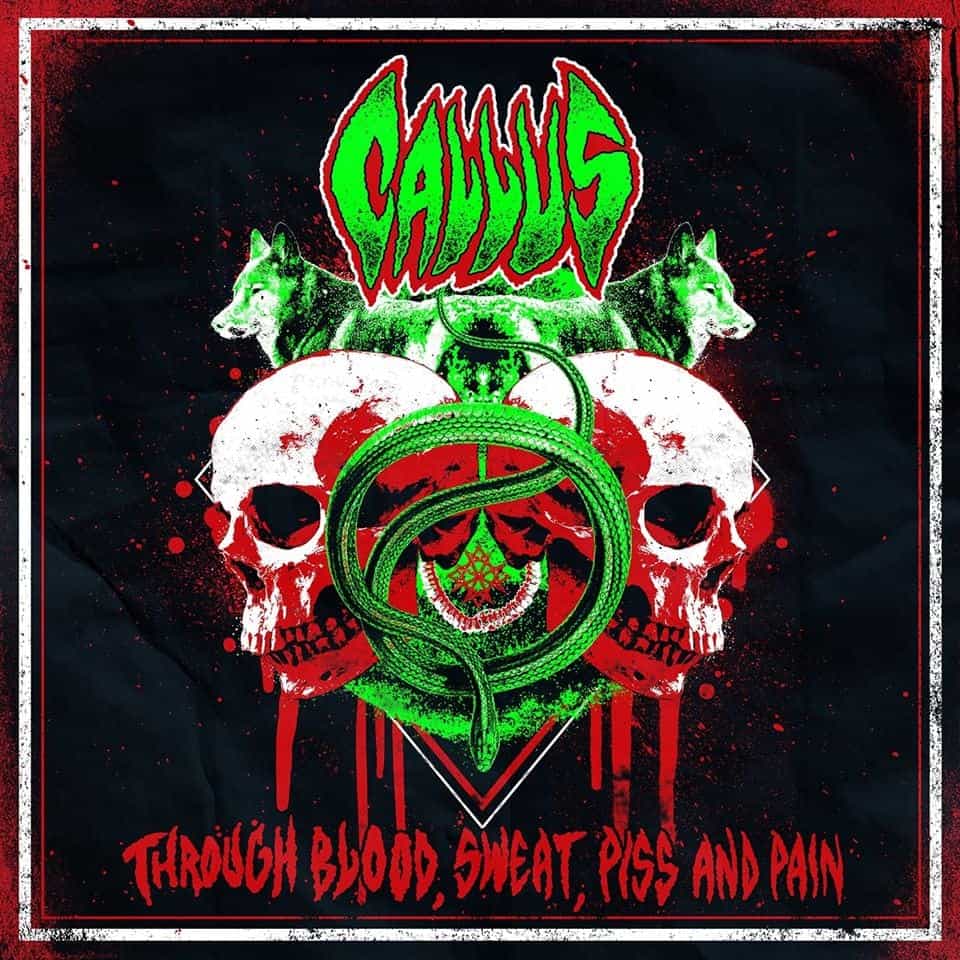 Their debut full album looms on the horizon and you can keep up to date with news by going to their Facebook Page! Make sure to go to Bandcamp where you can pick up their music too!
Interview
1. Congratulations on being added to the BOA 2018 bill. How are you feeling about playing the festival?
Thanks for the congrats! We are feeling rather… excited for this one. This is our first outdoor fest, and having attended Bloodstock for years and seen some of our biggest influences there, the hype is real.
2. What can attendees expect from your set?
Guts, blood and all things good… HAH! Naa man, we love MASSIVE riffs. So plenty of crushing riffs, thrash sections and some weird clean parts. Just three guys absolutely loving life really, its heavy but we like to think we have fingers in many different genres so there should be something in there for the masses.
3. What is the latest on your debut album? Can you tell us anything about it?
The album is shaping up very nicely thanks, its nearly halfway completed now. We have named it, we have the artwork and its about 9 or 10 tracks long! We are very much hoping to release later this year, either self release or we have been in contact with a couple of potential labels.
Its basically the full collection of the first tracks we have written as a band, we have been playing the majority of them since our inception but they haven't been committed to studio… until now. Its put a real breath of fresh air into them, and of course we have written some new tracks for the album.
4. Are you going to be around the festival all weekend? If so, who are you excited to see?
Of course we are sticking around! Gojira are a massive band for the three of us, also Conjurer I've heard amazing things about. Our mates in Drudge are playing on the Sunday as well so that will be awesome to see… plus I'm bringing my 3 year old daughter to her first festival this year. So some father/daughter bonding watching Cannibal Corpse is in order, as you do!
5. What does the rest of 2018 look like for Callus?
Well, we have Mammothfest in Brighton to play at the end of the year which we cant wait for! Apart from that, some more gigs here and there, but the focus is really working on the album and pushing to release. We haven't been rushing it, but we are cracking on now… it will be ready when its ready!