Bloodstock 2018 – Band Feature/Interview: Trivax
This year's Bloodstock Festival is shaping up to be one of the best ever with a line-up that spans all genres of rock and metal. If you haven't picked up your tickets yet, what are you waiting for!? Check out our five reasons why you should go there.
Trivax are a Black Death Metal band based in Birmingham who offer an intense and ferocious live experience fit for the hungriest fans of the genre.
The band was originally started as an underground project by frontman Shayan in Tehran, Iran on April 2009. A country where rock and metal is completely banned. People who broke that rule would often get thrown into jail or even executed. After years of struggling in the underground and battling with the authorities, frontman Shayan moved to the United Kingdom to reform the band and to play music freely.
Trivax have since supported and played with huge bands. Acts such as Soulfly, Fleshgod Apocalypse and Cradle of Filth, and have also toured extensively across the country. Their acclaimed album 'SIN' was released in 2016. It brought Trivax critical praise from the underground scene worldwide.
Trivax will be bringing their brand of bleak blackness on the Friday of the festival. You can find out more about the band via their Facebook Page and pick up merch/music via Bandcamp.
Interview
1. Congratulations on winning the Birmingham Metal 2 The Masses! Tell us about your experience.
Thank you very much. Our experience this year has been nothing short of spectacular. We were slightly apprehensive at the beginning about playing the same city and venue three times and were worried that would decrease the interest as we'd be playing there so frequently, but it has been quite the opposite of that. Each show we have had great crowd responses and overall it has been a great experience. We already felt like winners by the last shows as we got to do what we like the most, however going through to Bloodstock was truly a positive validation and we couldn't be happier about it.

2. How important is the New Blood stage to a band like yourself?
Of course, it is crucial for a band like us to go through such platform, especially at this point in our career. I have seen a few shows there myself and every day I'm imagining us on the stage and what we would bring and I cannot wait for it! Having said that though, I do believe that Trivax would also make ourselves at home on the bigger stages at Bloodstock and that we would pull it off.
While we extremely grateful for the opportunity, hopefully this is not the only time that we get to play the festival and that we will get to come back and play the bigger stages one day. But for now, yes, we are very eager to play the New Blood stage and give it all we have.
3. What are you going to be bringing to Bloodstock sound wise? Why should folks be checking you out?
What you will get from the Trivax show is an intense, emotional and hypnotic experience. We never started the band to play for "fun". This is our life's goal and once we step foot on the stage it becomes our sacred place and we give it our absolute everything from the bottom of our heart and soul. A Trivax show is an event of transformation for us and the audience are a witness to that. All of this takes place in the body of Rock n Roll, and more specifically, Extreme Metal.
4. Are you going to be around the festival all weekend? If so, who are you excited to see?
Absolutely. Two of us already had tickets and were going to attend the festival regardless of whether we were playing or not. We are mostly looking forward to seeing the mighty Judas Priest and soak in the energies of the metal gods. We'll definitely be seeing Emperor as well, and me and my guitarist are very curious to see Mr. Big, as they are phenomenal musicians. Other than that of course we are very eager to see Watain once again, and what an ending to the festival that is going to be!
5. What does the rest of 2018 look like for Trivax?
2018 so far has been very kind to us, despite having 5 shows cancelled due to reasons out of our control, we still have played the most we have ever played in a year. After Bloodstock, we will be doing Beermageddon festival and an appearance in Brighton supporting the Polish band HATE. Most importantly we will be doing a headline tour which is taking place at the end of September and then mid November.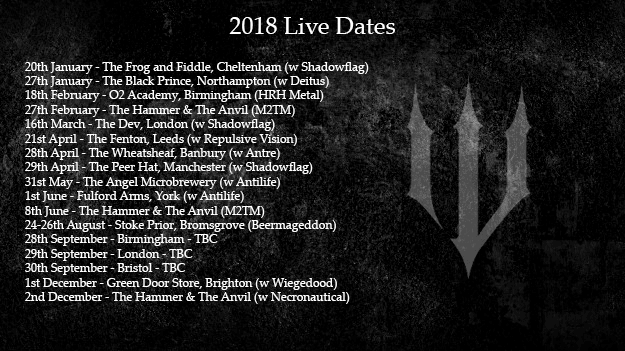 This will be our last push for our album 'SIN' and once the tour is concluded, we will be focusing inwards to conceive our next record. The last night of the tour is taking place in London the 23rd of November which I believe is the full moon on that month, so I expect things to go very feral, which to us is a great thing.