Band Interview: Undefeated
Games, Brrraaains & A Head-Banging Life are very pleased to bring you an interview with hard rocking band, Undefeated.
1. How did you get started as a band?
Believe it or not, the host of the Rock N Worship Festival in Dalton, MA, walked up to me (Meredith… the gal with green hair!). For some unknown reason he was like "hey! I want you to come sing!". I was playing electric guitar for my church's youth band (needless to say, it was a less-than-stellar performance).
So, I went. I had just turned 14. There were all ages and genres at the Rock N Worship Fest; from metal to reggae to gospel. Something clicked. These people were like me! I asked my younger brother (a rockin' drummer) on the 4-hour ride home to start a band, and he said yes!
We met bassist Ian through mutual friends. (Truthfully, he literally fell -he says he jumped- out of a tree. But I guess there's worse ways to meet people!) We played under the banner 'Undefeated' for the first time August 5th, 2017 on the lawn of a bookstore.
2. How would you describe your sound?
Booming bass, war-like drums, and a lil bit o' glitter. We're a teen rock band from northern New York! We live 45 minutes from the Canadian border. There's a lot of classic rock and country up here, and it comes out whether we mean it to or not! So we embrace it, and make it more metal:)
3. What bands/artists would you say have influenced your style of music?
Let me tell ya how we come together. Our drummer (Christian) is a die-hard djent/metal/screamo fan. Ian's (bassist) heart was born and raised in classic rock. You know, The Beatles, Zeppelin, the whole thing.
Then there's me. I LOVE to sing. You can't take a singer and stick her in one genre. The trick is melding these three sounds without losing what God gave each one. The whole is greater than the piece. Personally, I've also really been loving all of Lacey Sturm's stuff! Killer lyrics, music, the whole thing.
4. Has the rise of YouTube & music streaming helped or hindered you as a band?
Helped completely. We've had a steady stream of both bookings and people who come to see us play that we wouldn't have met any other way!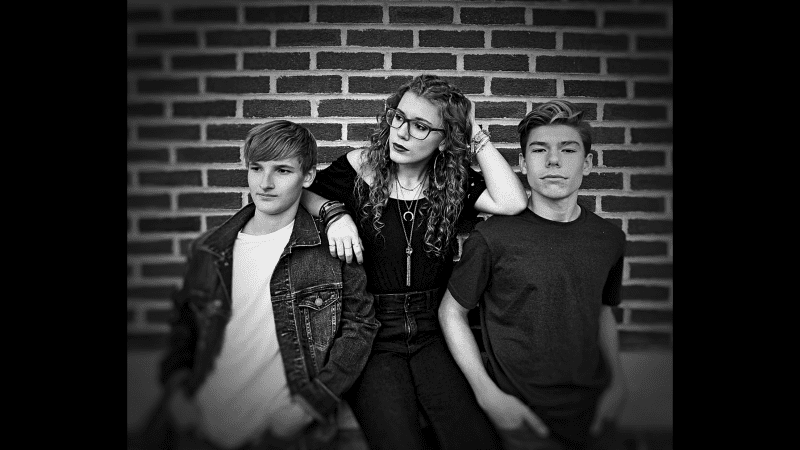 5. What do you enjoy doing when you're not making music?
Other than working out, we are very different people. I do everything on the crafty side…oil paint, knit. Right now I'm making synthetic dreadlocks (yes, dreadlocks. You might see them on me in the near future!).
Christian (drummer) juggles a full load of school, and sports. He's fast as lightening, and a sought-after soccer and lacrosse player. He still fits in yo-yoing. And he's always down for a family game! (and he's quite lucky, I might add)
Ian loves to listen to music! He's down to fish anytime, any season. Of the three of us, Ian is the dare devil. Yep, the quiet bassist.
6. What are your future plans musically? Tours?
There's a lot going on in the world with the COVID-19 virus. It has reached every corner. Due to this, all of our shows March through May are on hold. We were booked in New Jersey, Maine, and locally. So, looking forward to rescheduling those!
We've also just put out the music video for our second single, Where Are You. We have 3 more songs to follow this year to complete our first EP!
Links