Band Interview: Left for Red
Games, Brrraaains & A Head-Banging Life are very pleased to bring you an interview with hard-working, hard-rocking Midlands metallers, Left For Red. The critically acclaimed 5 piece from Stourbridge will this year be celebrating 10 years together with the release of their brand new album, 'Human Complex' out on April 6th 2019. You can read our review of the new album here.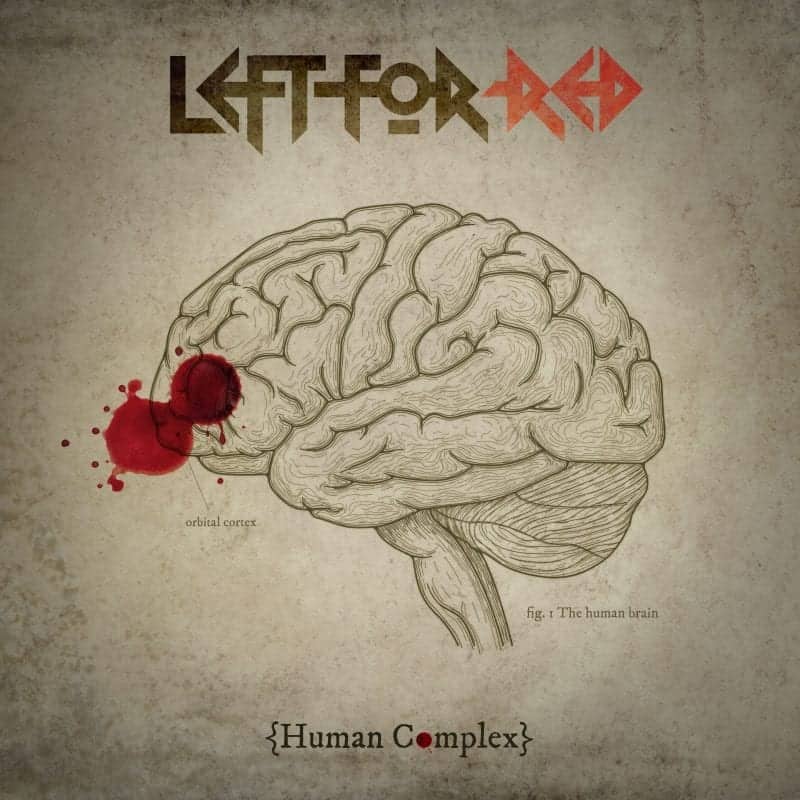 1. Hello gents! It's a pleasure as you're a band that have been on our radar for some time now. We'll start with the obvious one…sum up how Left for Red came about and how you've got to 2019.
Hi guys, well we all met at different points in our lives. Phil, Rob and LC have been friends since they were kids. Myself and Rob met in college and we all met a very drunken Aaron at The Roadhouse in Birmingham.
2. What's with the name? Heavy metal generator or has it got a deeper meaning?
Left For Red, not the most interesting of stories but when we started we wanted a name that you could abbreviate to three letters for a good logo. When the band first started it was Rob and our old guitarist Chris, both of them were left handed, Chris's nickname was Captain Redbeard The Fourth and he had a red beard so therefore Left For Red……not your normal name, but we aren't a normal band.
3. Tell us a bit about the new album. What can fans expect?
The new album is all the things that fans have said they love about LFR and more. We have really tried to put our blood, sweat and tears into this album. We felt that our last album 'All Things Known And Buried' was a good album, in the fact that the songs were good but we wanted to create an album that flowed nicely from start to finish.
Often, we like to write based around a theme, generally the theme is around human emotions but we really wanted to write an album about suffering with mental health. This is because we have all either suffered or know somebody that suffered with mental health and we felt its our way of making people aware of what suffering with mental health is like. You can be deeply depressed one day, angry the next, overjoyed the following and so on. Human Complex only scrapes the top of the ice with what goes through people's minds.
4. Tame the Tides is a little bit tasty. Kind of like biting into a really juicy steak (or lettuce stalk if you're a veggie). Is this a good barometer of what the album sounds like?
Yes and no, production wise definitely. We tried not to have a full album of heavy hitters as we want the ones that are there to really stand out, generally you will find they are book ended with two totally different style tracks to add light and shade. It is a sick track though eh? 😜
(Our note – yes, yes it bloody is. Read our review of it here).
5. Where did the artwork for the cover come from? I'm liking the added touch of the blood drips.
It was a conversation in the studio between LC and Rob, when we came up with the album title we were trying to think of what would look good. We wanted to have a picture of a human brain and the main focus to be on the Orbital Cortex which is located at the front of your brain, this is where the brain's decision making ability comes from and we said that the best way to highlight it was with the colour, red…for obvious reasons. We sent the idea to Mr Andy Pilkington of Very Metal Art and he waved his magic wand.

6. It's no easy task to survive in music, in particular metal, what have you been doing to keep yourselves at the forefront of the changing times?
Not sure what our secret is really, determination I suppose. We set realistic goals to be achieved in a good time limit. We keep each other on our toes and all enjoy playing the music we play.
7. What's with the Midlands? So much great music coming out of there that it's putting the rest of the country to shame!
I know right, it's heaving around here but we have so much musical history that has been left for us as inspiration. Some great rising bands to check out are Recall The Remains, Elyrean, Dead Mob, Skull Fox, Rustlung, Second Cities, Silence The Crows, Atarka and many more.
8. What has been your proudest achievement in Left For Red to date?
We have this discussion regularly haha! Staying alive is the main one, how we have managed to survive this long bewilders us, but, I would say either performing at Bloodstock on the New Blood stage in 2015 was one of the greatest experiences a band will ever have, or, playing at the legendary Wulfrun Hall with Skindred. We have played with lots of cool bands but they really were very hospitable and lovely people. Benji even wore our Tshirt on stage during the 'Newport Helicopter'.
9. What gets you out of bed in morning and motivated?
Hunger and the need to pee, generally gets me out of bed haha! But for motivation I would say family, friends and a love for what we do.
10. What does the rest of 2019 look like for the band? Where can people catch you live?
We have our album launch on the 6th April at the O2 Institute 2 in Birmingham.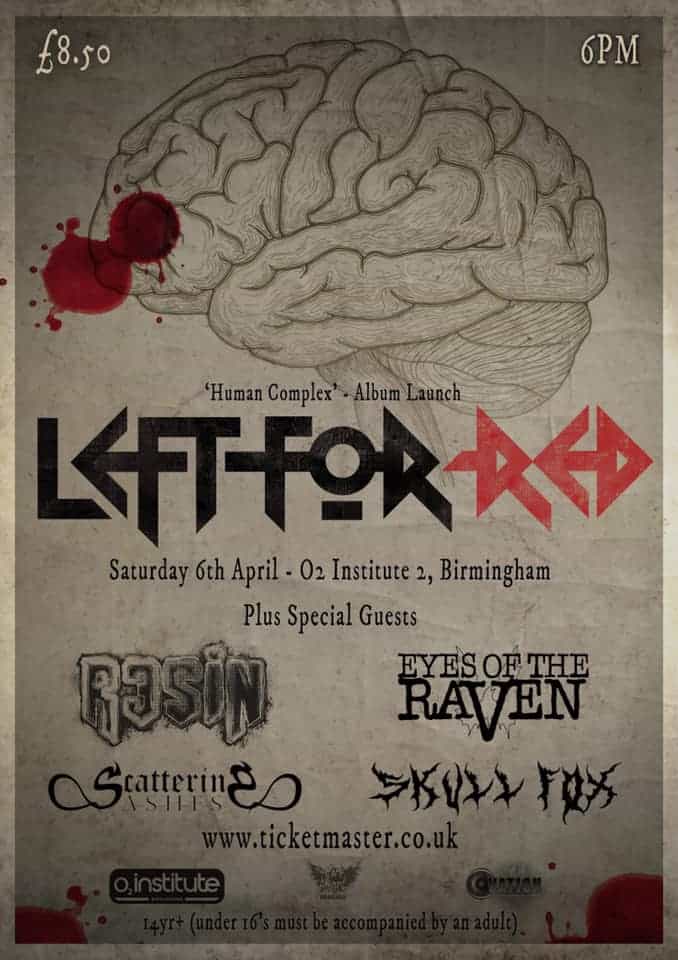 The rest of our gig list looks a little like this:
23rd March – The Dolls House, Abertillery
6th April – O2 Institute 2, Birmingham
27th April – Grand Central, Manchester
4th May – Heaven & Hell Fest, Sheffield
28th June – Mosh Against Cancer, Coventry
23rd-25th August – Beermageddon, Stoke Prior
19th October – Buzz Fest, Stourbridge
We will have a new music video coming out over the summer and aside from that our singer is getting married so we are going to go and get drunk 😜🤘
Head over to Left for Red's website to order the album, earlier releases (Bandcamp) and merchandise. Find out more and keep up to date with news by liking their Facebook Page, Twitter, Instagram and watch videos on YouTube. Get down to their album release show too at the O2 Institute 2 in Birmingham by picking up tickets here.