Album Review: Left for Red – Human Complex (Self Released)
Midlands metallers, Left For Red, have been causing a ruckus on the scene for some time now. The critically acclaimed 5 piece from Stourbridge will this year be celebrating 10 years together with the release of their brand new album, 'Human Complex' out on April 6th 2019.
Human Complex is a play on words, of the phrase "god complex". The concept that the band had was to explore the human psyche, with a focus on why people can be so arrogant and careless with their actions, and the effects they have on themselves and others. Each song concentrates on an emotion, decision or belief such as love, hate, jealousy and regret. It also highlights the effects that mental health can have on the human brain's ability to make an informed decision.
Left For Red have said:
"We are ecstatic to finally unveil what we have been working on for what seems like an age now. We are so proud of Human Complex and we can't wait for you to hear it!"
We'd already had a taster with the release of the single, Tame the Tides. A song we loved (check out our review here) and we made the claim that if the album was even half as good as it, we'd be looking at an album of the year contender.
So the question remains…is Human Complex an album of the year contender?
It begins strongly with the groove of Dancing With Misery. An apt title as it has a rhythm about it that sounds like a slow dance at a macabre ball. Whereas Switchblade Romance is all about speed with spitfire vocals. The guitar groove is dirty and thick but the cleaner chorus breaks that apart somewhat. Catchy as anything, this is a bar laying track for the remainder of the record.
Slaves to Causality and Leech comes next with a similar formula, in that the former is a slower more mellow number and the latter has pace and much deeper groovy riffs. Whereas catchy choruses are a Left for Red staple, with Leech they add some extra meat to the bones with chuggy guitars and roaring vocals segment.
Those flashes of intense heaviness are always great and have serious impact because they're spread out. Turning a track like Hand of God from a good head-banger to a great head-banger!
Not as though the more mellow tracks are lacking either though as The Storm and the wonderful finale of Sunrise Bring Serenity shows. A really chilled out finish that leaves a really good feeling, something that the whole album does.
Left for Red have created a pretty special and significant album here. A fantastic mix of heavy groove, hard-hitting metal, soft melodic highs, lows and feel-good moments. Yes, it is an album of the year contender!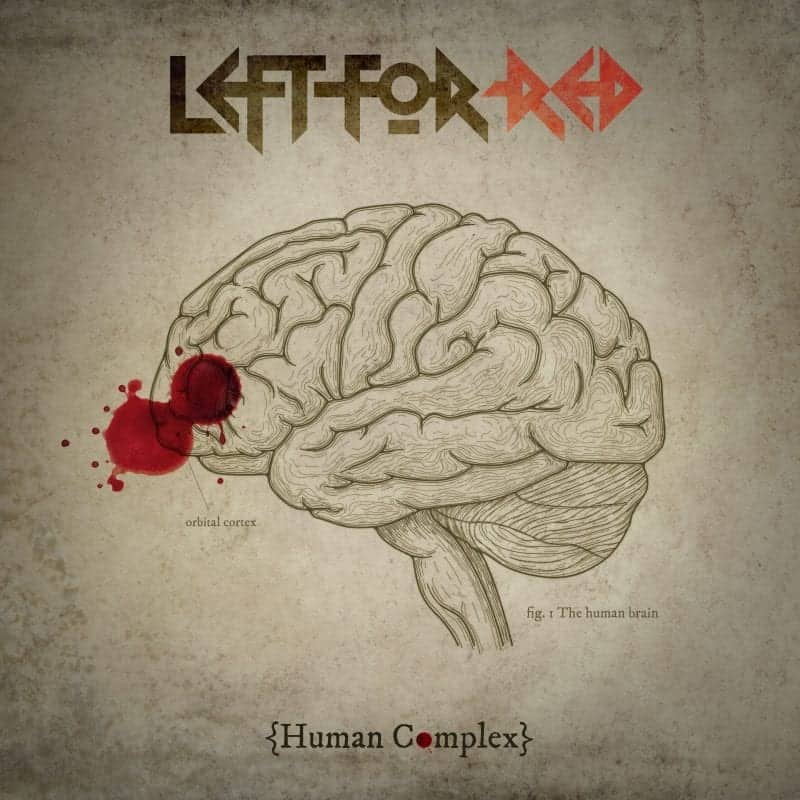 Left for Red – Human Complex Full Track Listing:
1. Dancing With Misery
2. Switchblade Romance
3. Slaves To Causality
4. Leech
5. The Circus
6. Hand Of God
7. The Storm
8. Journey Within
9. Tame The Tides
10. Sunrise Bring Serenity
Head over to Left for Red's website to order the album, earlier releases (Bandcamp) and merchandise. Find out more and keep up to date with news by liking their Facebook Page, Twitter, Instagram and watch videos on YouTube. Get down to their album release show too at the O2 Institute 2 in Birmingham by picking up tickets here.
Left for Red - Human Complex (Self Released)
The Final Score -

9/10