Band Interview: Calling For Eden
Games, Brrraaains & A Head-Banging Life are proud to being you an incredible interview with upbeat rock band, Calling for Eden! You can read our review of their latest EP, Simple Reasons here.
1. How did you get started as a band?
We all met over a long period of time ranging all the way back to 1999. KC and Maddog met that summer and played around with various heavy metal bands such as Threadbayr and Depth Charge for a few years. Zach came into the picture in the early 2000's and soon after formed a band with KC that was in the Punk'a'billy Rock genre called The Last Call. Through the mid to late 2000s there were periods on and off where musical success seemed only a dream. However, there was always a need to play music nagging at the back of our brains.
There was a period of time when the 3 of us just played some acoustic cover songs for fun at a few bars here and there. At some point in the late 2000's, Maddog was unable to keep playing percussion and that was when Keylee came in to the picture. Over this period of time, in the dawn of the new millennium, the other band members were accumulated as friends and sometimes roommates but they were not yet musically involved.
KC had always dreamed of having a big band with horns, keyboards, etc. He admired and drew inspiration from the likes of Phil Collins, Steve Winwood, Bruce Hornsby, Dave Matthews, and many other rock legends. So in 2013 he decided to try to put together a group and began searching through these friends for potential musicians. He already had a good foundation with himself on guitar, Zach on bass, and Keylee on the drums.
He knew that Maddog had played trumpet as a teen in school and Chuck had played trombone in school so he renewed their interest in playing those instruments again. Ducky also had a school background with horns so when Chuck decided he preferred the saxophone, Ducky took over on the trombone. Cliff was always around but had no musical background so naturally the piano was the place to start. No one around KC believed that this ragtag group of musical flunkies would achieve anything, but he was able to kindle the flame of music and ignite the dream in these guys.
So, with some music lessons and countless hours of practice something unique began to develop around this group of friends. As skills were honed and the music developed, this dream of musical success began to seem more realistic. As a few other potential members came and went, such as various lead guitarists and female backing vocals, we stumbled upon a blues man in the guise of a Senior Chief in the US Navy. His name is James "Sugar Cookie" Tuttle and who needs lead guitar when you have a great harmonica player! For now that is all of us. However, when the time is right we may again entertain the idea of female backing vocals.
2. How would you describe your sound?
We most often get compared to the likes of Dave Matthews, Chicago, and ELO. We've also been told that we remind people of James Brown or Red Hot Chili Peppers. Our story correlates somewhat with the original Blues Brothers movie. We describe ourselves as a high energy, festive, rock n roll band with a bluesy punch of funk. Kind of like The Hulk on mushroom tea at a DMB concert lol.
3. What bands/artists would you say have influenced your style of music?
Phil Collins, Bruce Springsteen, Steve Winwood, Bruce Hornsby, Dave Matthews, The Rolling Stones, Phoenix Horns, Memphis Horns, Chicago, Tower of Power, Michael Jackson, The White Stripes, Iggy Pop, John Lydon, Boomtown Rats, John Cougar Mellencamp, John Cafferty, Elvis, Trombone Shorty, Hank Williams (1, 2, and 3) & The Blues Brothers.
Blues Traveler, George Clinton and Parliment Funkadelic, Red Hot Chilli Peppers, Tony Banks, Rick Wakeman, Stevie Wonder, Erez Eisen, Ray Manzarek, Louis Armstrong, Maynard Ferguson, Miles Davis, Chris Botti, Chuck Mangione, Tom Petty, Radiohead, Mighty Mighty Bosstones, Queen, The Beatles, Faith No More, Dream Theatre & Fightstar.
Jane's Addiction, Jackson Brown, Van Halen, AC/DC, Rat, Marshal Tucker Band, ELO, BB King, Muddy Waters, Waylon Jennings, Howlin' Wolfe, Junior Wells, James Cotton, Sugar Blue, Elmore James, Yes, Traffic, KC and the Sunshine Band, Barenaked Ladies, Foo Fighters, George Thorogood, Simple Minds, Tenacious D, Phish, Reel Big Fish & Aerosmith.
Journey, Deathcab for Cutie, Oingo Boingo, Nirvana, Bootsy Collins, John Denver, Jaco Sklar, Stephen Lynch, Krist Novoselic, Les Claypool, Cliff Burton, Stevie Ray Vaughn, et cetera ad infinitum. We have a very wide, eclectic taste for music and try to bring it all into something unique called Calling For Eden.
4. Has the rise of YouTube & music streaming helped or hindered you as a band?
While I can imagine how it might have hurt or at least been difficult to adapt to for bands that were already established before these tools came along, they are just that, tools. In fact they are some of the greatest tools, along with social media, for emerging and independent bands. I think the only hindrance involved is that everyone has such short attention spans.
5. What do you enjoy doing when you're not making music?
Well some of us still have to keep day jobs to pay the bills. We are on social media making friends and spreading our music every day. We try to go out and promote ourselves at least once a week around our local scene. That can be a lot of fun; making new friends and business contacts. About once a month, we have a band get together and BBQ. Or we go to the lake and do some tubing or fishing.
We may not get much of what you'd call "Time off". However, we enjoy this kind of work and have a lot of fun doing it. No mistaking that it is very hard work to make a career out of playing music. We all agree that it is much more preferable than being stuck in an office all day or slaving away in a dead-end job.
6. What are your future plans musically? Tours?
We are working on spreading our wings and getting more regional dates. Most of our gigs have been around the greater Dallas and Fort Worth area, but we have also gigged in Denton, Greenville, Houston, San Marcos, and Austin. We are ready to hit the road and looking forward to it. Our experience has been that great things happen at the last minute. So who knows, we might suddenly be touring next month!
We are working on some new recordings and plan to release them as soon as they are ready. Find and follow us on your favorite social media to stay up to date on what we're doing. We also have an email list on ReverbNation, please sign up for it to stay informed by email updates. We are making contacts to get into more festivals and setting up more dates in our regional area. We've been doing a lot of interviews and PR work to reach new fans.
That is the biggest thing for us right now, building our fan base, so please tell your friends about us!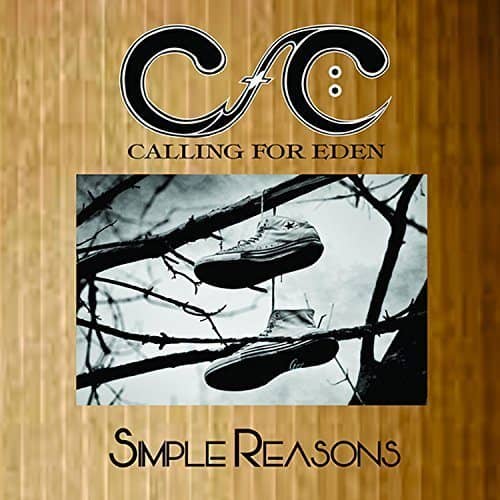 We'd like to thank Calling for Eden for taking the time to speak with us! You can pick up the new EP via most major streaming services such as Spotify & Apple Music. Find out more about Calling for Eden on their website here, on Facebook & Twitter. You can listen to some of their music over on SoundCloud & YouTube.