Artist Interview: J.E.F.F. II
Games, Brrraaains & A Head-Banging Life are pleased to bring you an interview with multi-talented artist, J.E.F.F. II.
1. How did you get started as a band?
I've been playing music since I'm a teenager. I posted my first original songs online at the age of 15. Then I spent years playing in rock bands in France before I moved to the US in 2016. I decided then to rebuild my solo project with a new sound and new visuals. Los Angeles was the perfect place for that. As a guitar player I spend most of my time playing with other people. But I wanted to have my own project with my own sound.
2. How would you describe your sound?
It's a crossover of high energy rock n' roll and electronic music. It has the BPM and the adrenaline of EDM mixed with the guitars and the loudness of hard rock music. I've always been a huge rock n' roll fan. I just wanted to create something that sounds more modern and danceable. Something that you can both play in rock festivals and nightclubs. I'm right in between both worlds really. My fanbase is composed of guitar players, DJs, rock fans and EDM lovers.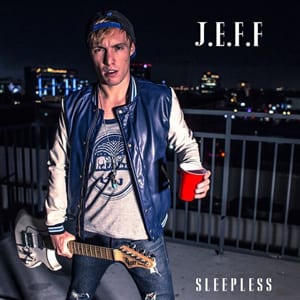 3. What bands/artists would say have influenced your style of music?
I come from rock music. I like The Stooges, Guns n' roses, Hendrix, AC/DC…. When I started playing the guitar I was more into technical guys such as Joe Satriani. So yeah, this music will always be in my blood no matter what. Later on I discovered electronic bands such as The Prodigy. They are a big influence for me. Even though they're no a classic rock band they sound really close to punk.
I love music in general and I had many different experiences in this business. I went to a Jazz school for a few years. I learned a lot about music theory, ear training and all that… I was playing tunes from Charlie Parker and John Coltrane all day long, can you believe it? *laughs* But it's a very small universe, and it's not crazy and noisy enough for me. I eventually came back to making more simple and straightforward music.
4. Has the rise of YouTube and music streaming helped or hindered you as a band?
It helped me a lot. It's a game changer. This is where all the young people discover new bands. It has its downfalls for musicians, especially because we don't make enough money out of these services, but you can bring more people to your shows and reach new audiences easilly. The industry is changing so fast, it's impossible to tell what's it is gonna be like in 5 or 10 years. For now, I'm trying to use the internet as much as I can.
5- What do you enjoy doing when you're not making music?
I'm a simple dude. I enjoy hanging out with friends, going outside see the nature. I live in Los Angeles, there's so many things to do and see here it's hard to get bored. I'm trying to hit the gym every week to stay in shape, it helps when you're preparing for live shows. i like going to the beach or walking around town in general.
6- What are your future plans musically? Tours?
I'm currently writing my first solo album. I've been releasing the first single 'Sleepless' this summer. You can check out the music video on YouTube. Once the album is ready I will play a couple of shows around the LA area. My goal is to tour the US as soon as possible. It will depend on the response from the labels. For now, my focus is on the production and recording.
We'd like to thank J.E.F.F. II for taking the time to speak with us. You can follow him on Instagram for more information.