Album Review: Whitechapel – Kin (Metal Blade Records)
At this stage in the game, the name Whitechapel commands respect. Already sitting on one of the most enviable catalogs in contemporary metal, in 2019 they dropped The Valley, showcasing a confident evolution in their sound and standing as a true landmark release that sets a new standard for the genre.
The commencement of writing for the album was a direct result of the Covid pandemic, the band having several tours lined up to finish out the cycle for The Valley, but when these got cancelled, they decided to refocus their energies and begin working on a new record.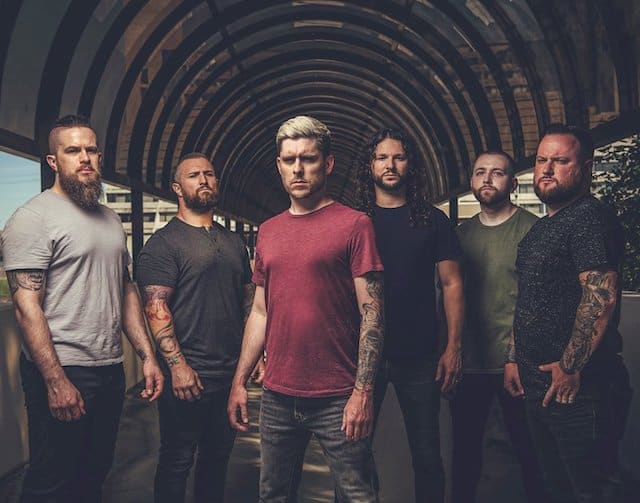 The result is Kin. Whereas The Valley explored childhood trauma, its successor, which continues the story told on that record, is darker still. The album title pertains to relatives, which is what the album is about, but the deeper meaning behind this plays into the idea that the vocalist's alternate reality/persona is his kin as well.
Kin will be released on October 29th, 2021 via Metal Blade Records.
Dark and chilling but also Whitechapel extending their musical abilities into less metal territories. Kin shares a lot in common with the excellent previous album, The Valley but it's also one of the more unique records from the band.
Here, the unit showcase some of their more rock-orientated abilities and continue to lean into the cleaner passages and vocalisations. Don't be fooled though, it's still a brutalising record and the themes alone are heavy enough to sink you.
I Will Find You begins with morose melody, transforming into a savage deathcore slice of heaven before hitting low, cold and haunting depths with clean singing and featuring an epic guitar solo. It's an instant shock to the system, as though Whitechapel have thrown an ice-cold bucket of water over you.
Lost Boy is far wilder and the instrumentation just hits harder here but it also features a softness that is part emotive and part uncomfortable. Whitechapel baring their souls in a unique fashion. Before A Bloodsoaked Symphony serves as a timely reminder of just how crunchy and chunky Whitechapel's sound can be. An absolute beast of a track, it's head-banging and neck-breaking gold.
A change of direction with Anticure sees Whitechapel deliver a larger-than-life effort that skirts the line between rock and metal near-flawlessly. Again, a track that oozes chilling and dark atmosphere. Though if you want that same darkness but delivered in a more savage way, The Ones That Made Us will provide all the meaty and mucky noise you want.
Though, if there's one thing Kin does more than any other Whitechapel album, it is keeping you on your toes. You never know quite what is going to come next and proof of that is the melodramatic cleans of History is Silent. Where the eruptions of fury and pain feel so much more impactful because of how heartfelt the melodies are.
Although the rampant power of To the Wolves and expansive despondency of Orphan have just as much sentiment. Whitechapel continuing to surprise as the album reaches the latter stages.
A strong pairing; Without You and Without Us come next. The former, a minute of soft guitar melody that leads into the latter and an eye-watering slamming of instruments. If you want heavy, you get fucking heavy here but again, Whitechapel showcase their layers with a blend of melody and metal.
Ending things with the title track, Whitechapel wrap up their latest darkness covered release with what might be the album's grandest and most stadium rock orientated track of all. Another unique offering on an album that is full of them.
As a companion piece to The Valley, Kin is an accomplishment. It's familiar but still packed with surprises. If this is what Whitechapel will continue to focus on as they go forward, it's sure to gain them a whole host of new fans.
Whitechapel – Kin Full Track Listing:
1. I Will Find You
2. Lost Boy
3. A Bloodsoaked Symphony
4. Anticure
5. The Ones That Made Us
6. History Is Silent
7. To the Wolves
8. Orphan
9. Without You
10. Without Us
11. Kin
Links
Website | Facebook | Instagram | Twitter | YouTube | Metal Blade
Whitechapel - Kin (Metal Blade Records)
The Final Score -

8/10