Album Review: Uada – Djinn (Eisenwald)
Since their formation in 2014, Uada's rise has been meteoric. Hailing from the Pacific Northwest, the band quietly released their debut album, "Devoid of Light", in 2016 through Eisenwald, and word of mouth quickly built from there.
Two years later came "Cult of a Dying Sun" and now almost effortlessly, Uada fully perfect their craft and deliver their masterwork: "Djinn". Out on September 25th 2020 via Eisenwald.
Black metal but not as you know it. Uada's style is as unconventional as you can get while also being incredibly imaginative. To say they have a unique sound is not hyperbole and across a 60-odd minute album, they display this to great effect.
A rock and roll beat kicks off the title track, the riffs building the energy upwards until it starts to resemble something with a bit of a post ring to it. It's a very early indicator of just seamlessly Uada transition from one style to another.
The arrival of the harsh vocals adds a thick layer of darkness to the track yet it retains a peppiness that just works so well. At least until a near silent drop that lasts around a second or two before returning with a more epic and grand black metal sound.
With the bar set, The Great Mirage has a tough job following that but manages to stand out by having a ton more bite to the riffs and snarl to the vocals. The shortest track at just under 7 minutes, it's the warm up act for No Place Here, a track that is over 13 minutes long.
It's this sort of effort that truly makes you marvel at what Uada are and what they have brought to the table with Djinn. The transformation as they move from moody guitar tones and rumbling bass to faster, stomach clenching segments of ferocity and melodic wonder. It's such an extensively clever effort, yet there is no time to take a breath as in the Absence of Matter arrives at a frantic pace afterwards.
When the opportunity does arrive to gasp for some air, it comes during a rhythmic slamming of drums and guitars. So make it quick as it quickly powers back up into what is one of heavier tracks on the album.
How Uada can sustain this is anyone's guess and it's far from over yet. Forestless being more of a morsel of melodies building and building to a thick and sinewy post-black sound. Whereas the near 14-minute finale of Between Two Worlds is all about growth, the ever explosive sound of a band starting in a high gear, capable of shifting when needed but not willing to compromise unnecessarily. Uada showcase a confidence that could only come from a band safe in knowledge that they have crafted something so special here.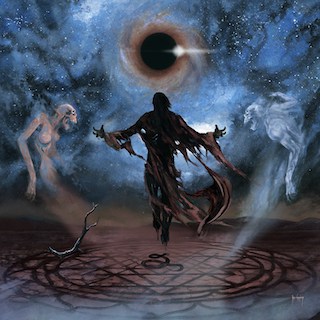 Uada – Djinn Full Track Listing:
1. Djinn
2. The Great Mirage
3. No Place Here
4. In the Absence of Matter
5. Forestless
6. Between Two Worlds
Links
Bandcamp | Facebook | Eisenwald
Uada - Djinn (Eisenwald)
The Final Score -

9.5/10