Album Review: Bismut – Retrocausality (Lay Bare Recordings)
Bismut is a Psychedelic Desert Metal trio hailing from Nijmegen, the Netherlands. Formed in 2016, they arose from intense, experimental jam sessions in the caverns of the Nijmegen underground.
Retrocausality is Bismut's second full-length featuring 6 songs and 72 minutes of musical compositions to get you out into orbit and forget about time. Retrocausality will be released on September 25th 2020 on vinyl via Lay Bare Recordings, their second release on the label, with CD and digital being handled by the band themselves.
Exciting just doesn't cut it as Oscuramento begins to build. The thick and worrisome beat increasing in depth and complexity. The guitars absolutely sing and there is this wicked reverb to the bass that echoes through the skull. It's such a trip without being overtly psychedelic, a glorious 13-minute peaked filled trek and this is just the start.
Non-Lokaliteit brings with it a fascinating sense of danger at first. The frantic guitar work keeping things on edge before the tone drops to a fuzzy low and into dreamy, obscure melody. Almost to the point of near silence before building back up to a hard-hitting slab of groove.
Utterly exhausting and there is no rest with the following Predvídanie or Varasaga. The former a mastery of energetic complex guitar riffs, hooks and rhythms to the point of brain-melting shock. The latter, a thrilling blend of slow moodiness and scathing heaviness, akin to nothing heard so far on the album.
The longest track (over 15 minutes) arrives and sees Bismut push themselves and us to the brink. Vergangenheit beginning so softly and quietly, it almost lulls you into complacency. As though you've already taken the best that Bismut have had to offer and are still standing. Relax at your peril though as slowly, like an ever-growing storm, it increases in temperature. Suddenly and unexpectedly, you're in the centre of a maelstrom.
Wilder and way more dangerous, yet so thrilling. It's is simply spectacular and the crowning achievement of this band.
After all of that, it kind of makes a 3+ minute finale seem a bit pointless. However, even with Antithesis, Bismut make an impact as its horrifying effects marking the end of something truly special.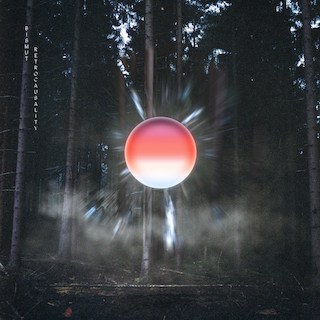 Bismut – Retrocausality Full Track Listing:
1. Oscuramento
2. Non-Lokaliteit
3. Predvídanie
4. Varasaga
5. Vergangenheit
6. Antithesis
Links
Website | Facebook | Bandcamp | Instagram | Lay Bare Recordings
Bismut - Retrocausality (Lay Bare Recordings)
The Final Score -

9/10