Album Review: Kataklysm – Unconquered (Nuclear Blast)
Canadian melodic death metal heavyweights Kataklysm are proud to reveal their 14th full length studio album, Unconquered which will be unleashed on September 25th 2020 via Nuclear Blast Records.
14 albums in and the fire is still burning as hot as ever. Kataklysm return with one of 2020's most aggressive and meatiest melodic death metal releases in Unconquered. A fitting title as this is a band who stand tall and defiant in the face of a rough year for humanity.
Kataklysm's answer is to deliver a banger of a release, one filled with a powerful level of wrath and hostility. Beginning with the belligerent, chaotic assault that is The Killshot and following that up with the character-filled head-banger that is Cut Me Down. A dense and meaty drumbeat, ripping and tearing riffs, vocals that scream bloody murder…with the first two tracks, Kataklysm show that they're not taking any prisoners here.
In fact, getting out alive might not even be possible as the Underneath the Scars and Focused to Destroy You brings the beast up close and personal with Kataklysm's rampage. Which is what it is. A furious rampage of chunky death metal with heart and soul.
With a ton of head-banging groove, The Way Back Home might have a slower tempo but is not lacking in the fierce capabilities of this band. Again, the drums stand out so much and you must marvel at just how effectively they are played.
Stitches' groaning guitar hooks and punchy beat, Defiant and its unaltered metal exploitation and Icarus Falling with its deep melodic furrow makes this an album of the year contender. The final stamp coming from the crawling moodiness of When It's Over, the buzz of the guitars powerful enough to drop you to your knees in thanks.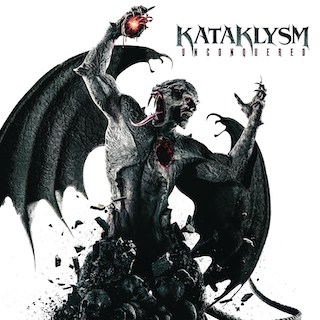 Kataklysm – Unconquered Full Track Listing:
1. The Killshot
2. Cut Me Down
3. Underneath The Scars
4. Focused To Destroy You
5. The Way Back Home
6. Stitches
7. Defiant
8. Icarus Falling
9. When It's Over
Links
Kataklysm – Unconquered (Nuclear Blast)
The Final Score -

9.5/10