Album Review – The Blood of Gods by GWAR (Metal Blade Records)
American rock nutters, GWAR, have released their latest album, The Blood of Gods. The Blood of Gods came out on the 20th of October via Metal Blade Records and marks the band's first release since the death of founding member and front man, Oderus Urungus.
Oderus Urungus, alternatively known as Dave Brockie, was the vocalist since 1986 before his death in 2014. In his place, now, we have Michael Bishop (Blothar) who had previously been in the band, as bassist almost 2 decades ago.
In GWAR today, joining Blothar we have Mike Derks (Balsac the Jaws of Death) on rhythm guitar and Jamison Land (Beefcake the Mighty) on bass. Brad Roberts (Jizmak Da Gusha) is the drummer and Brent Purgason (Pustulus Maximus) is on lead guitar. All members add backing vocals along with three other backing singers and stage performers in Bob Gorman (Bonesnapper), Matt Maguire (Sawborg Destructo) and Don Drakulich (Sleazy P. Martini).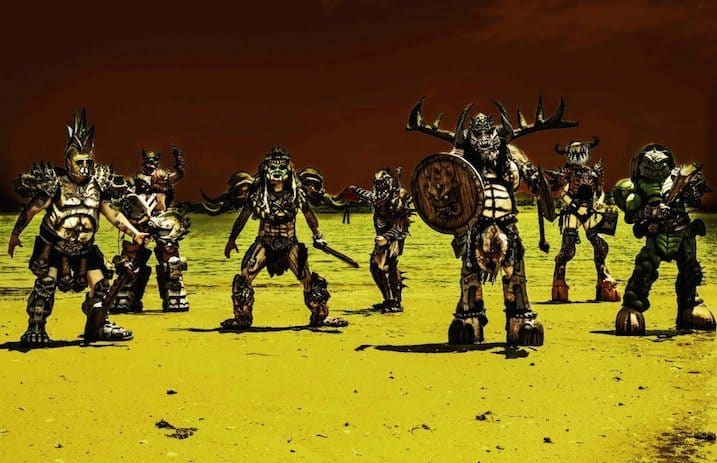 I guess a lot of people have been wondering, maybe even concerned, at how GWAR could possibly continue without Brockie. How will they sound? How much of their signature style has have been lost? A lot of those doubts were dismissed with the release of the first two singles though. El Presidente and Fuck This Place are both great songs with tons of humour, expert musicianship and strong vocals. Click the links to read our reviews of them both. As GWAR themselves point out on their album  –
"The Blood of Gods, is nothing less than a sacred text chronicling the rise of humanity against their makers, and the massive battle between Gwar and the forces of all that is uptight and wrong with the world. Along the way, the band challenges the sins of their great mistake, from politics, pollution, and organized religion, to fast food, and factory farming. Humans are shown as what they are; a parasitical disease that must be eradicated before they suck the planet dry.
Of course, The Blood of Gods is the first Gwar album without the band's fallen leader, Oderus Urungus. The title of the album refers to the loss of Oderus and the struggles and triumphs that produced the new sound of the band. Born of adversity, The Blood of Gods is a sonic scar… a question asked and answered… Death cannot kill Gwar. Nothing can."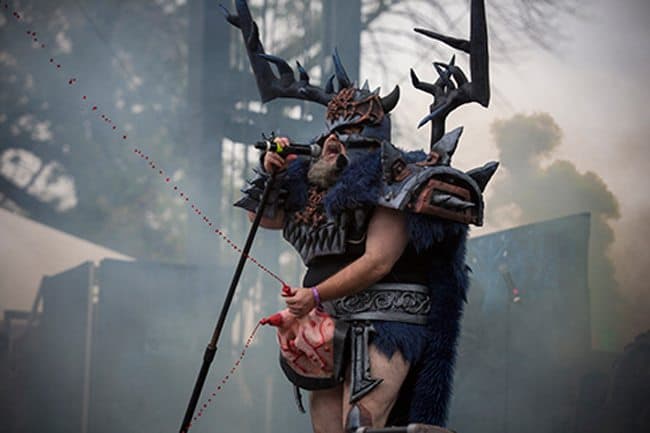 The Blood of Gods is just under an hour long. It has 12 tracks on it altogether, including a cover of AC/DC's If You Want Blood (You Got It). The album starts of really well with the strong and long War on Gwar. It starts with a slow single guitar before Blothar comes in and delivers vocals in the style of a statement. The song soon builds with a crescendo of squealing guitars before bursting into a sludgy riff. Being a long song there is plenty of time for other styles and the track moves into a faster thrash style rhythm for a point too. There is a great solo near the end too and it is a nice high tempo start to the album.
That is carried on into the next track, Viking Death Machine, which has lots of different drum rhythm's leading the way through most verses. It has an upbeat tempo to it and a pop punk riff. In contrast to the song name, Viking Death Machine is one of the softer songs on the album with it's pop punk or punk rock stylings. It is catchy though and has another mean solo which is always welcome. It does give a glimpse into how GWAR may have changed though. El Presidente is up next and, as per the single review, is a great track with tons of rhythm and bonkers creativity. It has clever, GWAR styled political lyrics and some nice twists on delivering them.
The next three tracks, I'll Be Your Monster, Auroch and Swarm are the next three tracks and are all very decent in their own right. I'll Be Your Monster has a funny theme – very GWAR like – being sung from the perspective of the monster under your bed. It also has a really chunky riff and fast pace before a spiralling solo comes in near the end. Auroch and Swarm are also fast paced with Auroch having a heavy bass line at the forefront and loads of little drum beats and fills. Swarm has a chugging, steadier riff with really good vocals.
So with the first half of the album done, I am happy to admit I am impressed. So far The Blood of Gods is very good and very GWAR.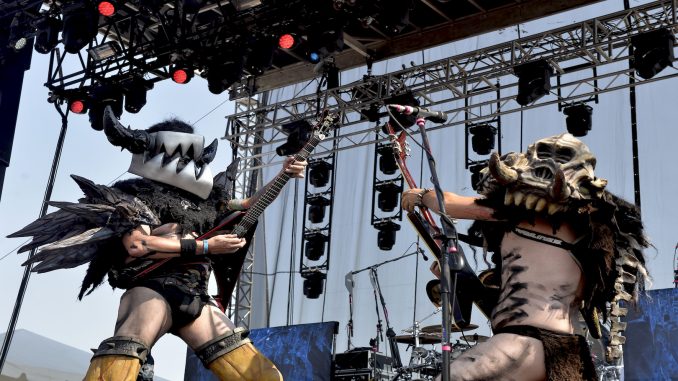 The second half of the album doesn't immediately live up to the same standard unfortunately with The Sordid Soliloquy of Sawborg Destructo and Death to Dickie Duncan being the next two tracks. The Sordid Soliloquy of Sawborg Destructo isn't exactly a bad song. It has more GWAR comedy in the lyrics as Sawborg regales us with a tale of his misfortune. Musically, it doesn't offer anything new to what we have heard so far though. Death to Dickie Duncan is the polar opposite throwing tons of creativity in weird vocal effects and time changes to the point of sounding messy and a bit confused.
Thankfully the album settles back down with the next two tracks, Crushed by the Cross and Fuck this Place. Fuck this Place is a brilliantly infectious song with a great riff and pace. It might just be my favourite one on The Blood of Gods. Crushed by the Cross isn't far off either. It has a real old school thrash vibe after a short church organ intro. It is a proper head banger with a strong bass and catchy riff. There is a section near the end where it switches to female backing that sounds a little off. It is saved by another cool solo though.
The last proper song is Phantom Limb which is a nice variation from the rest of the album. It is a ballad of sorts – GWAR style ballad. There are loads of riffs over a slower drum beat. Bishop's impressive vocal range gets shown on this one and there is a great solo too. It moves through a familiar style of slower verses that build into heavier, catchy choruses and would have been the perfect ending to the album. The Blood of Gods doesn't end there unfortunately and instead we get the AC/DC cover of If You Want Blood (You Got It). It is a good cover but is still just a cover. It isn't a song I particularly like the original of which doesn't help. I'll just pretend Phantom Limb is where it ended.
The Blood of Gods is a really strong album and shows how strong GWAR are. There are hints to a differing style but it is unmistakably true to the original style and sound we expect as well. Bishop is a very strong vocalist and will do a great job and the whole band sound together and as strong as we would expect from a horde of intergalactic warriors. A couple weak tracks aside, GWAR continue to march on with all the humour and irony we expect mixed with immense musical talent.
You can pick up The Blood of Gods from Metal Blade by following the link. You can also pick this album up, and more from GWAR, at the Amazon links below. Find out more on GWAR at their website, Facebook, Twitter and Instagram. Make sure you like and follow them while you are there.
[amazon_link asins='B075FQL3R6,B0751QPFKN,B002IS13W6,B00E687MAS,B00000ICNM,B0045EH532,1524105015′ template='UseThisOne' store='g0e5b-21′ marketplace='UK' link_id='d8e8d139-b7f0-11e7-8495-d11f04b939ea']
The Blood of Gods by GWAR (Metal Blade Records)
The Final Score -

7.5/10
Comments Rating
( reviews)