Album Review: Shezmu – À Travers Les Lambeaux (Krucyator Productions)
Hailing from the frozen fields of Montréal, Shezmu was forged in 2016 by Olivier Bérubé Emond (also goes by the pseudonym Comte Bergaby in the underground) and Marc-André Labonne. As a duo, they released a self-titled demo cassette in 2017, followed by two successive MLP releases in 2018: The Scent of War under Les Fleurs du Mal Productions and Breaching The Tomb under the banners of both Les Fleurs du Mal and Iron Bonehead Productions. 2018 also saw the Quebec force expanding their size and sonic palette with the addition of bass player Yanick Tremblay-Simard (Sol Miracula, Aiauasca).
Now, Krucyator Productions presents Canadian brooding black/death/doom trio Shezmu's striking debut album, À Travers Les Lambeaux, out on CD & Digitally July 27th, 2020.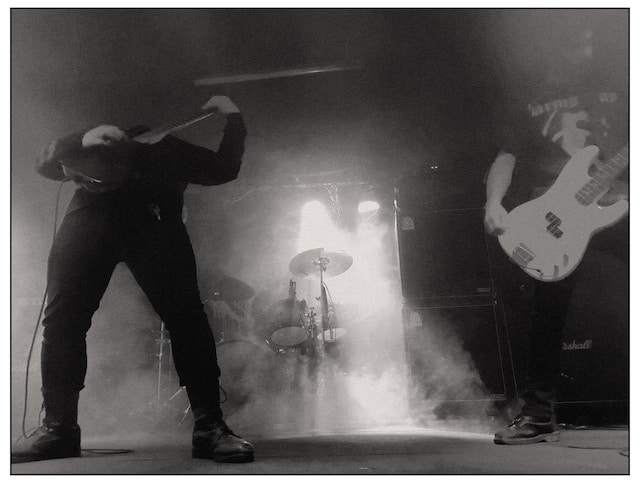 There's some serious meanness to Shezmu's long-awaited debut. An album dripping in gooey darkness and with a frightening amount of fire burning throughout. With themes surrounding rage, sorrow and madness, you know you're in for a truly harrowing experience from the moment the absolute tome of doominess that is the title track is dropped. Horrifyingly effective, explosive bursts of furious blackened death only serve to make the whole thing all the more twisted sounding.
Having laid down the marker for pure and unbridled intensity, Shezmu are seemingly only getting started. Cérémonie Magique pour la Bataille de Megiddo is a whirlwind of crashing noise and signifies a more straightforward and less drawn out style of brutishness. Beginning by dragging unexpected listeners to their death with thick, choking doom before dealing out horrific beatings with the fury of Ode À Hathor and Les Secrets des Ziggourats.
Although, it's not all abuse as the eerie and ritualistic melody of Interlude – La Rage splits the previous two apart. Providing much needed relief while also being impressive in scope. It's grand but not in the conventional way.
Talking of grand things… Lex Talionis ensures Shezmu leave with one hell of an impression. Although before that, we get another absolute blast of death intensity with L'Arrivée Des Temps Déchus.
Call that the intro or warm up as it where. Shezmu are not letting anyone get out alive as the finale comes in at around 8 minutes and can best be described as beautiful chaos.
Try and focus your mind as you listen and you'll hear some impressive instrumentation and a track that is ever shifting. Some classic heavy metal riffing, drumming that might be some of the best heard this year, a daring underbelly of catchy rhythm and a constant drive to leave the mind smashed wide open.
It's a stunner of a finale and lifts what is an already great album to even higher heights. If you like your metal to be abusive and destructive while somehow having sense and order to it, Shezmu have what you're after with À Travers Les Lambeaux.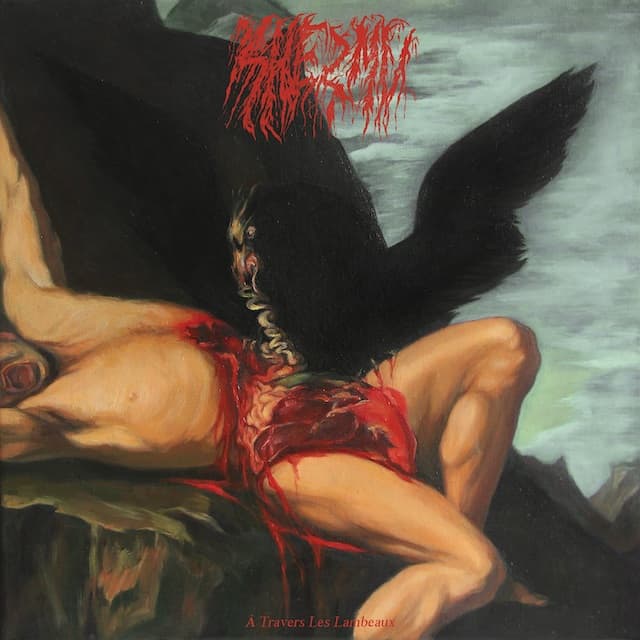 Shezmu – À Travers Les Lambeaux Full Track Listing:
1. À Travers Les Lambeaux
2. Cérémonie Magique pour la Bataille de Megiddo
3. Ode À Hathor
4. Interlude – La Rage
5. Les Secrets des Ziggourats
6. L'Arrivée Des Temps Déchus
7. Lex Talionis
Shezmu Links
Krucyator Productions Links
Shezmu - À Travers Les Lambeaux (Krucyator Productions)
The Final Score -

9/10