Album Review: Rammstein – RAMMSTEIN (UMG)
It's been ten years since the last Rammstein album 'Liebe ist für alle da' so the anticipation for the German industrial metallers new self-titled album has reached feverish levels. They're one of the biggest bands in metal. For good reason too as they have consistently put out top quality, unique and unusual releases.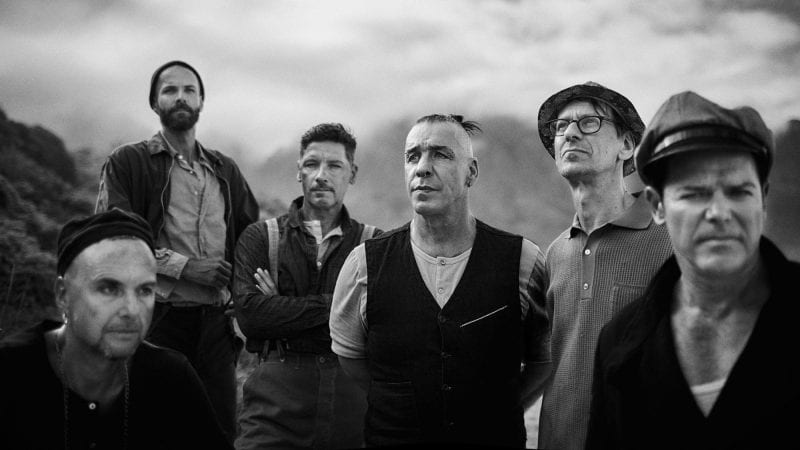 We had early experiences of what this album might sound like thanks to the release of two singles. The first, DEUTSCHLAND is also the opening track on this album and is every bit a Rammstein song as you could hope for. The electronic effects give way for a smashing of guitars and drums and in true Rammstein fashion, explodes in darkly twisted fashion. It then drops away for Till Lindemann's imposing vocals to take over. Alongside echoing background vocals, a simple drum beat and haunting effects.
It's a safe but still fantastic opener. Unfortunately, the same can't be said for the following track, RADIO. It didn't blow us away when it was released a few weeks ago and time with it hasn't changed our thoughts. Is it good? Yes and no. it's very unique, that much is certain but the chorus just doesn't sit right.
With the two previously released singles out of the way, the remaining nine tracks are brand new Rammstein songs and holy hell, do we have some epics here. ZEIG DICH's gothic operatic singing and deep industrial groove is fantastic. Then AUSLÄNDER takes us backwards to the early years of Rammstein with a wickedly catchy tune that's heavy on the electronica but expertly utilised. While SEX is sleazy fun with a chorus that it's near impossible to not sing along too (just maybe not out loud in public).
Everyone should know by now that it's not always about outrageous industrial numbers with Rammstein. They're also capable of more mellow and ballad like numbers which is exactly what PUPPE is at first. At least until we hit the halfway point where Lindemann throws his all into one of the most intense vocal performances he's ever produced. It's so very impressive and the eerie effects mark this track out as being something a little different from the band.
Whereas WAS ICH LIEBE is par for the course, a soaring chorus with chunky riffing, melodious moments and a feeling of 'hugeness'. So very Rammstein which will never be a bad thing.
The shortest track, DIAMANT is something of a ballad with acoustic instruments and even a violin thrown in. A showcase of Lindemann's wonderful vocals.
As we reach the end, WEIT WEG opens with some jarringly loud electronica which is thankfully covered up by the rest of the instruments soon after. Alongside that deep and brooding recognisable Rammstein rhythm it does fare better. The penultimate track, TATTOO is such a throwback to the early days of the band it's kind of startling. Like you need to check what record you're actually playing. Mind you, while it is 'old-school' heavy industrial it's still filtered through a more mature and modern band. There will be few listeners who don't break out in a smile on this one.
Finally, the first new Rammstein album in 10 years comes to an end with HALLOMAN and truth be told it's a bit disappointing that they don't go out with a bang. Instead we get a grumbling, rumbling and dark moody finish that unsettles with off-kilter electronica but still delivers a banger of a chorus.
They've done it again. Did anyone really doubt they wouldn't? It's a phenomenal celebration of Rammstein over the years, a band embracing the past as much as looking to the future. There are one or two moments that aren't mind-blowing but overall this is an excellent release.
Rammstein – RAMMSTEIN Full Track Listing:
1. DEUTSCHLAND
2. RADIO
3. ZEIG DICH
4. AUSLÄNDER
5. SEX
6. PUPPE
7. WAS ICH LIEBE
8. DIAMANT
9. WEIT WEG
10. TATTOO
11. HALLOMANN
Rammstein - RAMMSTEIN (UMG)
The Final Score -

8.5/10