Album Review: Pharaoh – The Powers That Be (Cruz Del Sur Music)
The wait is over! Long-running American metallers Pharaoh return with their first album in nine years, The Powers That Be! A nine-song offering of challenging melodic metal featuring a guest solo from Voivod's Daniel "Chewy" Mongrain! Get ready to head-bang, the album will be released on the 18th June 2021 via Cruz Del Sur Music.
Let's not pretend that the guest solo that appears on the opening title track isn't the major seller of that track. Voivod's Daniel "Chewy" Mongrain delivering a screaming and ear-aching solo. The rest of the track isn't half bad either. Energetic and punchy heavy metal, it's gets the fire burning underneath without a doubt.
Will We Rise turns the heat up and what was a blaze; is now an inferno. Super catchy stuff. Waiting to Drown then douses things down with its chill and grander sounding melodies, an unexpected shift in sound, perhaps a bit too early considering the high energy of what has been heard so far.
Lost in the Waves and Ride Us to Hell make up for that with a return to punchy rhythm and heavy head-banging fun. The former is Pharaoh's metal power at its best (with nice moments of melody) and the latter features a banging guitar solo from Jim Dofka. It's also one of the more frantic efforts on the album which is always enjoyable.
It looks like we're getting another 'ballad' style track with When the World Was Mine but it breaks into a marching drum beat and screaming guitar solo before going into chunky groove territory with a massive sounding chorus. That earlier fire is getting dangerously high as Pharaoh kick into the heart-racing pace of Freedom and mammoth power-infused Dying Sun. it's no longer a controlled blaze and is threatening to consume everything around it.
No matter. It's the end now and Pharaoh go out as they begun. Hyper, heavy and having a lot of fun. All three are a great recipe for a heavy metal album and Pharaoh have delivered a tasty meal here. It turns out that's what the fire was for.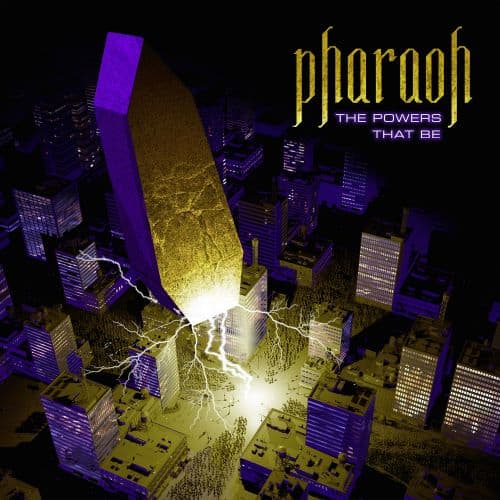 Pharaoh – The Powers That Be Full Track Listing:
1. The Powers That Be (feat. Daniel "Chewy" Mongrain)
2. Will We Rise
3. Waiting to Drown
4. Lost in the Waves
5. Ride Us to Hell (feat. Jim Dofka)
6. When the World Was Mine
7. Freedom
8. Dying Sun
9. I Can Hear Them
Links
Website | Facebook | Cruz Del Sur Music
Pharaoh - The Powers That Be (Cruz Del Sur Music)
The Final Score -

7/10